Ola, I'm back from a 4 day trip to Singapore! I have to say, every time I visit Singapore I sure gain weight one =( I super love SG food because most of their dishes don't contain dark soy sauce. One thing I hate about KL food is that they add dark soy sauce to every single dish… I dont get y and I dont want to know also haha. Different countries have different flavors and tastes I think.
Our friend was driving to Singapore because his gf is moving house so we decided to tag along. I love the idea of moving house because you get to throw away things that you dont need which you would normally be too lazy to organize or throw. You can just do it one shot! Jo's theory is – if you dont use something for more than 6 months, it means you no longer needed it hahha. I think it makes so much sense! haha
Anyway, we started our journey at around 12.30am and we reached at around 4am. It was all my fault because we were supposed to leave earlier but my event ended super late ==" U know how Malaysian timing is? Yea, always late…. The next day, I was jokingly saying I feel like I'm having a hang over without consuming alcohol ==" Super zombiefied.

The next morning, we had fish soup noodles/rice for brunch! This will never happen in Malaysia because I always crave to have western food for brunch. They have 2 choices for you to choose from, you can either choose rice or yee mee (fried egg noodles). I picked rice because I'm a rice bucket hahaha. Jo tried their egg noodles and it's awesome! The noodles was cooked just nice, not too hard or too soft! I super love SG fish head soup, the taste seems to be a little different from Malaysia's or maybe I dont know where to have fresh and delicious fish head noodles in KL. If you know any, please share it k!

Then I followed the boys to the "shoe heaven" for some shoe shopping.

Our fren, Meng Fai never stopped asking us "R u hungry?" He never failed to ask us this question after every meal. EVERY MEAL OK, not before meals. It's after every meal, literally! I always reply, " We just ate le!" Then he will be like "OOo scared u all hungry ma." The first day he asked we said OK lets go eat something. Then he brought us to this laksa store for SG katong laksa… It tastes really different than the ones in KL. It tastes more like prawn mee soup with a lot of coconut milk. It's not spicy but the coconut milk smell is really strong which I really like! This laksa is located inside Queensway Mall.

While waiting for Khei to come back from work, I acted like I was the resident there and watched the kids playing at the park from the balcony.

At night we headed to Timbre to watch Fai's fav band 53A.

The next day, my fren needed to pick up something from Jurong and we were pretty hungry so we just randomly had our lunch at the food court at the HDB flat. I ordered chicken rice which was pretty good (how can a random chicken rice stall be so yummy?), Jo had Chinese western food hahah then Fai had "mee pok"! Waw the noodles were pretty good because they dont use black sauce and they use a lot of sesame oil!!

I realized Singaporeans have a lot of patience to queue up haha. I highly doubt that you can see ppl patiently queuing up for a random chicken rice, not even a famous one! My fren told me she always goes to those stalls that have long queues because long queues mean delicious food hahha. Well, no wonder there are a lot of queues in all the food courts!

We headed to Clark Quay for lunch the minute we picked up Khei from work ==" I keep forcing myself to eat in Sg because tats the only thing u can do in SG ==" Eat and eat and eat. Clark Quay is an awesome place to hang out, they have all sorts of restaurants and pubs, and the place is really clean!

I suggested to them to have Hai Di Lao because I tried it in Beijing and it was awesome! We wanted to eat there during dinner but the wait was 2-3 hours ==" so we changed our plans to lunch and there was no wait! Hehe we walked straight in and enjoyed our yummy steamboat!

Bega and Liu Qing joined us for lunch too!

After lunch we went to Orchard Road to walk around! When u're in SG this is where u must visit! hehe if you have time u can walk from one mall to another, so it's an ideal place when u have a lot of time and money to spare haha. Khei introduced me to Aimer bras and she said it's comfortable and it helps to adjust ur body shape! So I went to Takashimaya and tried it on and I decided to get myself one! I seriously thought they dont sell it in Malaysia so I bought one and it cost me 160 SG for a bra ==" I never knew bras can be so expensive wtf! I usually just buy my bras from XIXILI because it's cheap and I dont really care whether it will keep my body shape or not because as long as my boobs are covered I dont really care about anything else. Anyway, I wanted to get myself 2 so I turned to JO and asked, " Darling should I buy two? It's around 240SG." Jo replied "So expensive!! How comfortable issit? When u wear it u dont feel like u're wearing a bra issit? If it's like this then u dont wear bra la! Cheap and simple." I seriously hope it works like tat but it doesnt la!!! WALAU guys are being so ridiculous!

Ok, spent 160SG on bras and felt really guilty so I decided to call it a day hahha. I pulled everyone over to take a picture with me at the colorful stairs at Orchard road.

Had awfully chocolate again …

Then Takashimaya …. Alone because everyone learned to reject my invites =="

Chinatown for dinner! 

Most of their architecture are really unique and pretty. It was my first time walking around Chinatown. The last time we only managed to visit the frog porridge restaurant, tats it.

Saw a Korean BBQ restaurant named after Runingman!


Our dinner in Chinatown. Their fried pork and Mongolian tofu were awesome, yummy!

After dinner we headed to Creamier for dessert. I personally think that After You Shibuya Honey Toast is way better than their waffle but I think they are famous for their ice cream. We tried their Pistachio ice cream and salted gula melaka ice cream. Gula melaka was pretty good, it's not too sweet but the pistachio was way too strong. It literally tastes like we were eating a bag of pistachios.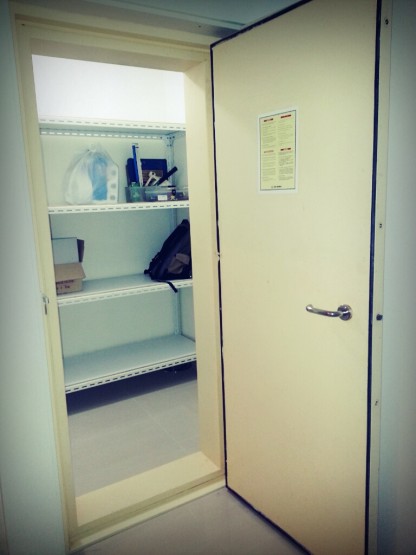 Fun fact about SG apartments hehe. They have bomb shelters in each unit!!! I was jokingly asking Khei "Y need a bomb shelter? If there was really a bomb, the whole apartment confirmed will fall to pieces wat." So we were guessing maybe each bomb shelter is placed at the same place so when there is bomb, the rest of the area will fall but not the shelter. Then I was wondering if that really happened, then how the hell do the ppl who hide inside the bomb shelter get out from there? Sorry too many questions unsolved so I'm a bit long winded hahaha

Jo's favorite curry rice for lunch! Waw, a lot of food pictures in this post hahaha. The plate with only white rice is mine cox I hate it when my rice is wet! hahah

XO fish head noodles for dinner!!!!!! This is my super favorite fish head in SG! Their fried chicken is juicy and crispy!

 We helped Khei to move to her new house! We were super efficient, we finished everything in 2 hours! Super proud of ourselves hahahaha. While they were busy double checking everything, I camewhored a bit hehe.

The final day in Singapore, Fai brought us to have mee pok for breakfast before heading home! They use sesame oil and vinegar for the sauce which is pretty yummy! I've never seen this type of noodles in Msia before.

Bought a yummy cheese bun from 7-11 on the way back =)
Our 4 day trip in Sinagpore was super awesome! We got to try every many things that we missed the last time. Although we didn't have enough time to shop around, tat doesnt matter because SG dollar went up and everything is way too expensive after converting to RM T_______________T
Thank god their food is pretty cheap, a bowl of noodles only $3! Hehehe
Hope that I get to visit SG again soon!
♥