Sponsored Post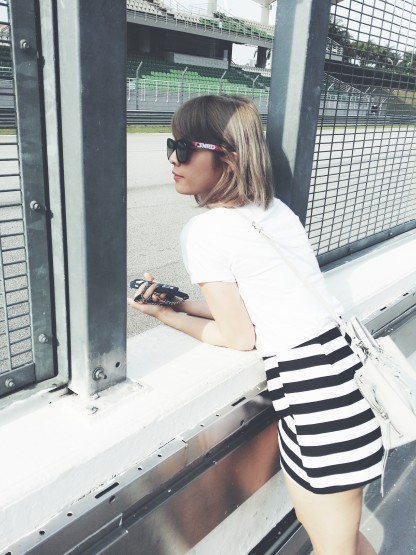 Few months ago, Meng Fai invited Jo and me to his track day in Sepang, and I was beyond happy! I really enjoyed the speed (on the track ONLY) and each of them had different driving styles, which is super cool! Call me weird but I LOVE cars, maybe I'm influenced by Jo who is a car expert T_T Sometimes Jo will try to teach me something about cars like what are the functions and specs! So, when I received the Ford Fiesta 1.0L Test Drive campaign I was pretty excited! I started asking Jo what kind of functions that new Ford Fiesta has! After hearing a few I have chosen my top 4!
What are they?
POWER! Haha, isn't it amazing that this little engine produces125 PS and 170 Nm? And that's not all, being such a small capacity engine; it only uses 5.3L/100km of petrol when you are just cruising around! This engine has also won the International Engine of the Year award 3 years running (2012, 2013, 2014)!
2. SYNC Audio System
Personally I think that voice command is super cool; just say Bluetooth audio then you can listen wirelessly to whatever is on your phone or even iPod! Hands-free calling makes it easier for me to call Jo whenever I'm lost LOL.
 3. Smart Keyless Entry
I find it really troublesome to have to reach for my car keys in my bag! I always wished that my car had this function so I don't have to search my entire bag for my keys while standing in the car park alone, especially I'm sure you know, girl's bags are like magic Doraemon pouches. Looks small but can't find anything inside… With this feature, I can press a button on the door handle, press the POWER button, and off I go!
 4. Ford Easy Fuel
The new Ford Fiesta uses an integrated spring-loaded flapper door to eliminate the need to unscrew the fuel cap. You can simply insert the fuel nozzle to fill up and it will automatically seal after the fuel nozzle is removed! WHY SO HIGHTECH ONE! No more having to unscrew and screw it back like a crazy girl because going to pump petrol alone in Malaysia is a bit dangerous T__T
In addition to these functions, I really like the new look of the car! With a full sporty bodykit with splitter-mounted daytime running lights, auto headlamps, rain-sensing wipers and a Safety Pack with seven airbags, you can cruise safely in style. It's also small and easy to park! I sometimes feel my car is too big and doesn't fit into parking spaces very well.
Even without mentioning any other functions, I think I have given you the urge to check out the new Ford Fiesta 1.0L EcoBoost or to test drive it right!? No worries, because you're not alone!
I'm inviting 6 of you to join me to test-drive the new Ford Fiesta 1.0LEcoBoost! All you need to do is to sign up through this link! My test-drive will be on the 20th of December, 2014!! If you're interested in the car or you just want to check out my driving skills, you're more than welcome to join me! Let me show you around in my new ride hahaha.
See you there!
 Date: 20 December 2014
Time: 3 p.m.
Location: Sime Darby Auto Connexion Sdn Bhd (PJ Federal Highway)
Lot 5, Jalan 205, 46050, Petaling Jaya, Selangor.
 VROOOOOMMMMMMMMMMM…………….
♥