Halo everyone! Today's post will be written by me (JO), instead of your regularly scheduled blogger (BO) because she's been too busy recently and I volunteered to help clear this from a long list of backlogged posts. She'll be blogging about her recent adventures in Nagoya soon so keep an eye out for that!
It's not my first time around these parts, so you can check out my previous posts on our Boracay trip from 2 years back as well. Hahaha, yes it's been a long while and if you were wondering, I've been doing well, but I think I'm growing old as I get rather annoyed at the news broadcast on radio these days; it's full of entertainment news. For goodness sakes, the young ones are not really exposed to news these days, so why make things worse? I could go on and on…
OK lets try to get back on track here. Remember we went on short weekend getaway with KampungBoyCityGirl (KBCG) a while back? We drove up to Penang and stayed a night, and we really had a great time!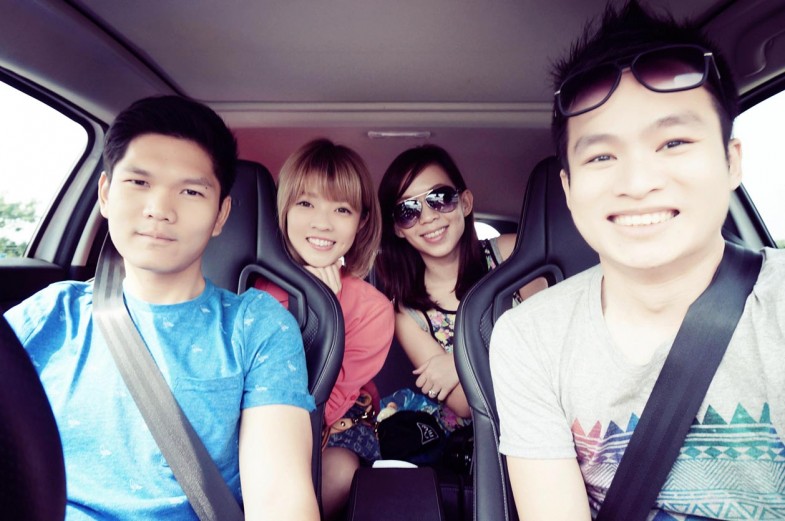 The girls we're surprisingly comfortable in the back so off we went! On the highway, we put BO's camera on the dashboard set on a self-timer. Pretty advanced groufie skills at play here.

First stop was at Genting Kopitiam for their famous peanut butter and prawn paste chu cheong fun. It might sound like an awful combination but surprisingly it works as the peanut butter mellows out the prawny and fishy taste just enough to be enjoyed, and also providing some creaminess to the sauce.



Then we drove over to our accommodation for the night at Mango Tree Place Hideaway. The place is located on Lebuh Pantai, Georgetown, and let me just proclaim that the location could not be any better for exploring the town.
We have so many great things to say about the place, really, and take it from me, the old man, that everything was superb and I didn't have
any complaints throughout our stay.
Super friendly staff checked us in and took us on a tour around the place. It is actually a restored and converted shop house so the vibe and decor is totally something you cannot experience in any other hotel.
There is an attached cafe next door and also a dining room where they serve breakfast in the morning. More on that later.



This was our room!!! We really loved the theme and decor of the room, and it really blends the old style shophouse architecture with the more modern touches really well. We have also added a four post bed in our "gift list" for our new house, in case anyone INSISTS on buying us that pricey house warming gift…
The bathroom has a window that opens out to our private own courtyard. Lots of natural light throughout the day, so awesome.

And talking about the courtyard, how awesome is this? Perfect for the morning tea or coffee or just peace and quiet! You can only get this in an old shophouse due to its long, tall, and open structure.

Love the combination of textures here!

OK, once we were done gawking and raving all over the design, we decided to head out for some food and the staff gave us a passport/checklist of things to eat and places to see! Unfortunately we couldn't manage to get everything checked off but we can do that in our next trip to Penang!


First stop was at Padang Kota for the famous Mee Sotong! OMG, to properly tell you how good this dish was, just let me say that BO usually does not eat sotong, or mee rebus. After trying it, she loved it. Can we come to a conclusion that it's so good it's borderline enlightening? LOL. Wet and dry versions are very different but please try both!
I believe we also had pissing prawn (mantis prawn) char keow teow before this but that was nothing much to shout about.
We were so full at this point so we headed back to Lebuh Pantai and the surrounding area to hit all the touristy spots. Penang is such a charming place that it makes you question why is KL so behind the times. We really don't make full use of our heritage and architecture in KL.

Is there anywhere else but in Penang where will you be constantly full and yet discover that you NEED more food? LOL. Awesome kueh chap on Kimberley Street. It's actually duck and pork with rice and crispy shallots. BO called it our version of huo chi rou fan (turkey rice from Taiwan), and she kept calling it that ever since, I do not know why. This person also grows attached to stray dogs and when she starts naming them, you know its dangerous. Akin to this dish, she liked it so much, she "named" it.

Bega came over to join us for supper so as a sign of respect for a Penangite, I had to order my own plate of nasi kandar from Nasi Kandar Beratur right? Even though I was so full, I could explode? Right? BTW, Beratur means to queue in Malay, so, yeah it's probably named so after the massive queues out the door. I imagine when they just opened up shop, the stall was nameless. One day the boss needed to put up a new sign, looked at the queue, and had a lightbulb moment. Anyway I prefer Hameediyah over this.

The next morning we were served breakfast in the dining room. They prepared us a whole lot of yummy food but the highlight was Penang's version of murtabak, which is encased in egg, not roti. The staff then chatted with us for a bit and advised us to go check out the Chew Clan jetty which was just a couple of blocks down the road.

So we went back to our room, chilled for awhile, and just had to take a few mins to enjoy our private courtyard!
Took a short walk to check out the jetty and encountered my most memorable Lex and Wei Tze scene here. If you don't know, Kampung Boy can be quite naggy and while walking over, he told Wei Tze, "walk for awhile also can sweat"? LOL, BO if you are reading this, please OK, I'm not even in the same league as him.
Some scenes from the movie "Homecoming" (Yi Lu You Ni) were filmed here.

Final round of crab meat popiah and char keow teow before leaving back to KL!

Nearly forgot to include this "amazeballs" bowl of rojak from Hock Seng Rojak King at the McCallum flats. Bega mentioned that we HAD to try this so we hunted down the stall. Funny thing was, it was not open when we got there, so we Googled the uncle's number and gave him a call, LOL.
We returned later in the day and boy were glad we did. This rojak is unlike anything I or you, for that matter, will ever have tasted (unless you have)! The sauce is REALLY thick, I mean like the consistency of almost set caramel, and its made of prawn paste, peanut butter and caramel if I'm right. It's topped with whole roasted peanuts, dried shrimp, and chili powder.
Don't bother mixing up the sauce like a regular old rojak 'cause it won't happen. Just poke your rojak stick in, pick up a piece of fruit along with some sauce and devour, LOL. Its crunchy, sweet, and salty; you get sweetness and tartness from the fruit, and a kick of heat from the chili powder.

If you're looking for a hideaway for your own upcoming Penang trip, remember to check them out! For rates and information you can go to www.agoda.com, and once again many thanks to Mango Tree Place for taking very good care of us!
Mango Tree Place – Hideaway
No.494 & 496 Lebuh Pantai Georgetown, 10300 Penang, Malaysia
+6 012 987 0833
+604.261.0833
[email protected]