Sponsored Post
Alo, I'm back from our trip to Macau together with Jo, Tian Chad and Kyspeaks! Decided to write this post immediately so I wont forget any details and start skipping stuff, hehe. Thanks again to Nuffnang for the chance to travel abroad to a new destination and thanks to Macau Government Tourist Office as well.
We took so many pictures during this trip and it was hard for me to only include a few so I'll do this in a photo diary style post ya! Picture overload coming your way, please mind your data usage rate, lol!
Overall, I can say I had loads of fun during this trip and it was a good chance for me and Jo to have a short break from work.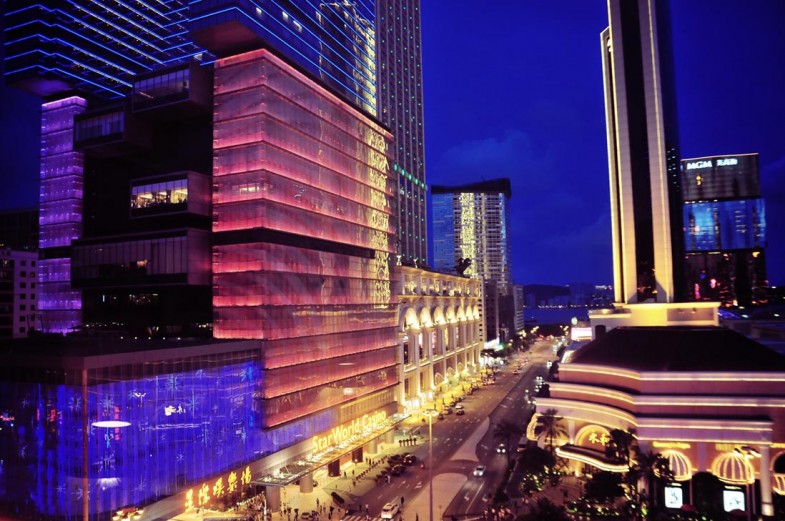 The view from our room.

We arrived at Macau in the evening and quite glad that AirAsia has direct flights to Macau, so no transit necessary. Decided to quickly change and head out to dinner cause we were starving by now.

 Jo was the tour guide as usual and took all of us to Senado Square for dinner. Passed by the Casino Lisboa on the way there, which is one of the first casinos in Macau.
Took a quick shot and quickly headed over to Wong Chi Kei for dinner!




Quintessential wantan mee and pork chop rice whenever you are in Hong Kong or Macau!

Realized that almost every shop had limited edition Hello Kitty merchandise and clothing for sale cause it was Kitty's 40th anniversary! Didn't know she was so old, lol. If we were in Sanrio land this year instead of last year, it would be awesome!

There are many shops around the Senado Square area, such as the bigger established brands Sasa and Giordano but there are also some labels you might not find in Malaysia, such as the shops in Ginza Plaza, which were mostly from Japan!
Took a few pictures while waiting for Tian Chad cause he got lost, hahaha. After this, we went back to get some rest cause we had a really long day ahead tomorrow!

The next day we left the hotel at around 10am and Jo took us to the nearest bus stop outside the Lisboa to catch a bus to Taipa village. Super scare die me the bus driver. As soon as we stepped into the bus, he floored it like a F1 race, and I flew backwards. Macau is a very small place, and the bus stops are very close to each other, so we were actually riding a roller coaster…

Survived the crazy ride and luckily it only took 10 minutes to get to Taipa, but Jo was having severe motion sickness, hahaha.


Headed to the nearest "cha chan teng" for breakfast! I had ham and egg sandwich and a milk tea!

After that we had this "saw dust" pudding from Mok Yi Kei, and then was thinking to have crab porridge but we were too full. Took a short walk over to the Venetian and we were so glad we went early cause the weather was getting really hot, not to mention the Venetian was not too crowded when we got there. After lunch there was literally a sea of people flooding into the Venetian.



 The Venetian is huge!!! So many shops and labels that we don't have in Malaysia! Literally took a few hours to walk 1 round.

We got really tired after walking around the Venetian shops so we hunted down this outlet of Lord Stow's Bakery for their Portuguese egg tarts! The main outlet is in Coloane, even further south of Taipa, so it was super awesome that they had a branch here. Now I understand why people always talk about these babies, they are super yummy! The crust was flaky but still crispy, and the filling was very fragrant and creamy!

After recharging our batteries, we headed over to the shops at the Four Seasons which is connected with the Venetian.
You can find all sorts of designer labels here and the most important thing is that they are all DUTY FREE! Sigh, if I didn't spend money during our Bangkok trip earlier, I would have brought home another baby, hehehe.





After having a quick lunch, we decided to head over to another hotel/shopping destination, and something really cool about Macau is that, most of the larger casino hotels have free shuttles to other places in town, so you can technically get around the whole of Macau without spending any money on transportation!!!
For example, we took a free shuttle from the airport to the Wynn, and from there, took a 5 minute walk to our own hotel!!
 Anyway, I will continue in another post OK? Too many pics liao, hehe. Stay tuned everyone!
♥