So, recently I went to Singapore with Citygal (Sorry, kampungboy had to stay in Malaysia and continue working while we partied in Singapore lol). The main purpose of our trip to Singapore was for #Escapers15, which started in Singapore and ending in Queensland, Aus. I have never been to Australia so I'm very amazed by how beautiful the country is. I will keep my experience in Aus for the next post.
First of all, I have to say a big thank you to Queensland Tourism, Accor Hotel and Scoot Airlines for the awesome and memorable trip!
Now, lets begin with #Escapers15 in Singapore! Basically #Escapers15 is like the show Amazing Race and Survivors but minus out all the scary and crazy challenges because what we did was just have fun and more fun! There were 17 social influencers or media from 9 different countries ( Malaysia, Japan, Indonesia, Singapore, Korea, Thailand, China, Australia and India). 2 representatives from each country besides Japan because another one ffk last min =="
Well, challenges in Singapore were slightly different from Australia because in Singapore we focused more on food and sightseeing! I had fun completing challenges in SG because we were required to go to the places that I have never been before!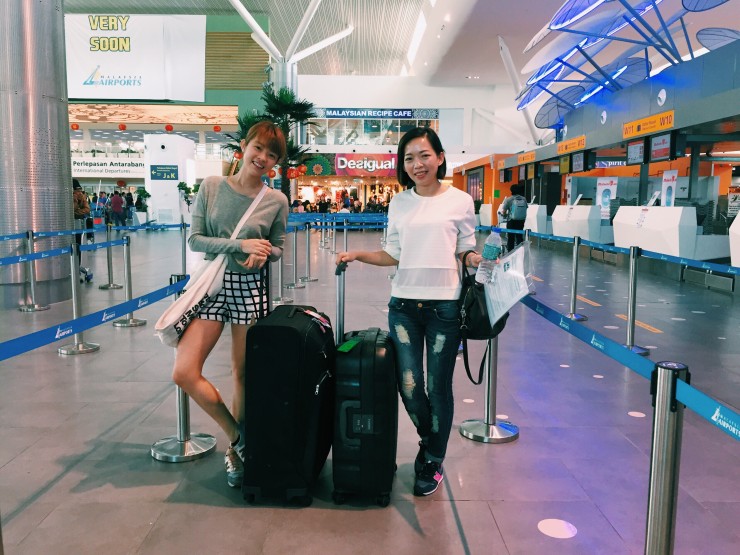 Off we went for #ESCAPERS15, didnt know what to expect but we told each other we should just have fun, enjoy and it doesnt matter if we win or not. You can clearly see why Citygal is a travel blogger, because she clearly knows the definition of packing light compared to me ==" First thing that ppl say to me when they see my bag wa,s "Are you planning to extend in Australia for a month?" I had to pack extra outfits just in case there is an emergency right? T___T

Reached SG and got picked up like a VVIP. A big coach just to pick up the 2 of us. I've never been to a fully sponsored trip and get treated like a princess before! Queensland Tourism did an awesome job in hospitality too!

Checked into Ibis Singapore Bencoolen, a budget hotel from Accor Hotels. Ibis is located nearby Bugis Street, around 8 min walk to Bugis MRT. They also provide free use of a bicycle for you to cycle around town!

My room for the night, and it is pretty new and clean. Ibis Singapore is on a GO GREEN concept so you can see there is a lot of recycling logos and items around the hotel. Example, recycling dustbin in the room and also a pen that is made using recycled paper. how awesome is that!

The room is equipped with things that you need such as iron, safe, extra blanket and etc

Their toilet is clean and spacious! I'm in love with their hand soap bottle idea, it's like a dispenser. I hate the idea of using bar soup because I always drop it or I have no idea where to leave it on the sink! With the dispenser you just need to press/squeeze the bottle and there you got the right amount of soap!

The shower is my fav because the water pressure is just awesome and of cox their shampoo and body soap dispenser too! A hot shower is a must whenever you travel because it chases away all the tiredness!

Another awesome thing about our room in Ibis hotel is that they arranged us into a standard queen room with extra benefits which means these rooms come with a Handy smartphone that has Internet access (you can use it as a hotspot too) and unlimited call to 27 countries. It also pre-installed SG maps and travel tips to make your travel life easier haha.

Besides that, they also provided complimentary iced bottle water  for their guest, all you need to do is to go to their bar and ask for a glass bottle. You can use it throughout your stays in Ibis, just bring it to the bar and ask for refills so no throwing or wasting mineral water bottles.

First thing we did after we got settled down is to head to Bugis Mall to buy KOI cafe bubble tea! I have never tried it before then Citygal was like this bubble tea is good, you should try! Good thing about travelling with food/travel blogger haha they know all the good food and good places yo! It tasted exactly like the original bubble milk teas in Taiwan, it's so different from Chatime!!! It's a must drink in Singapore haha.

Then we didnt know what to eat for lunch so we just randomly went in to a Japanese restaurant in the mall. Their sushi is really cheap le, it was $0.40/ pc ok!

Bring all the sushi la so cheap omg… This sushi got scallop also $0.40 only hahah

Then got back to the hotel, rested for a while and got ready for #ESCAPERS15 first welcome dinner. So excited to meet everyone from different countries!

The welcome was so cool, the restaurant is filled with lots of local dishes from Singapore, chicken rice, curry laksa, cendol, kuih, chili crab and popiah!

As usual, I attacked the chicken rice first!

Then curry laksa!

My first Pai Tee experience hehhe

Pohpiah!!

The dessert station!

The cendol!!! I think it's really cool that they came out with the idea of serving SG local food instead of usual western food or buffet because people from other countries get to enjoy all the yummy hawker food in one stop!

Both of us and our food hahhaa.

Picture with the cute pillows haha

We were given Singapore challenges at the end of the night, so everyone went back to their room early and started working on the clues.

We also quite kiasu so we started working on the tasks in Citygal's room hahha.

We also did a little shoot on the comfortable bed haha. This picture was taken by Joby (Citygal's sister) who's studying in SG and visited us at night!

The next morning, selfie in the lift before getting all sweaty from running under the sun.

I will still try to eat clean during my trip but failed when I landed in Australia. My breakfast was eggs and salad!

Group pic before everyone left to complete the challenges in Singapore!

While waiting for the train hahaa

Our first task was to head to Mount Faber

Once a poser forever a poser lol.

Dont remember when was the last time I got on a cable car! The price for the cable car ride was $29.

The called it Joyride so they gave out superheros mask for the passengers!

Wonderwoman hahaha

The cute version of the cable car with lots of balloons!

Our task was to take a picture in front of the mural at Mount Faber Park with a tourist LOL.

The view was amazing but we didnt get to enjoy it much cox we had to rush to complete our 2nd task.

Our 2nd task was to eat SG famous Hainanese chicken rice in Lau Pa Sat food court.

Chicken rice and ABC for dessert!

3rd task was to head over to Sofitel So Singapore to try out their signature cocktail. Our task was to guess three of the main ingredients of the signature cocktail. I was like O_o then I turned to Citygal and say you have to do it without me liao. She guessed it like a pro ok pls, she was like, GIN! I was like WOW, what r u made of ah??

No.35 Sofitel So Sinagpore signature cocktail that contains pandan syrup, gin and cognac.

How can we leave without taking picture in the hotel lobby!! This hotel is amazing, the design is so modern even though it's in a heritage building.

Then off to visit Merlion, can you believe that I have never visited Merlion before even though I have been to SG so many times haha.

Super weird and funny pose with Merlion hahahha

A proper one with Citygal =)

We also get to experience the boat ride from Marina Bay Sands quay to Clarke Quay!

Our final task was to take a picture at the pool in Novotel Singapore! We were the only ones who actually changed into bikinis and jumped into the pool. What did you say about not being so competitive? Totally forgot about it.

Finally, we are back in our hotel room to rest before heading to the sunny Gold Coast!! Our dinner was club sandwiches and fries.

Our flight was at 10pm so we left our hotel at around 7pm! It was like a highschool trip with the bus and everything!

Before Citygal doze off hahaha.

A little VIP moment before boarding, priority check in, priority boarding, late dinner at SATS Premier Lounge ROCKS! Click here to see how exciting their buffet table looks like! So regret I didnt da bao all the drinks into the plane le hahaha

Boarded and getting really comfortable with Flyscoot Snooze Kit! We were seated at the Scootin Silence so more leg space and no crying babies!
 Off to the sunny and beautiful Gold Coast!

Thanks Singapore and Accor Hotels for the warm hospitality!
♥