Remember I mentioned that I went back to Taiwan for a few days with my mum in May? I am finally done arranging all the pictures, then I realized the pictures I took in Taiwan are all of FOOD. Yes, just food and my face la of course…
Whenever I meet someone who's been to Taiwan, the first thing they tell me is "I ate a lot in Taiwan!" or "Taiwan food is super awesome yummy!" I cant agree more on this… Even Kampung Boy City Gal said the same thing but they continued with " Have u been to Hua Lian? or Taizhong?" I was like "Err no…." It's quite embarrassing to tell people that my mum is a Taiwanese when I have only been to Kaohsiung (it's because I always land in Kaohsiung airport =="), Tainan (most of relatives stay there) and Taipei even though I visit Taiwan twice a year, ever since I was born … Even KBCG explored more places in Taiwan than me hahaha.
I always get stuck at home when I'm back in Taiwan, it's just like how I get stuck in my hometown when I go back during the holidays LOL. There is nothing much to do there because most of my cousins are working and some are studying in the US. I only get to hang out with my mum, grandma and watch TV haha. The things that I look forward to is breakfast, lunch and dinner, and this only happens in Taiwan.
Since I spent most of my days eating, watching TV and sleeping throughout the trip, I decided to focus my Taiwan post on FOOD and maybe a few selfies as some sort of commercial break? Yes? No?
Food in Tainan is seriously cheap, so if you are planning on a small-budget trip you can consider Taiwan as the spending expenses is quite affordable.
Are you ready?
Day 1- Brunch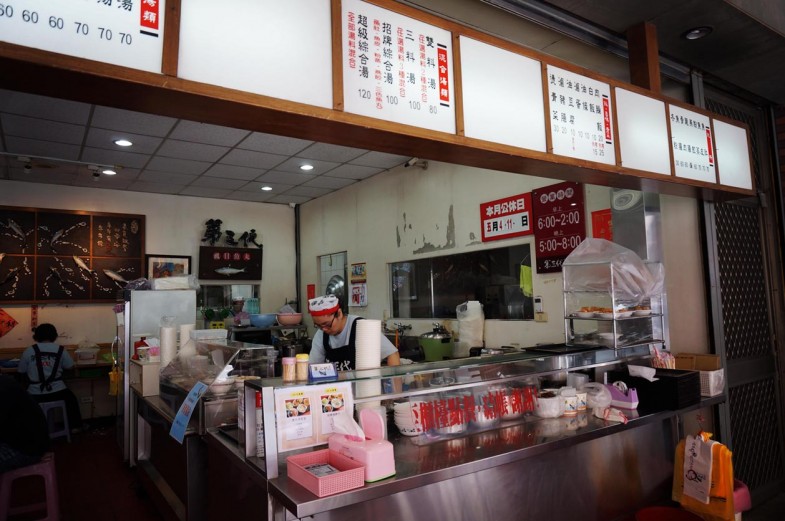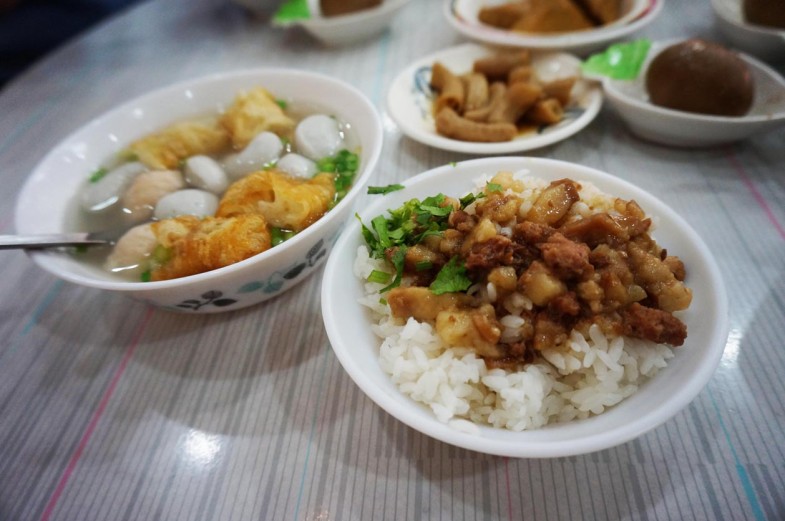 My uncle brought us to this restaurant that sells fish balls and minced meat rice. Their rice is steamy hot and the minced meat is super tender!! You have to mix it together with the rice so that the flavour of the minced meat is not too overpowering! I love it when they put fried dough into the soup!

One thing that excites me in Taiwan is their eggs! Their eggs are really big and it contains 80% yolk rather than the white!! I totally forgot to ask how much does our meal cost T___T

Went shopping with mum since everyone was busy with work …

Then we took a cab and headed back to my aunt's bakery for hightea!

Their signature layer crepe cake in maple syrup flavor (千層蛋糕楓糖薄餅). It tastes different from the ones in Malaysia, it's very light but full of flavor. It comes in a few flavors such as coffee, chocolate, green tea, strawberry and chestnut.  If you're ever there do drop by and give it a try! It's called 克林姆之屋 (Cream House)

Mummy dearest enjoining her favorite hightea with her favorite daugther *push sisters away!

As I have mentioned in my Dayre post, the purpose of our trip was for my mum's dental visit! While she was getting her teeth done, I went to da bao black tea next door! It only cost me RM 2 for this big cup of black tea! Taiwan black tea tastes super different from Malaysia ones even the one in Chatime!

Went back to my grandma's place to watch TV till dinner time…. My grandma's house only have 1 fan T__T I didnt know there was an air-con so I basically sweat the hell out of myself the whole freaking day. I only found out there was an air con on the last day…..Summer in Taiwan is worse than in Malaysia
Day 1- Dinner

My eldest aunty brought us to this old restaurant for noodles! it was like noodles fest on the first 3 days cox my mum LOVES Taiwan noodles. By the way, almost all of the restaurants in Tainan serve 卤味 (marinated dishes). Which is my all time favorite especially the pig ears!

Pork oil noodles, the oil is pork fat and sesame oil! Nothing fancy, just oil, a few slices of pork and noodles but it was awesome! The flavor is super strong and delicious!

My favorite side dish of all time! By the way, I have no idea why but most of the restaurants in Tainan dont serve drinks! So dont even bother asking them for ice water because they dont! You're more than welcome to choose your own drinks in the fridge yourself but there are only 2 choices such as black tea or Oolong tea (it's self service).   


Since they dont serve drinks I always buy one from 50岚 (50lan). The word is pronounced as LAN not FENG. 不要有边读边,无边读中间 ah…

This is the only brand that I drink when I'm in Taiwan because it's really good! I realized that they only serve mini bubbles now instead of those big sizes we have in Malaysia. It's better because the texture is slightly different and more chewy! The branches are all over Taiwan so you dont have to worry that you cant find it =)
Day 2

Most of my street pictures were taken in the car so most of the angles look the same hahahha. You can now take a small break from all the yummy food then we will continue with more… 休息是为了走更长远的路
Day 2- Brunch

Most of the marinated dishes are displayed as below. You get to choose which items you want  =)

卤味all the way yo…..

Dried pork slices like X siew but without sauces!

麻酱面 (Sesame sauce noodle) do not judge the way it tastes from its look because it tasted damn good! If you like sesame this is for you!

Stir it and mix it well then you eat it! I used to hate this but now I love it a lot, aging…. It's around RM4 a bowl! The portion is good enough for an adult but for me I can only finish half of it!
Day 2- Lunch (2nd round)

My super favorite since I was a kid! Tainan fried chicken rice bento!

Look at the juicy fried chicken!!! I'm drooling edi … Should have drafted this post when I was in Taiwan so it wont be so torturing. This bento only cost RM3.50 T___T Malaysia why you so expensive???

Another commercial break… Me and my fashionable grandma!

Went to do some grocery shopping with grandma and mum! Grocery shopping in Taiwan means throwing all the snacks that you cant find in Malaysia into the shopping cart! Ended up spending RM400 on snacks and more snacks!
Day 2 -Dinner

Uncle brought us to his favorite Japanese restaurant for dinner! I have been there quite a few times because my uncle and aunt only go to this restaurant for Japanese. Their sashimi is really fresh and cheap!

A bowl of heaven!!!!

I dont think they serve this in Malaysia because I only tried it in Taiwan! It's deep fried fish eggs! It's super yummy especially when you dip it with mayonnaise!

 Super giant Tamago! This is how you should do it, giant piece of tamago with a little rice! Malaysia Japanese restaurants you're doing it WRONG!

Uni sushi! I tried every single dish that I wont usually order in Malasia! It tasted so good!
DAY 3 – Brunch

Lunch at my cousin's turkey rice restaurant!

Side dishes are served in its individual plates!


Turkey over rice is in one of my MUST eat meals in Taiwan! It's shredded turkey meat, onion oil with rice! It's really simple but the flavor is super strong! I'm drooling now…

Half time, just in case u guys are too full from all the food. haha


Aunty brought us to try honey toast from Dazzling's! I told her that Shibuya honey toast is still the best honey toast I have ever eaten!! If you're interested to try out this honey toast, it's located in Shin Guang San Yue (新光三越) Tainan.

Mum decided to pamper her hair in the nearby salon so I just stoned there for an hour…
Day 3 – Dinner
My favorite dumpling restaurant in Tainan! One thing I like about the dumplings is that they serve it on a plate (without soup) instead! You get to choose which fillings you like then they will boil it for you! They have prawn, vege or meat! Dip your dumpling in some soy sauce & sesame oil! The dumplings cost RM0.50- RM0.70 per piece!
I think I shall just stop my Taiwan post here because I pretty much repeated the same things on days 4, 5, 6, and 7 day! Hahahaha
Hope you enjoy the food!
♥