Sponsored Post
Halo everyone! So sorry for the lack of variety recently, I know I've not been uploading my OOTDs or Bobo's Day with everyone, but I've been caught up with work and traveling recently, so it's been difficult for me to keep my blog up to date!
I was talking with Jo while on the way to work the other day, and I mentioned how nice it would be if we could sleep in and cuddle, hahaha. Jo says we should learn to appreciate the small things in life, like the nice weather, and that made me start thinking about some of the smaller, simpler pleasures in my daily life that I tend to forget about when I am busy working… So, let me list down some of my most dearly missed moments during the work week!
1.     Taking out furry boy out for walks in the morning or evenings.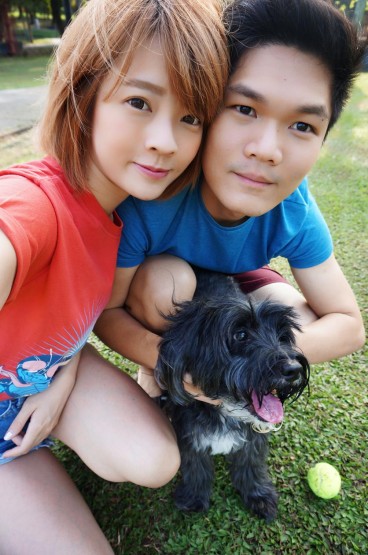 This little boy gets super excited in the mornings 'cause he knows we will be taking him out, but sometimes we are in such a rush that we only have time to quickly take him out to pee and drag him back home, hahaha. He will refuse to get in the door and have a 'sit-down' protest!
2.     Taking my sweet time to dress up.
As you all know, I love to dress up
but during the work week, I will just put on a pair of denims and whatever clean shirt I can find, hahaha. If you spot me on weekdays please don't be surprised that I look different from my usual "Today's outfit" posts on Instagram. I'm not lazy ok, I blame my full time job!
3.     Taking my sweet time to have breakfast.
Don't you guys love going out for brunch on the weekends, taking our sweet time to eat and just lounge around for half a day? Why can't we do that every day?
Anyway, all this got me thinking, what can I do to inject some simple pleasures in my daily life?? Taking time to have a snack in the office of course! Hahaha
My go-to simple pleasure is Jacob's Cream Crackers, simple but yet creamy and delicious. It's just one of those things that are so simple, but et fulfilling every time you have them.
I can rely on Jacob's Cream Crackers every time I need to cheer myself up and keep going in the office, and just taking a few mins break to enjoy mine will remind me of some of the things I mentioned earlier! My favorite way of eating Jacob's Cream Crackers is dip it in a cup of hot chocolate drink, so simple yet so satisfying!
Jacob's wants consumers to recognize the simple pleasures that we miss on a daily basis and acknowledge them by taking a short time off to embrace them. So, I invite you to join Jacob's #simplepleasures Facebook photo contest. There are 2 options for you to join the contest:-
Option 1 (Desktop)
All you need to do is to register in Jacobs FB tab, and submit a photo depicting your moment of Simple Pleasure with #simplepleasure. Once you've submitted, you can share and get friends to like in the FB tab to win prizes!
Option 2 (Mobile):
You have to register in Jacobs FB tab, and take a picture of your Simple Pleasure moment with #simplepleasure and share it on your FB! Photos will be pulled from the hashtag and saved to Jacob's FB page. Once uploaded, get friends to like the photos in FB tab to win prizes
How do they choose the winners?
1)     There will be a Grand prize winner: Most creative caption and photo determine by Jacob's to see who receive the grand prize
(2) Thirty (30) photos will be shortlisted weekly. Five (5) winners will be selected to win the weekly prizes for 6 weeks based on the number of votes
What are the prizes?
Weekly winners' prizes
–        1 year supply of Jacobs cream cracker
Grand prize
1 year supply of Jacob's products worth RM 2,400 and a Philips Saeco Coffee Machine
What are you waiting for? Share your #simplepleasure with everyone and you will get yourself a chance to bring home some big pleasures!
For more information go to Jacob's Facebook page
♥