Sponsored Post
Im not sure if you guys remember, but last year I did a shoot with Panasonic beauty products for Female Magazine. I remember I was pretty excited at the shoot because I got to test all the Panasonic beauty products at one shot! Who gets to do that often huh?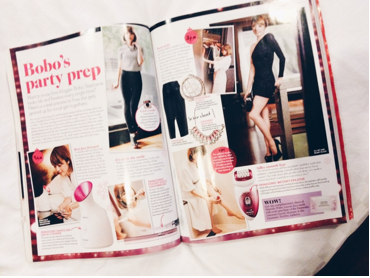 During the shoot I was quite amazed by the multipurpose epilator and also the facial ironic steamer! One bad thing about the shoot is that I only get to try it for a while T___T I didn't get to know more about the products.
Anyway, the other day Nuffnang informed me that I was invited to Panasonic Beauty Café held at Library Cafe in Nexus Bangsar South. When I found out that I would be able to get to know more about Panasonic beauty products I once tried before, I was so excited!
The moment I arrived, I was led to a photobooth to take my passport pic, a very cute and pink beauty passport!
Full range of Panasonic beauty products for us to touch and feel! This is like a little heaven for girls!!
I arrived a little early so I get to take pictures of the beauty stations without any crowd.
Then Audrey, Nana and Povy arrived! We spent a little time at the photobooth like we always do.
The event started and we were welcome to visit any station that we liked. We would receive a sticker for our pink passport, and at the end of the event we get to redeem a free gift from Panasonic!
Audrey and I approached the first station, haha actually it was the station nearest to us hahahaha, the body care station. Good thing about each station is that, there is a person in charge who will explain and demo the product to us. We can also try it on ourselves!
I'm in love with the Panasonic foam epilator, it can be used wet (in the shower) or dry! It also comes with 6 different attachments for other parts of your body besides your legs and arms! A drop of body shampoo drop on the epilator will create a layer of foam so it wont hurt your skin!
Then we moved on to the next station, which was the Face care section. This was the nano-sized ionic steamer to help moisturize and cleanse our skin deeply.
We did a little experiment on the spot where they drew waterproof eyeliner on both of our hands. I faced my left hand towards the nano ionic steamer and put my right hand away from it.
We just need to place it facing the nano ionic steamer for around 1 min.
After 1 min, we wiped it off with a cotton pad and it was clean and moisturized at the same time! It was much easier to remove the eye liner compared to my right hand, it shows how much it can help to clean your skin and pores even with heavy makeup!
The third station was my favorite, which was hair care. Don't know why this Audrey stoning next to me hahahaha.
A free hairdo from the Panasonic hair stylist!
Let me introduce to you, Panasonic's newly launched 2000W hair dryer and it's PINK hahah, no la it also comes in black too hahaha. Its 2000W of high pressure air which allows quicker drying, YAY! One more thing, this 2000W hair dryer has a foldable handle and it's lighter to carry. We girls will have no problem carrying our own hair dryer in our luggages anymore!
Commercial break lol, picture of pretty faces hahahaha
The final station was nail care.
Free pedicure using a Panasonic nail care, which comes with 4 different attachments for shaping to buffing to natural gloss to bare nails!
After visiting 4 different stations, we were led over to a new station which was the Panasonic mobile beauty care station. We were introduced to a lot of high-tech beauty products that will be launched in the market soon! Hehehe
I find this face massager super comfortable because it's heated and it helps to work a better blood circulation on your face.
Then event was succeed and it ended with Audrey and I stuffing our faces with chicken pie and chocolate croissant that served by Library Coffee.
Love it when goodie bags are not all vouchers and brochures, each of us brought home a Panasonic hair and face ionizer.
For more information about Panasonic beauty products, please visit www.facebook.com/mypanasonicbeauty
♥