Day 2 in Bangkok, we woke up early and took our time to get ready. Dont you just love it when you dont have to rush to get anything done and just relax? The night before we sort of discussed where we should go but this gold fish Audrey was having a hard remembering what's our plan for the day. Once we were done discussing about our plans for tomorrow, then out of a sudden (before everyone fell alseep) she asked, "So, where are we going tomorrow?" I was like "Aiyo, u really have gold fish memory le, we are going to Chatukchak." Last time she put her gold fish memory blame on her pregnancy but I honestly think it's not the pregnancy that caused that lol. What do you think?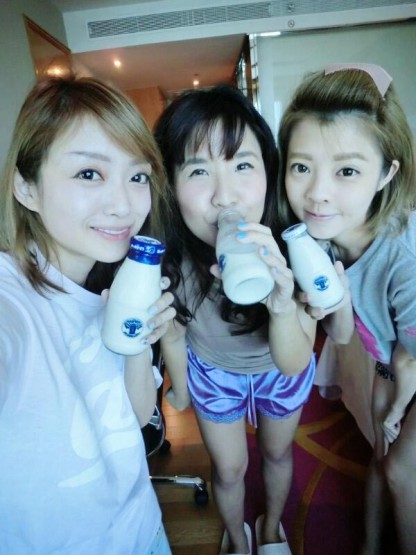 A bottle of milk a day keeps tanned skin away =)
Rise and shine! Everyone looking super cheerful (fun colored clothes) and pretty (took our sweet time to apply makeup). Hui Wen is the only taitai following our taitai trip theme hahaha, she brought a few different statements necklaces to match each of her outfits! I was like, "U're stressing me out because I look very under dressed lo." She was a Roman Godess on our first day in Bangkok (looking at her toga dress).
Look at the differences between Godess and peasant, one with perfect hair and outfit, and then another with a super messy hair and cincai outfit LOL
Both of us wore the similar outfits on the first day. O by the way, if u're travelling to Bangkok and cant seem to survive without DATA, you can purchase their local sim card called Happy Tourist sim card, it comes with unlimited internet data for 7 days for only 299baht, super cheap one! You can easily get it from 7-11 and it comes in nano or normal sim card!
Audrey brought us to this restaurant in Chaktuchat for brunch, she's been here the last time with Angela and she loves it!
Duck leg noodles soup with icy Coke on a burning hot day! This is the last picture we took on the entire time in Chatukchat. We were too busy shopping and I didnt even bother to take out my camera because it wastes my time by just doing that lol.
The weather was crazy hot so we called it the day after 2 hours then we decided to just take the train back to Siam Paragon. Aircon all the way yooooo
One of my favorite pictures of the trip, so cute looooo.
Went back to Siam Paragon and had no idea what to eat for lunch so we just chose something that we dont have to queue for lol.
We also camwhored a lot hahahahaha, Audrey's camera is best for selfies lo seriously! Then we headed back to our hotel to put down our shopping bags and rest a bit. Im so glad that our hotel is near to the BTS station but most of the time we just took a taxi instead because the BTS station was closed because of the rallies and curfew.
3D art that we managed to make it look 2D hahaha, failed..
While Hui Wen was busy picking up her gowns, Aud and I went to Central World to hunt for the Jeffery Campbell heels that she saw in Siam Paragon, which were sold out in her size. We started a little fashion show in the shop because it was quite empty and the salesperson was super frenly and nice haha.
I always wanted a pair of Timberland inspired Jeffrey Campbell boots but the moment I tried it on I was like hmmm I look like Ronald McDonalds ah! My feet looks like a boat hahahhaa so big and heavy!
Then we saw this pair, it looks super cool and pretty comfortable but I dont like the rubber material because it will create fog if your feet sweat hahaha. It's quite disgusting one hahaha.
My final decision, it was on 20% discount also!
Also got myself a pair of sunglasses at RM25! woo hoo
After a whole day of shopping and walking, we headed back to our room and called it a day. Too tired from all the walking and sweating hahahhaa.
♥