Sponsored Post
Remember my previous post about the Ford Fiesta 1.0L EcoBoost test drive? Well that finally happened and thanks so much to those who were willing to place their lives in my hands on a Saturday afternoon for taking a ride with me haha. The moment I received this advertorial I told Jo I'm bringing him along because boys like cars and I also told him he is more than welcome to bring his car buddy, Meng Fai with him.
My test drive session was on Saturday at 3pm. The weather wasn't being friendly at all haha. It started raining the moment I reached the Ford showroom = =" I was jokingly saying, "Is ok la, this new Ford Fiesta got rain sensing automatic wiper. It's all under control."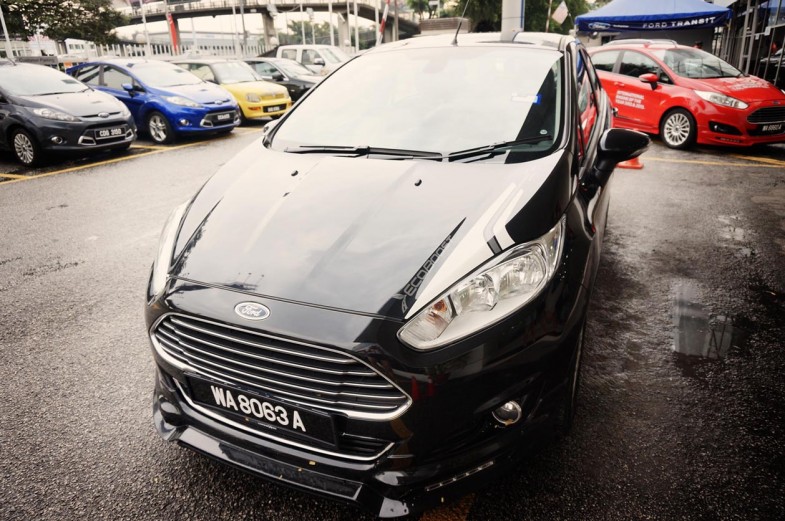 Taadaahh my ride of the day! I'm more like a girly kinda of girl so I always look at red colored cars only. My own car is red in color and I'm the only person in my family that drives a red car, the rest of them prefer black or white. Surprisingly, I kinda like the new Ford Fiesta in black, it kinda has an aggressive look about it.
 So basically I was like a driver for the day haha. My first customer was Jo, I insisted that he should be the first one so that he can teach me the route and I get some time to familiarize myself with my new ride before fetching anyone else haha.
 Off we went! I started going slow and steady with the pedal then Jo was like, "come on you need to test the 1.0L EcoBoost too!" My 100% concentration face whilst on the road hahaha
 I also got to test the SYNC audio system too! I still think that voice command is super cool; just say phone or Bluetooth then it will automatically connect to your phone or USB! You get to still switch your favorite songs or radio station without having to lose your attention on the road. The audio button is right on the steering wheel!
Besides that, I was quite amazed at their reverse sensor because it shows on the dashboard!!! With my own car, I always have to guess how close is my car to the object behind me. Only listening to the "beep beep beep" doesn't really solve my problem because I cant differentiate which side is getting closest T___T. *takeallmymoney
Selfie while waiting for my second customer hahahaha.
 Say hi to my second customer, Peng Chun. I can tell that he is scared by his facial expression lol.
 The moment I started off I asked him, "do you have insurance?" hahahaha No worries, everything went smoothly because I'm a good driver ok. If *touch wood* anything happens, the Ford Fiesta has got 7 airbags hahaha.
 My third customer was Tan, this time I requested to be the passenger because I want to see how it feels like to be a passenger. This is a picture of me being super bossy, directing Tan to turn left haha.
Another selfie, while Simon my fourth customer was driving haha.
 Then we have Meng Fai, Jo's car buddy, test-drove my ride of the day. He was the only one who switched the gearbox to manual mode, and I didn't even know of this function!
 Last but not least, Jo asked if he can test drive too then I said of cox! My favourite driver of all haha. Thanks Mel for being my photographer of the day!
 After test driving the new Ford Fiesta 1.0L EcoBoost, I've quite fallen for it. I love how small and compact it is, besides that, it's also very easy to maneuver in the parking lot. Even though it's small it's pick up is pretty powerful! It's perfect for the city or even a road trip back to my hometown!
Thanks Ford for arranging this chance for me to test drive the new Ford Fiesta 1.0L EcoBoost and making me seriously consider changing from current car T_________T The best part is that they are having a year end promotion, as for the Fiesta 1.0L EcoBoost, they are offering RM11k discount till the end of this year! If you are interested too, it is selling at RM 96,551.65. Feel free to head over to your nearest Ford showroom to test drive one! For more information please check out www.ford.com.my
♥