Yahoo, finally have time to blog about the facelift facial that I did in DRx a few weeks back! Most of you should know what is a facelift because even cars get their facelifts every few years lol. If you're not sure let me explain it to you.
"DRx Dual Lift treatment has been nominated as the "Best Non-Surgical Facelift", the DRx Dual Lift Brightening/Rejuvenation treatments feature the use of Radiofrequency (RF) together with a specialized superbrightening/anti-pigment cream or pore tightening/anti-aging cream respectively for improved results. The treatments offer many beneficial effects such as improving the texture of the skin, helping to reduce wrinkles, and firming and toning the face, including the eye area, leaving it more radiant-looking."
Put simply, DRx Dual Lift Treatment offers a visible tightening and lifting effect immediately after one session! To those who have never tried botox and are scared of needles? This treatment is perfect for you!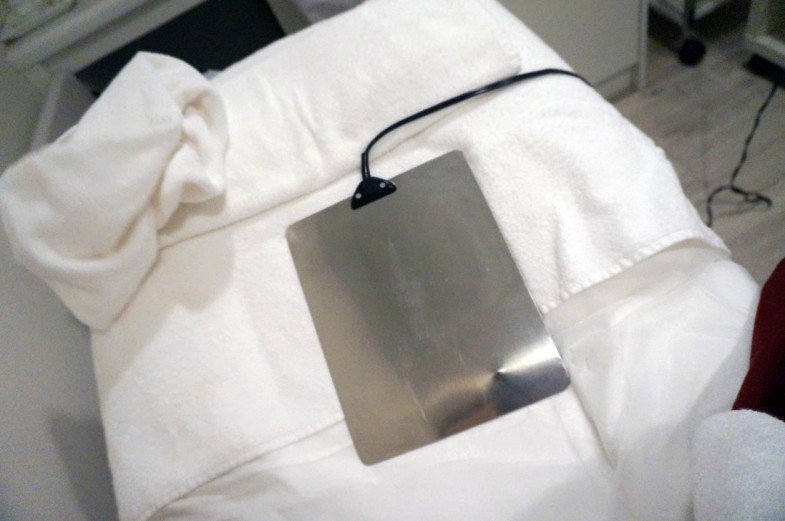 This treatment requires you to change into a robe because they have to place a piece of metal plate underneath your back to prevent any electric shock on your skin from the machine. Nothing scary just a bit cold lol
The treatment starts off with removing the makeup around your jaws and cheeks only! Then a DRx professional therapist will apply a layer of specialized superbrightening/anti-pigment cream or pore tightening/anti-aging cream on your jaws and cheeks.
Then she starts the treatment by using a radiofrequency stick to massage your jaw from the bottom to the top, repeating this for around  15-20 min. The radiofrequency stick helps deliver the ingredients through the stratum corneum of the skin more easily, hence maximizing the results of the cream. You will feel a bit warm on your skin but it's normal. It's super relaxing because the room was so cold! I nearly fell asleep hahaha.
Have to keep myself awake to take more pictures so that I can share with you guys! hahaha
After 20 min, Im done on the left side of my jaws! To show the result to everyone I did a comparison! The before and after picture =) Look at my left jaw, it's obviously sharper and firmer compared to the right side.
Then the therapist then proceed to my right jaw hehehe. Here is the end result, both sides of my jaws are sharper and firm now! The redness is due to the blood circulation so dont worry much.
DRx also provides a dressing table for you to touchup or re-apply your make up! Super good lighting, you can even take selfies.
Firmer and sharper face, wooo hooo! DRx has been by my side since May 2013 and my skin improves each and everyday. I'm now using ONLY their products and nothing else. A few of my friends started using DRx skincare products and all of them agree on how efficient their products are! I cant wait till I visit DRx again for my filler and botox touch up in Aug, till then!
Remember to quote "Bobostephanie Dual Lift" to enjoy 40% off for DRx Dual Lift Treatment! All you need to do is call DRx at 03-62013088 to make an appointment for the facial and you can also enjoy one FREE consultation by just saying my name too!
DRx has treatment for: Acne, Pores & Scars, Anti-Aging, Pigmentation, Preventive & Maintenance
N-1-1 & N-1-2 Plaza Damas
60, Jalan Sri Hartamas 1, Sri Hartamas,
50480, Kuala Lumpur, Malaysia
Tel : (603) – 6201 3088
Fax : (603) – 6201 6033
 Opening Hours: Mon – Fri 10.00am – 7.00pm Sat 10.00am – 5.00pm
♥