Sponsored Post
PART 2! PART 2! Hehe, I'm back! Here's part 2 of our Macau trip. Well, continuing from the last post, after having a quick lunch at the Venetian, we hopped onto a free shuttle that took us to City of Dreams. City of Dreams is a large complex, interconnecting a few luxury hotels such as Hard Rock with a theatre and shopping center. This is also where the theater for House of Dancing Water and Taboo! We really wanted to catch a show but we couldn't find a showtime that matched our schedule… =(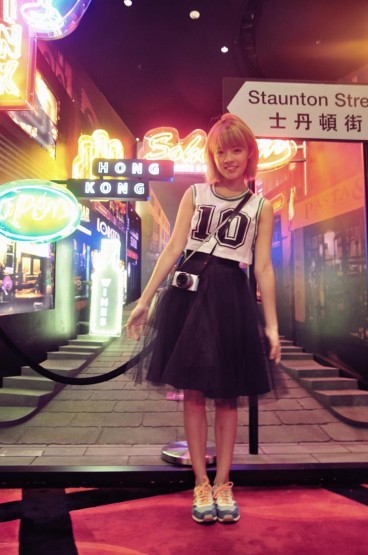 We decided to leave at around 3 pm and getting back to Macau peninsula was super easy. Just headed downstairs and took a free shuttle that took us to the Bank of China, just a few blocks from Senado Square!! It was still too early for dinner so we decided to go check out the ruins of St Paul cathedral.
Stopped by a stall that sold all sorts of yummies that you have to try! Curry fish balls and mixed beef innards! Jo loved them so much, he wanted to go back again later in the day but we were too full, lol!
Finally, the symbol of Macau! The weather was kinda hot but not unbearable so we took a few selfies and there were less people standing around compared to the first day.
Stopped by the Forever 21 right beneath the ruins to shop and escape from the heat, then headed to hunt for the yummy steamed milk pudding!
I was still too full so Jo had one with red bean. I tired a few mouthfuls of the red bean but I think I still prefer the plain milk pudding only.
Headed back to the hotel to rest for a bit after this and this was my shopping haul so far. Bought a pair of lace shorts from F21 but forgot to take a pic, fml. My awards for shopping under the crazy weather hahahha, A grey cap from AAPE, a pair of New Balance and a Hello Kitty top from Giordano. I'm so happy that I got myself a pair of New Balance in Macau because I hardly see women's New Balance selling in KL. Besides that, I got this pair in a very vintage color!
Black pepper duck and X siew rice from Chan Kwong Kee, crazy good duck, but dinner was too rushed. Not really used to the concept of eating really quickly and sharing a tiny table with 2 other strangers… so we went to grab some drinks after that. Jo found this cozy little dive bar called Cathedral Café earlier so we went back after dinner.
Decided to take a walk after dinner to help digest all the food from earlier. Went to have a look at the Wynn fountain and MGM lobby! We've seen the fountain at the Bellagio in Vegas so this was kinda similar but they were playing retro Chinese pop songs during the performance. Hahha
The third day was our last day in Macau, and there were still a few more places we wanted to visit, so we headed out early!
Stopped by Margaret's Café e Nata for a second round of egg tarts!
I would rank these no. 2, behind Lord Stow's as the filling isn't as fragrant. Hmmm imagine standing in boiling hot weather while eating steaming hot egg tarts, I thought of it like one of the Amazing Race challenges, lol
Had yummy yong chow fried rice and fried beef noodles for lunch! We sort of over ordered our lunch so we offered to share our French toast with a Korean couple that we were sharing a table with.
Visited Macau Museum which is located on a fort on top of a hill to get away from the heat, and also because it's the cheapest form of entertainment!!
Fooling around at the miniature buildings inside the museum!
The traditional Portuguese dinner, super yummy looking !!!
I was telling Jo how awesome it would be if we lived in a castle on a hill right?! The visit was so pretty, from the top of the hill you can clearly see the old buildings and the new ones. How cool is that!
Groufie before flying home!
Once again, thanks to Nuffnang and Macau Government Tourist Office for giving me a chance to travel overseas with a group of awesome people! My little tip for anyone  planning to visit Macau, avoid going during the summer unless you want to detox by sweating lol. Choose wisely on your hotel and their location, set your priorities, gaming? Shopping? Or Eating?
♥