Sponsored Post
Today, I'm going to talk about some things that are towards my private life but I feel like sharing with everyone because I believe everyone will eventually experience. Some day, like me, you will have to buy your own property and start renovating, and in cases like mine, I have to rent a house temporarily while waiting for my new place to be completed.
I have been living in a rented house for almost 5 months now, and so far so good. The only problem that I faced after moving into our rented house was that I want to make sure that this temporary space will feel like HOME. The living room and kitchen weren't really my concern because I don't really use them often. To me, the most important parts of the house are my bedroom and bathroom.
My question was, "How do I make it feel like home when it's just temporary?" I need something that can easily be moved around (I can still use them in my new house) and at a reasonable price. I instantly thought of IKEA because I find many things that will fulfill my current needs and also my future house. I can easily move it from my current house to my future one and it can easily suit the décor of my new house!
IKEA has always been my favorite furniture store ever since I started buying my own furniture. It's simple, creative, and affordable with a wide range of bed and bathroom furnishing solutions. It's like a one stop furnishing store that you can just walk in and walk out with your dream bedroom or bathroom. The most awesome part is that you don't need anyone to assemble anything for you because everything in IKEA comes with an instruction booklets, as easy as 1, 2 ,3.
Anyway, let me show you my current bedroom and bathroom, and how IKEA helps to give my temporary space a comfortable and cozy feel.
Welcome to my room =)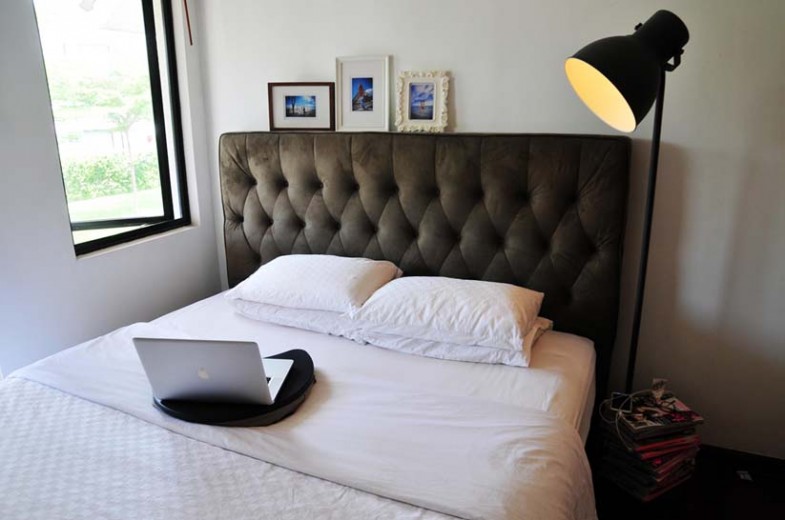 My room isn't big so I need just the simplest decor so it won't look too crowded. If you have seen my previous room, you should know that Jo and I are fans of industrial design so IKEA Hektar floor lamp instantly fit into our ideas. We want our room to have the combination of metal and woods.
When most married couples hang their wedding pictures on the wall, we prefer to just put them into 3 different frames.
HEKTAR floor lamp fits the industrial design perfectly! Our room is too small for bedside tables so I replaced it with a stack of fashion magazines!
 When our bed is the only "sofa" that we can sit on, BYLLAN laptop support comes to the rescue.
Since it's not our permanent place, we bought IKEA curtains and rods because it can be easily installed and removed!
 Like I have mentioned our room isn't big so we can't really fit a full dressing table into our room. This is when we should be creative and have fun with IKEA furniture! MALM chest drawer as my dressing table and store our t-shirts and undergarments as well. JALL laundry bag with stand for dirty clothes. HEMNES full standing mirror so that I can apply my makeup standing which I prefer anyway haha.
Who says you can only use a trolley in the kitchen or bathroom? I turned IKEA GRUNDTAL trolley into my hair and makeup station!
I love those small little hooks that IKEA sells, it's cheap and it helps to save up a lot of space! I can literally hang anything I want and it makes them look tidy and cool.
I used the top layer of the trolley as my cosmetic organizer instead of kitchen utensils. It makes my life easier because I can clearly see everything!
 GODMORGON box with lid, set of 5 is now in the IKEA "Even Low Price" categories! Last year this set was selling at RM75 but now it's RM49.90 and comes with a 10 year warranty!!
How do they manage to sell it at such low price? Because when the product is selling in more numbers, IKEA can improve production processes to make them even more affordable than before. Remember to check out more about it at http://www.ikea.com/my/en/campaigns/2015/evenlowerprices.html
GODMORGON box organizer tidies up all my skincare and cosmetics and I can grab whatever I need easily! It also helps when it comes time to clean up as I can easily wipe the surface of the drawer by just lifting each box up instead of lifting each bottle!
Tip – Pour small beads into the box so that it will hold your brushes, eyelash curler or tweezers into position and it looks nicer too!
Jo's t-shirts and perfumes are on the first level of the chest drawer.
My undergarments are on the lower level and SKUBB clothes box helps to make everything look so nice and tidy. It's also under the "Even Lower Price" category so it's now RM19.90 instead of RM29.90
Our open concept wardrobe!
IKEA offers a variety of hangers for us to choose from. I can easily hang my dresses with BUMERANG skirt hangers!
BAGIS hanger all in black to make everything look neat and tidier!
 Since there is lack of space for more drawers, I'm using SKUBB storage cases and KVARNVIK to create more storage for towels and hats!
 Our bathroom is small but with the help of IKEA bathroom products, I manage to make my bathroom fits into theme too!
IKEA bathroom series help to make our toiletries look tidy and organized.
Adding a fake flower pot from IKEA helps to add some greenery to our bathroom!
IKEA's bath sheets in blue and grey and GRONSKA shower curtain.
 We repurposed the GRUNDTAL hanger for doors to hang our towels cause our bathroom door is too tall and I can't reach it, so we hung it on the window, perfect height for me!
That's it, I have shown you my private space, now it's your turn to get started on yours =)
IKEA also provides an array of bedroom and bathroom textiles for you to choose from – soft and fluffy linens to comfy bath towels – simple yet essential items that bring a home to life.
 When it comes to bedding, comfort is most important. IKEA's selection also ranges from different designs and color, perfect to complement any interior color palettes.
IKEA bath mats also come in different sizes and colors, just pick any one to update the style and space of your bathroom!
To make it more affordable to get the home we dream of, IKEA offers flexible payment options from as low as RM500! This offer is exclusively for Alliance Bank, Citibank, Maybank and American Express credit cards holders, more info at http://www.ikea.com/ms/en_MY/customer_service/ikea_services/ipp/index.html 
I believe a  will lead to a happy life. Check out the video and get inspired to start now!
For more information, please visit IKEA.my/privatelife  
♥