Let me ask you a quick question, who gets attracted by cute packaging when it comes to skincare? LOL I know the product effectiveness is important too but first impressions really count right!!
I'm that type of person who gets attracted to cute packaging VERY EASILY hahaha! Especially when it comes to Korean products! Korean girls give people the impression of flawless and fair skin so people like me try my best to try each and every products they commonly use!
I have already heard a lot of good things about YADAH but I havent had the chance to give it a try until last weekend!! It is well-known for using natural ingredients in their formulas and products are gentle to skin, even sensitive one.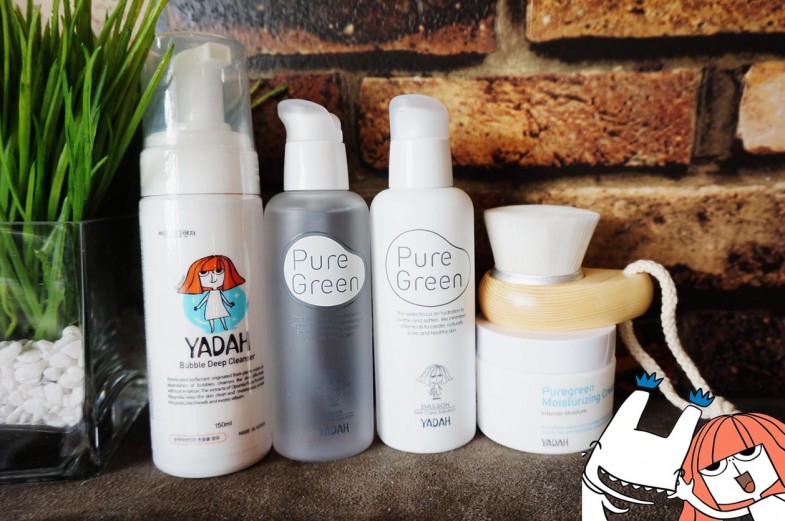 I got myself a very cute looking deep pore cleansing facial brush and their new 3-step moisture care! Super love their packaging, it's cute and it's awesome for poeple who travel a lot. Each bottle has their own caps so that you dont have to worry that it will spill out in your luggage. It happened to me too many times edi …..
Introducing YADAH Deep Pore Cleansing Facial Brush, made from 350,000 of 0.045mm superfine fibres, thinner than our hair. This brush effectively cleanses deep into pores to eliminate dirt, makeup residues, blackheads and impurities to not only provide a clean and silky smooth skin, it also helps to reduce the size of pores. These special bristles are effective in removing dead skin cells to revive the natural radiance of your skin. Comes in an antibacterial hardwood for a comfortable hand grip.
This item is already available in SASA now and it's selling at RM69 only! This brush is really really soft so it wont hurt/scratch your face!
I'm giving it a try with my YADAH Bubble Deep Cleanser, the best seller among YADAH products!
My toilet looks cuter with YADAH products in it hahaha. Too bad for Jo la aiya…
Press a full pump of bubble cleanser on the brush (remember to wet your brush before doing it ya)!
Start washing your face with it! (I had to draw my eyebrows for picture purposes, you wont want to see my real eyebrows)
The hair is really really soft and fine! It helps to spread out the cleanser evenly and easily on my face! When Jo walked into the toilet while I was taking pics, he was like now I know why u take so long to wash your face!
Once you're done, just place it under running water and gently press the hair so it will wash out the bubbles/cleanser! Remember to place it in an area that can dry out faster ya but not directly under the sun ya!
It doesnt have to be used on a foam type of cleanser, it can be used on any cleanser too!
Done with my face wash, now it's time to slap on some skincare!
SaSa will be having a promotion for the Deep Pore Cleansing Facial Brush at RM49 (Normal Price RM69) when you purchase Yadah Bubble Deep Cleanser or Anti-Trouble Bubble Cleanser. Valid throughout the Mega Sales Carnival until 1 Sept 2014.
YADAH Pure Green 3-Step Moisture Care
This range includes Toner, Emulsion and Intense Moisture! It helps to nourish the skin with nutrients from Royal Jelly, one of nature's most powerful nutrients to help regenerate skin cells and lock in moisture for up to 24 hours. Formulated with rich antioxidants to restore strength, suppleness and healthy radiance to dry skin. When skin is well-hydrated, it is more plump and resilient to environmental aggressors.
In my recently trip to Bangkok, I found out the importance of Royal Jelly! It helps to improve and hydrate your skin! My dad bought a bottle of Royal Jelly back but no one wants to eat it because it tastes like sour milk. Thank god, Yadah has it covered!
Pure Green Toner 120ml RM55, Pure Green Emulsion 120ml RM55 and Pure Green Moisturizing Cream 50ml RM65.
Lets begin with the toner, pump a full pump of toner on to a cotton pad then gently apply it all over your face including your neck ya! Everyone tends to forget about their necks haha.
Then pump half pump of the Emulsion on the back of your hand, dab it all over your face and neck! I like the texture of the Emulsion because it's not sticky and it absorbs really fast into my skin! I can continue with my next step without having to wait for it to be absorbed!  It smells really good too!!
Last but not least, Pure Green Intense Moisturizing Cream! I prefer to use it at night because I sleep in an air-conned room and my skin gets very dry! If you have super dry skin then you can apply it in the day time too!
The texture is rich yet not sticky at all and it contains more moisture than the Emulsion! After applying, skin feels smoother and moisturized. This product claims to give skin 50% more moisture with 24 hours moisturizing effect! Overall, I'm very satisfied with the results of this moisturizing cream.
If you would like to try them out, YADAH is currently giving out samples for 3-step Pure Green Moisture Care to everyone. Redeem your Pure Green sample at these selected 16 SaSa stores:
Berjaya Time Square, Mid Valley Megamall, KL Festival City, Cheras Leisure Mall, Sunway Pyramid, One Utama, Mines Shopping Fair, Setia City Mall, Mahkota Parade, Queensbay Mall, KSL, City Square JB, Jusco Kinta City, Genting Resort World, Warisan Square and The Spring Kuching.
Get your free sample today and do give it a try! I enjoyed my first experience with YADAH skincare.
For more details and information, please check out their FB page at www.facebook.com/YadahMalaysia
♥