If you didn't know, I have joined Celebrity Fitness for more than 8 months already and I try going to the gym at least 3-4 times a week. I usually go right after work because it's a perfect place to release the stress I get from work.
A few of my friends and family members asked me why I need to go to the gym or diet since I'm already so slim. I might look slim but I'm actually quite fat and my body is seriously out of shape with all my bad eating habits. There is only one purpose of hitting the gym, it's to tone up my body and maintain my ideal weight.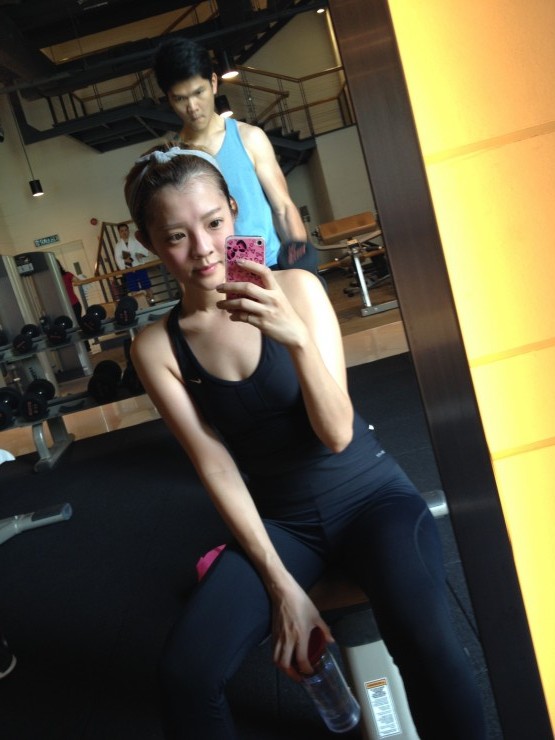 Joining the gym is fun because you get to workout with friends and each of you will motivate/support each other. It's a good place to gather some positive energy haha. At first I tot it's good enough to just hit the gym at least 4 times a week then it will work its magic on my body. I usually will attend classes like Fastfit, TRx and a lot of different cycling classes. My weight is still maintained and I dont really see any difference in my body besides being a little bit toner than before. The problem with this is that when you see how your body can change by just sweating and working out, you start to get addicted to it. I want to know how much better I can do and I want to see bigger changes in my body. I want abs and muscle definition on my hands and legs instead of flabby meat.
That's when I started to realize eating habits and my diet plays the most important role. When I started going to the gym I tend to eat more because I keep thinking, "the reason to workout is to be able to enjoy more food". This thinking is obviously wrong because you wont know how much calories you have consumed until you actually start to count it. You will have to burn more calories compared to what you had. Do you know to burn 1 medium french fries you will have to run for 49mins or cycle for 1 hour and 15 mins. So imagine nasi lemak or 1 burger meal from McD?  You will have to run or cycle for more than tat! OMG, if you go to the gym too then you should be able to understand how tiring it is to just eat a damn medium fries!
So the other day while we were doing our normal routine in the gym, one of my gym frens (Li Sum) mentioned that she is always in a state of eating clean, which means on weekdays she will prepare her own lunch (broccoli, salmon or chicken breast) then at night she will workout then for dinner she only drinks yogurt and berries shake. My reaction was like 0.O how ah!!! U not hungry meh? She says she usually cheats on weekends meaning she will eat whatever she feels like. Then Shirley and I were like lets do this shit together with Kayla's BBG! Lets do it for 12 weeks (BBG is a 12 week program) then we will see if it really works! I was like well why not! That's how we started doing Kayla's BBG and eating clean 3 weeks ago!
If you're into fitness you should know Kayla, the creator of her Bikini Body Guide. You should follow her on her Instagram to get inspired by how the girls are transformed by using her guide!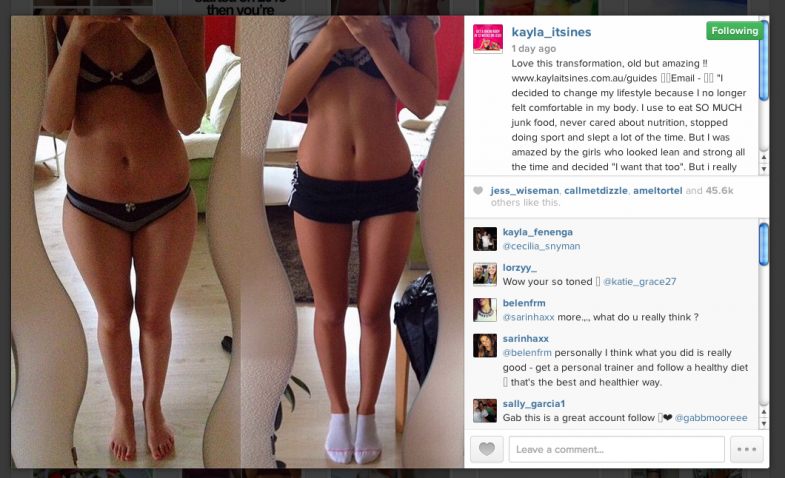 Like this girl for example, from muffin top to Victoria Secret's angel body le , come on!!! How can you not be motivated by her? I tell myself if she can do it then I can too!
We started with downloading myfitnesspal calorie calculator to keep track of my everyday calorie intake. According to the calculator my daily calorie intake cannot exceed 1200 kcals. In order for me to lose weight and fat, I have set myself another limit which is not to exceed 1000.
Then we went to the supermarket to stock up on ingredients for our lunch. We always buy 5 days worth of food for two (Jo and I). We always stick to low fat items such as skinless chicken breast, salmon, low fat yogurt, whole wheat wraps or whole grain pasta.
Always keep myself hydrated with lemon water. Putting a slice of lemon into ice water is awesomely good! It's good for boosting your metabolism too. When you're aging your metabolism is slower.
What's my workout routine?
I stopped going to all classes and only focus on Kayla's BBG workout. This is how her booklet looks like, it shows you exactly what you need to do and how to do it. It is a total of 12 weeks workout and this is only for week 1 & 3. I'm currently on week 3 now so this is how it looks like. 15 jump squats, 15 squats, 24 walking lunges and 24 knee ups for the first circuit. You have to complete each circuit in 7 mins (circuit 1, 7 mins, then circuit 2 another 7 mins total of 14 mins for the first round), for me I managed to do 1 and a half rounds for each circuit. The total total workout only takes 28 min (7 mins each circuit for 4 circuits). So, within these 12 weeks my workout routine for Monday, Wednesday and Friday is only 28 mins, short but intense! Dont tell me you're too busy to workout for only 28 mins, come on it's only 2% of your day and you can even do it at home.
I go to cycling classes on Tuesday, Thursdays and Saturdays (if I have no plans). I enjoy cycling because it's fun and it burns as much calories as running! It burns aroud 500-600 calories for a 50 min class!
What do I eat?
These is what I have been eating since day 1 of my eat clean program. All of them were prepared by Jo. I'm so glad that he is super supportive over my eat clean thingy, he offered to cook and prepare the day's meal for me! Waking up at 7am everyday is super challenging for me so he does it for me instead. <3 <3
Grilled chicken breast, steamed broccoli and home-made pasta sauce. Jo is the one who controls the portion for me. For example, 3/4 cup of pasta (cooked), 1.5 cup of vege and 1 pc of chicken breast.
Steamed sweet potato for snacks and grilled chicken wrap! Grilled chicken wrap is my super favorite!! I dont mind eating it everyday!
Thank god I can still enjoy rice but just half a cup, it's better than none. Saute'ed vege with grilled salmon!
If i'm craving to have snacks, I will eat 15 pcs of roasted almond!
When you're eating clean, simple things like cold pressed juice will brighten up your day! Thanks Petite Juice for delivering cold pressed juice all the way to my office.
When I'm sick of salad or western food, Jo prepares chicken kimchi stirfry for me!
If we are home on weekends then we will just have lunch at home instead. This is no-cream, low fat carbonara, made with eggs and low fat cheese hehe.
As for breakfast, I usually just grab a muesli bar and eat it in the office! This Yogood bar is super yummy and filling! One bar only 90 cal lol super awesome!
What do I eat if I'm eating out?
Hainan style chicken rice is ok because it's less oily and it's quite healthy! I only choose chicken breast instead of thigh, bean sprout then 2 tablespoons of rice!
I also try sticking to salmon or fish instead of the usual chicken or beef.
One of my fav, pork noodles! I have only 2- 3 tbs of noodles and just pork and soup without fried pork lard! I Googled it and the calories for a bowl of pork soup without noodles is 250 cal, which is not tat bad.
Fish head soup without noodles is ok too!
By the way, I'm allowed to eat one cheat meal every week! So, I always save my cheat meal for the day that I think it's worth eating, usually on Saturdays hahah. Last week I had Korean BBQ for dinner as my cheat meal. Of cox I will still have to avoid eating the fat and oily food. Nope, it's not torturing at all, looking at my out of shape body is more torturing hahaha. I started to appreciate all the things that I eat especially on my cheat meal day! haha
Hardwork does pay off. I started to see changes in my body from week 1 – week 3. I'm now at 50.2 kg (6th Nov). I have already lost 1 kg in 10 days and I'm so happy! My ideal weight is 48kg so I still have 2 kgs to go. Besides that, my body fat also dropped a little 0.1 ==' better than nothing lol. Someone told me sometimes when you start working out then the weight that you're putting on is actually the muscle weight not fats. So, I might not hit my ideal weight but my bodyshape will show it!
*I just weighed myself yesterday (13th Nov) at the gym because yesterday was when I completed week 3, my weight remained the same at 50.2kg but my boy fat dropped from 13.1- 12.5. Then my muscle weight goes up to 20.4 instead 20.0
Thank god for Celebrity Fitness' complete facilities so me and Shirley get to do our Kayla BBG workout without any problems! We usually do our workout at the personal training section so it's less crowded hehe.
Yesterday we did our workout in the outdoor area at Celebrity Fitness MV and I loved it! There is no aircon so I sweated like taking a shower! It feels so good to sweat so much because they say its your fats crying! There you go, my fats are crying lol.
Time to show everyone my result after week 3 hahaha.
I wasn't really fat to begin with but I want to be lean, I want to be toned not just skinny. There is not much of a difference besides my tummy being smaller and slightly more toned. (I need to work harder on my abs workout)
This is view is more obvious, my tummy is flatter and butt is rounder?
The super obvious one is the back ==" Never thought my back looks so unflattering wtf. The waist area and my butt are nicer now but I still have a lot of space to improve and more fats to be burned!
Seeing my week 3 result is good enough to keep me going so I cant wait to see my result on week 6 then 12! Will definitely keep you guys updated on my progress on weeks 6, so to be continued…
I showed my before after pic to my sisters and they say they are very motivated by me, it feels good when I get to motivate people to be toned and healthy. I used to say that I can never eat clean and I can never be toned, I know that I'm just finding excuses and being lazy. Never say YOU CAN NEVER until you try it! I have to admit you need to put a lot of effort into it especially when it comes to eating clean. Imagine when you're out with friends and there is nothing much you can eat! Don't be sad because you're one step closer to getting a body that your friends can only be jealous of. All the effort and hard work will be worth it when you see the results. Trust me.
Now that you see my progress, who wants to join me?
♥