Sponsored Post
Do you guys know that taking selfies are a thing of the past? That's because no one wants to be alone right lol so now say hello to "Groufie". Nope, I'm not talking about "selfie stick", I'm talking about Huawei's newly launched Ascend P7! I was invited to Huawei Ascend P7 launch the other day, so first let me share with you what happened at the launch, then I will show you how awesome is the P7 front camera and how to take a "groufie"!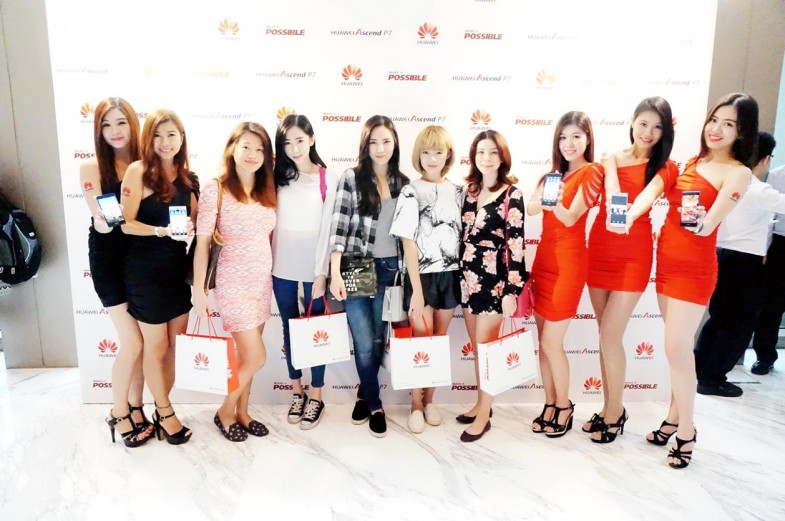 The launch took place in Grand Hyatt KL a few days ago! I was there together with Michiekin, Jane, Daphne, Kimberly and Tianchad who was not in this picture lol.
We got there slighty early so we had plenty of time to take selfies hehe.
 Huawei Ascend P7 launch was one of the grandest launch events I have ever been to! The lights, atmosphere, and the food were awesome! Hahaha
 At first we thought the performance would take place at the rear of the stage so we chose the seats that were closest to the rear of the stage. God knows, everything was performed at another end of the stage T____T We were seated too far away hahahhaa. By the way, I'm in love with the emcee's dress!
It started off with a presentation by Gary Xu, Country Director of Consumer Business Group, Huawei Technologies Malaysia.
The slide shows were pretty interesting and informative too.
Then there was a piano performance! You cant tell from my picture here but the podium moved from the back of the stage to the front, very high tech!
Just thought that the shadow looks pretty cool here.
After the performance, they presented the Ascend P7 in a very unique way, all the way from the top!
Introducing the Huawei Ascend P7!
Models showing off all the cool gadgets from Huawei!
Then it was time for food!!! Full range buffet that even served egg benedicts lol
OK I'm sure you have been waiting for this, the "groufie" feature!!
 Pretty sure there are no other phones that are able to capture a groufie without using a stick! Well, the Ascend P7 can, because it comes with an innovative panorama selfie feature! The front camera features an ultra wide angle lens, so you don't have to squeeze together like sardines in a can, the Ascend P7 will do it's job to capture each and everyone of you!!! PLEASE TAKE ALL MY MONEY! I'm seriously thinking to get one for myself just because of this function lol.
 With the 8MP front camera, the pictures look so clear and sharp!
 Most pictures here were taken by Huawei Ascend P7 front camera! Super awesome right?
For more details about Ascend P7 please check out Vmall , Facebook or their official site here!
♥