HALO! Another wedding preparation update!
I'm the most hardworking bride, right right?
So, as you all should know by now ( I assume everyone follows me on Instagram or Twitter ==") we went to take our first pre wedding shoot on Tuesday.
It was so much fun!! I kinda love the feeling of letting others do my make up, match accessories for me, and etc.
We did our pre wedding shoot with De Casamia in SS2.
Got there early in the morning, 8am!
The make up ended at around 9am!! I have to say their service is pretty good, the make up artist explained everything to me before she started to apply anything on my face. Then she gave me some tips of how to take care of my skin when im doing the outdoor shoot and also my hair from the hair spray.
Ok, there are a lot of first times in this shoot.
My first time wearing earrings (clip-on)
My first time doing a proper studio shoot
My makeup artist of the day- Kimi
This was my first look; white gown and I requested I wanted a high bun instead of low and curly hair.
My fake earrings hahahhaa. I showed it to my dad and he agreed that I look like a ladyboy from Phuket.
I decided on this princess gown because it has a super big bow at the back and this is the only princess gown that I liked hahha.
Jo and I. The photographer says Jo looks super awkward when he needs to take pictures alone haha.
2nd look for our Sepang shoot.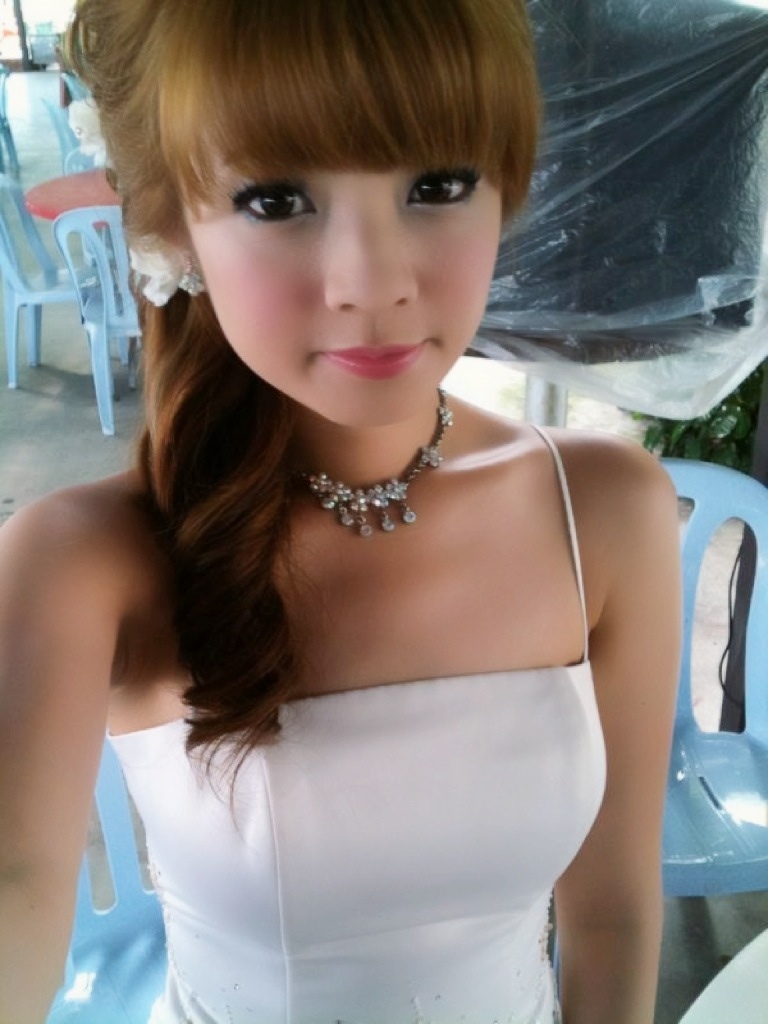 3rd look for our outdoor shoot
I have to admit, shooting outdoors was extremely tiring! I had to carry my umbrella with me all the time. The best thing was that I forgot to apply sun block before heading out! T____________T I got seriously sun burned after the shoot. Our photographer was super sweet and friendly! I heard from someone saying that the photographers dont really show pictures from their camera viewer but my photographer happily showed our pictures to me! Even the make up artist was pretty surprised that he did!
I had to say he was pretty good because he made me looked super tall and pretty! He hid all my fats and meat hahaha
4th outfit for the shoot. I got this dress from BKK.
Due to the strong wind in Sepang, I had to comb my bangs side ways and I kinda like it =)
Little tips for all the brides-to-be:
Remember to bring your own eyelashes. It's better if you buy those cheap lashes (those 10 pairs in a box) because it's softer and it's easier for them to curl the lashes. I bought a new pair of lashes from Shu Uemura and they rejected it =(

Tell them if you dont want to spray color on your hair, if they didnt ask, make sure you tell them in advance.

It's better if you touch up your hair color before the shoot!

Tell them what colored eye-shadow you prefer. I told them that I preferred a darker shade of eye shadow so my eyes wont look bloated!

Buy a new pair of Nu Bra for the shoot. I got mine from Watson at around RM50 because you will be sweating like a mad cow after the shoot. If you re- use your Nu Bra it might not be sticky enough afterwards.

As for the groom, Jo insisted that he didnt want any spray-on color. At first they wanted to color his hair cause it was too dark but we like it this way. (More natural)

Nude undies and strapless bra!

Bring mosquito repellent!!!

Bring slippers! Most of the time I wore my slippers for the shoot hahahhahaha

Bring sun block and an umbrella if you're doing an outdoor shoot.
I think that's pretty much about it. Will add in more if I can think of any!