This is a super long over-due post, and when I say long, I seriously mean it because we have been married for almost 1.5 years already hahaha. To be honest, I sort of forgot about sharing our wedding dinner pictures hahaha. I always tot I have already shared them with everyone hahaha.
When I was cleaning my computer desktop I was like "Ehh lets look at our wedding pictures!" That's when I realized I forgot to share my wedding dinner pictures hahahha
A few of you have been asking me when I will only be posting my wedding dinner pictures, so here you go!
I sort of forgot all the details that happened on that night so I'm going to just share 100s of pictures instead ok?
I can only share pictures with you guys because we dont have a wedding video FOL. If you didn't know, our videographer lost our wedding footage a few days after our wedding. So, I only have pictures left T____T
Our wedding was held at Empire Hotel, Subang. The reason why we chose to have our wedding there was because the interior of the ballroom is super pretty! LED lights that you can choose your favorite color! Besides that, our wedding is considerably a small wedding, there were only 25 tables and it fits perfectly into the ballroom! Their food was ok, not like awesome but it's considered ok compared to a lot of other hotels.
A few pictures of the decorations that were done by Paper & Color. The theme of our wedding banquet was Sakura because we did our pre-wedding shoot in Japan during Sakura season! I personally requested for Sakura trees along the aisle.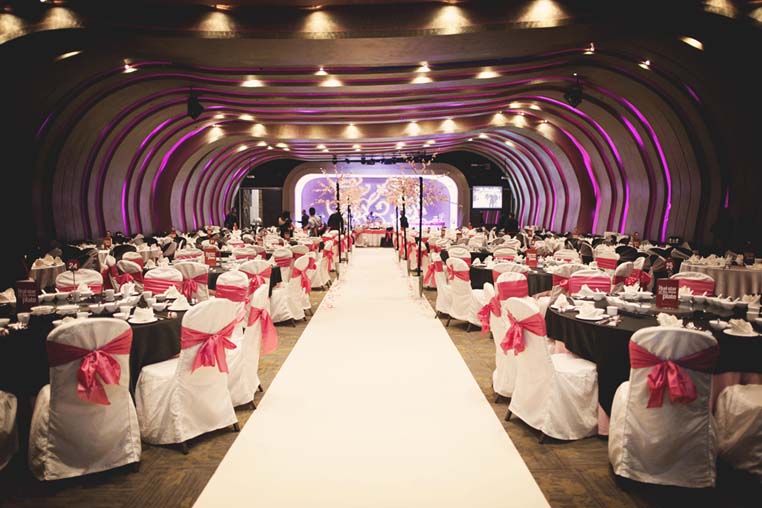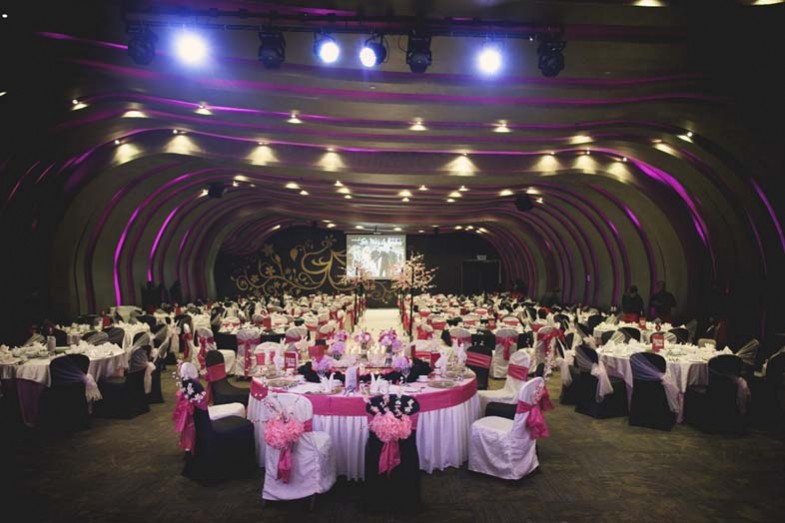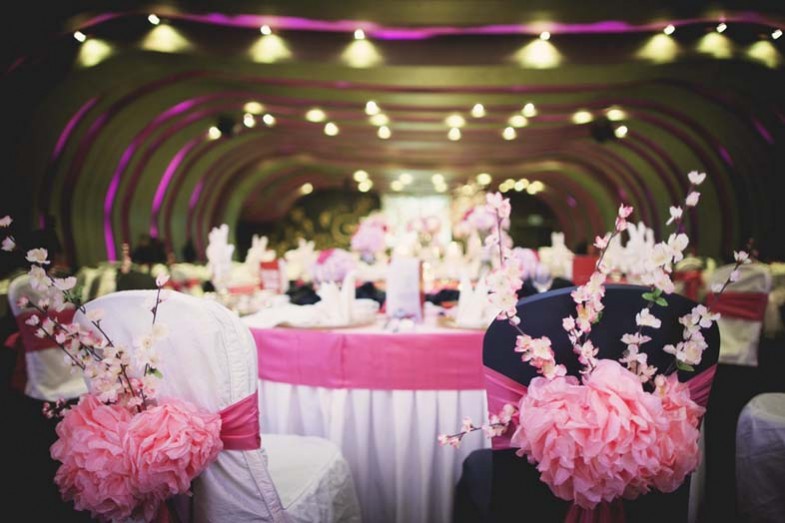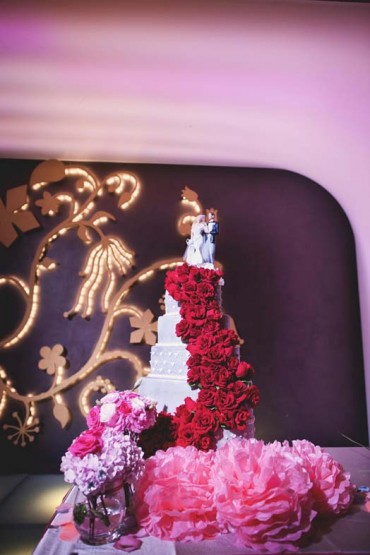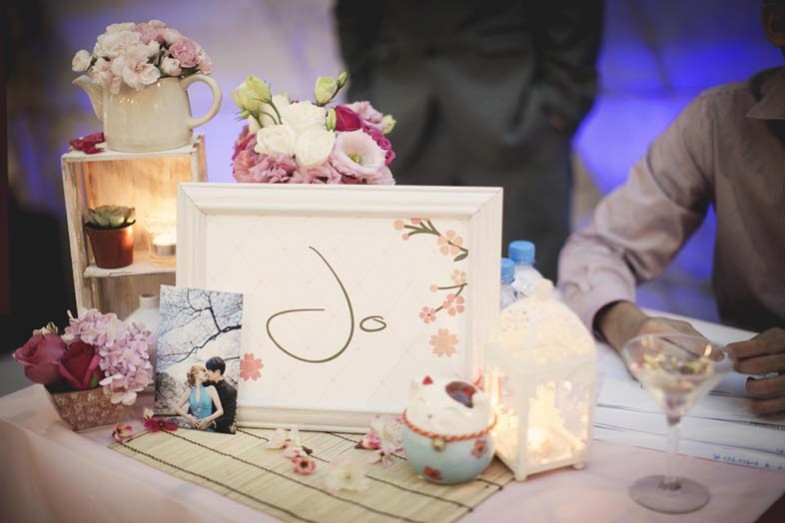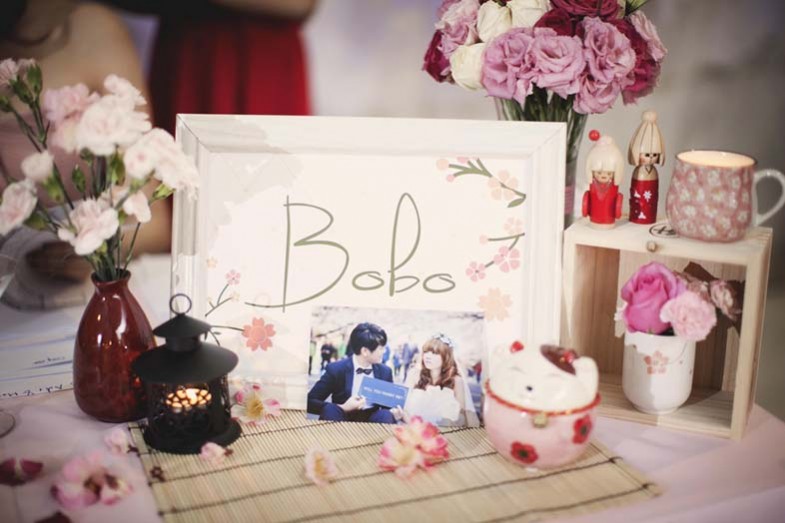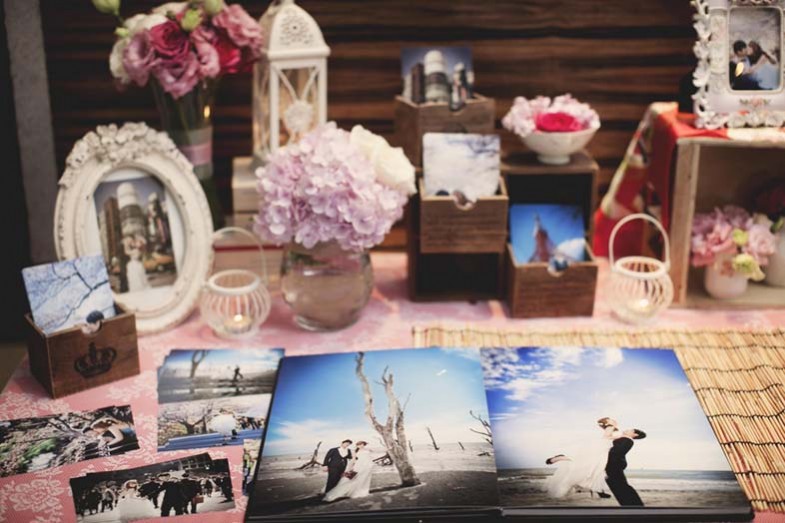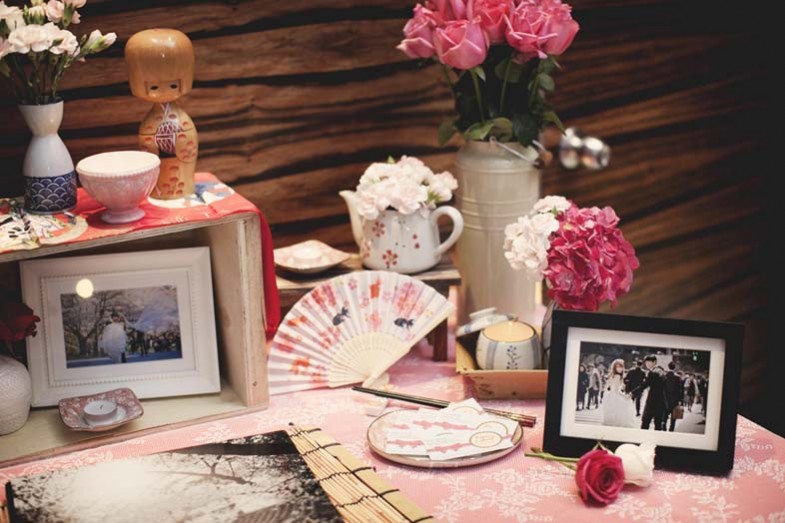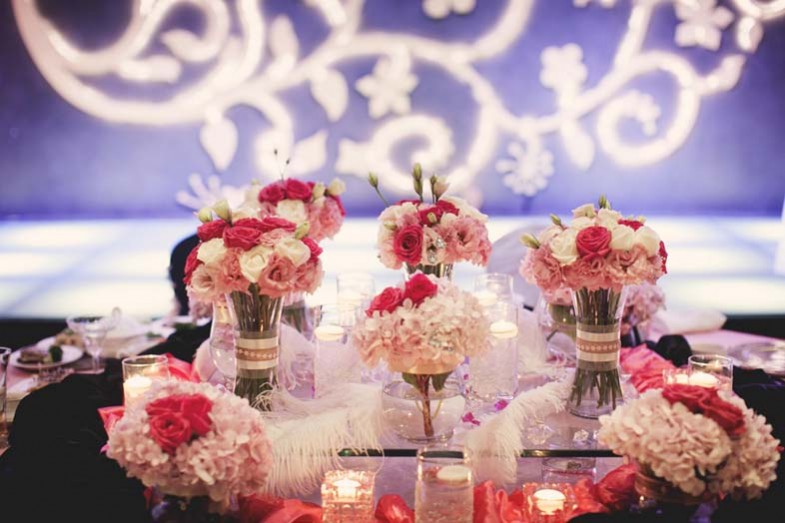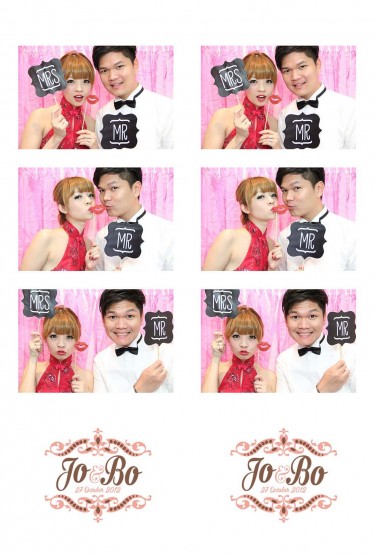 We hired a Photobooth for our wedding instead of using those normal backdrops! It was so much fun but Jo and I only got to take 1 picture in the booth T____T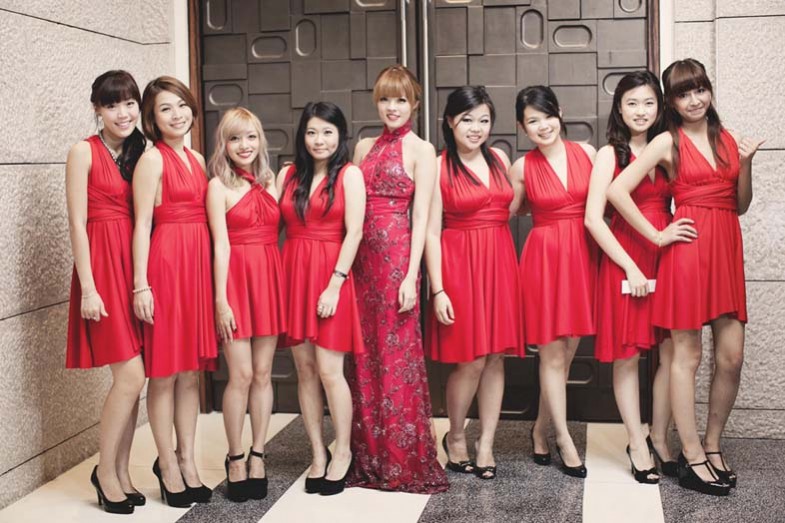 Bridesmaids and I =) I wore a red qi pao during the cocktail session…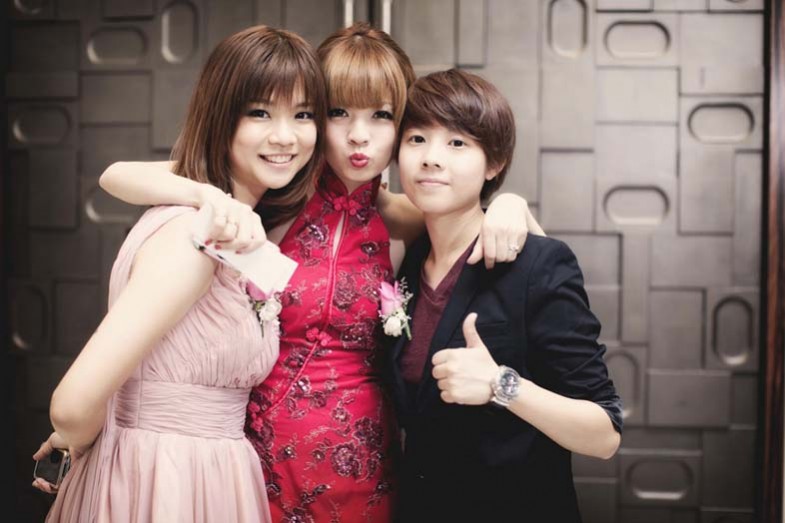 Sisters and I =)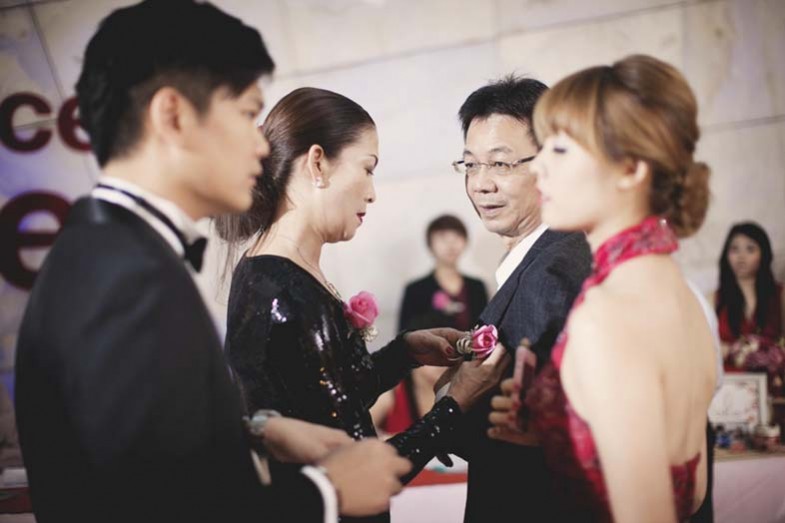 Love this picture even though I look unprepared haha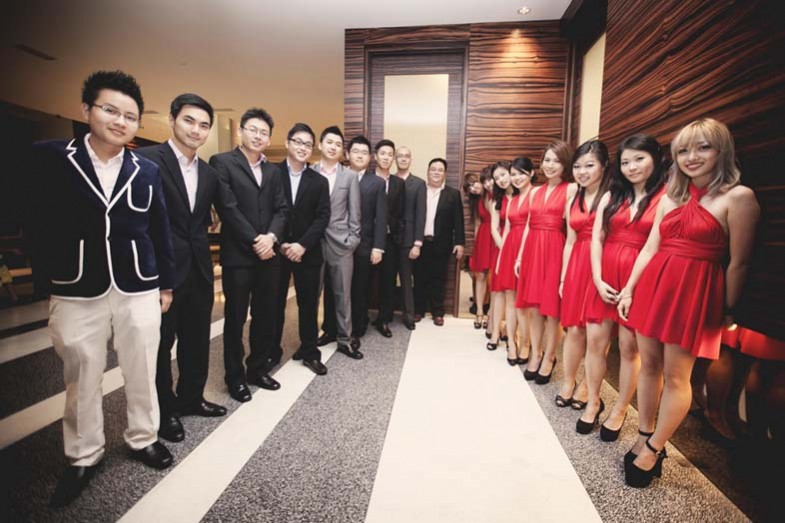 Bridemaids and Groomsmen!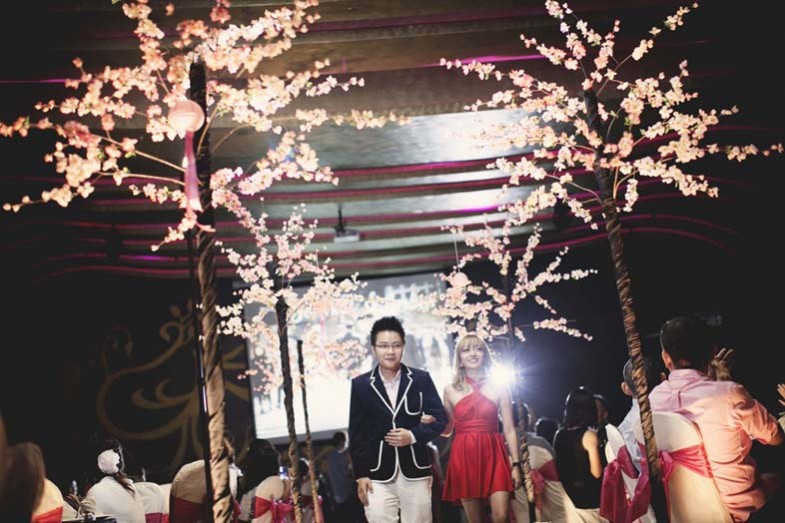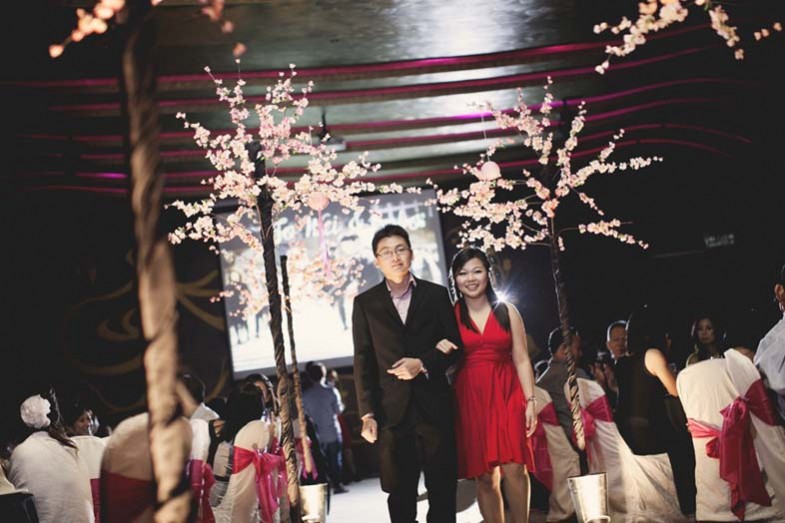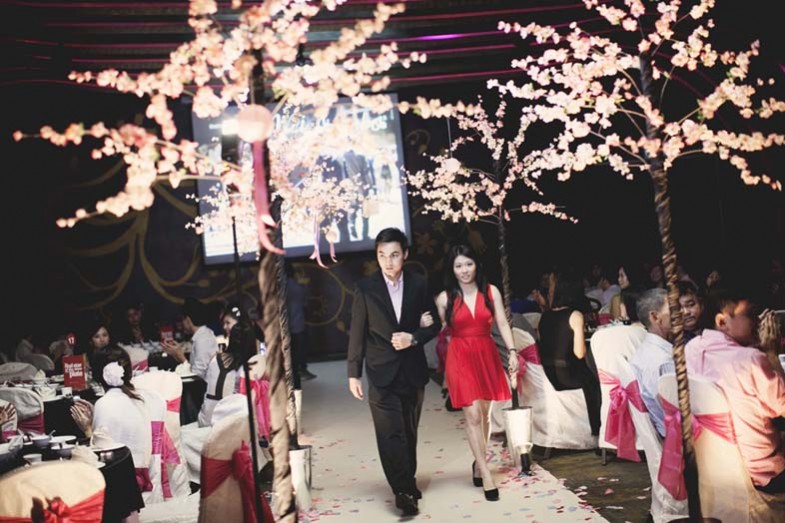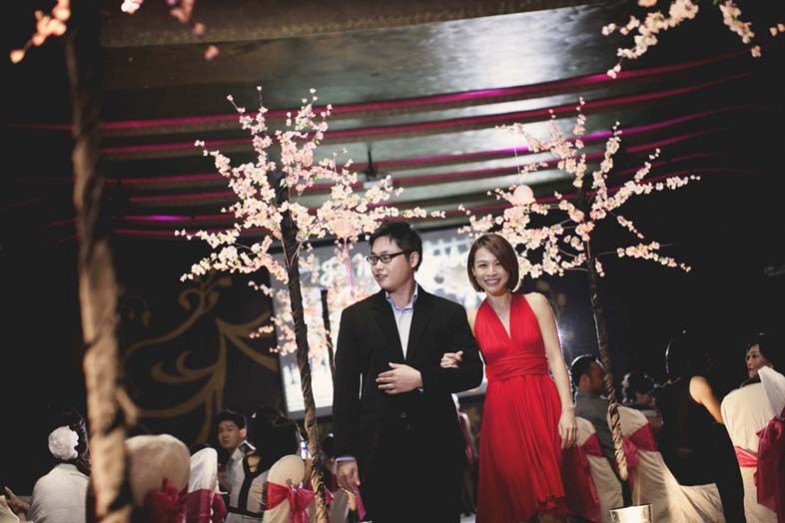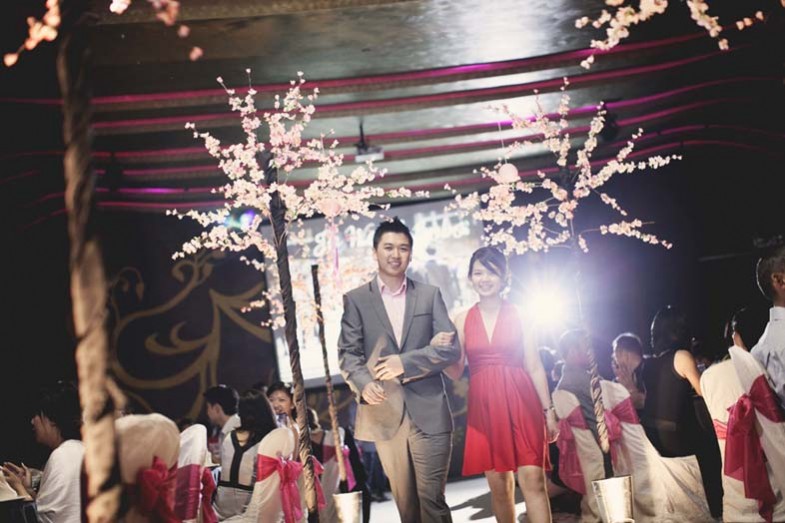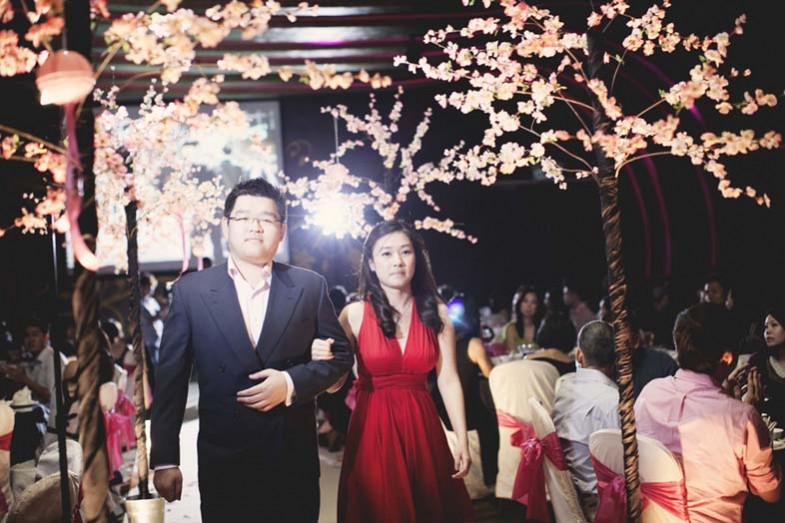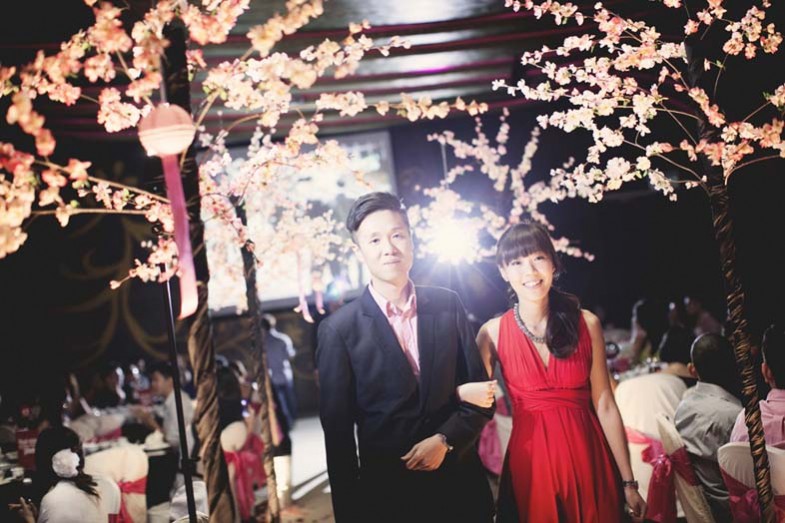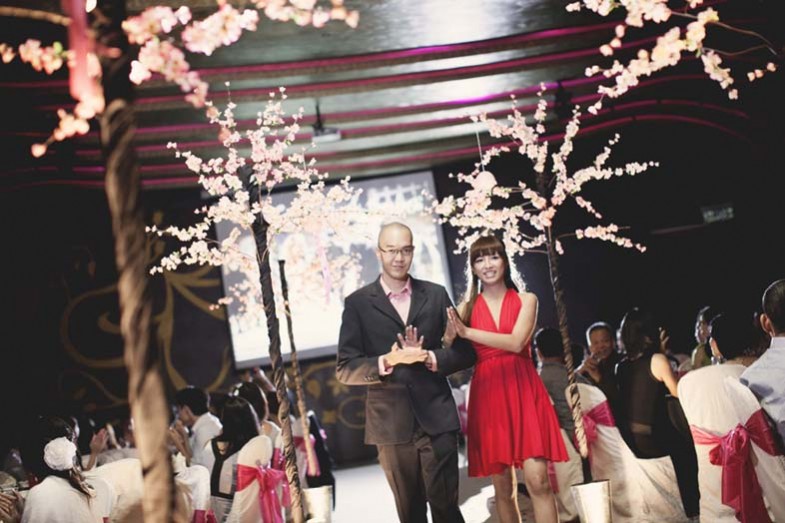 Bridesmaids and groomsmen marching in …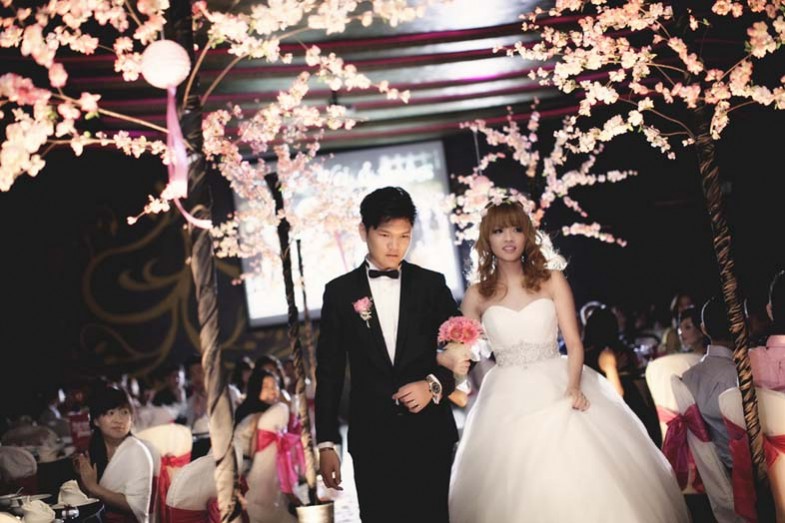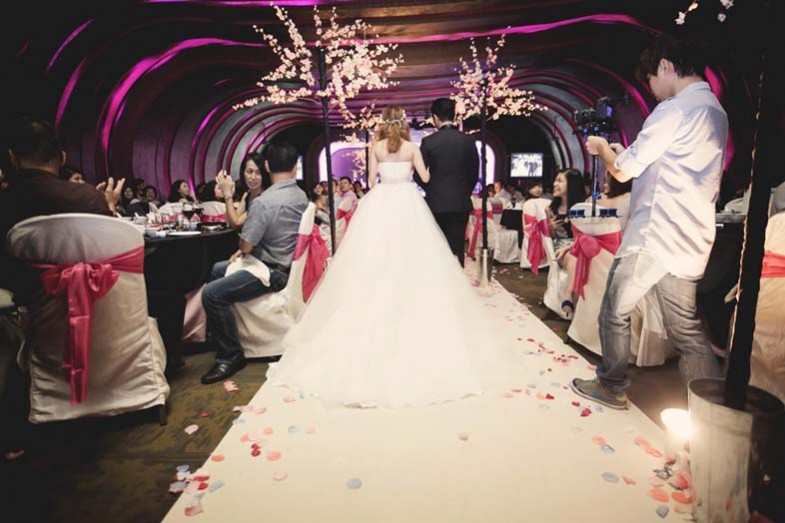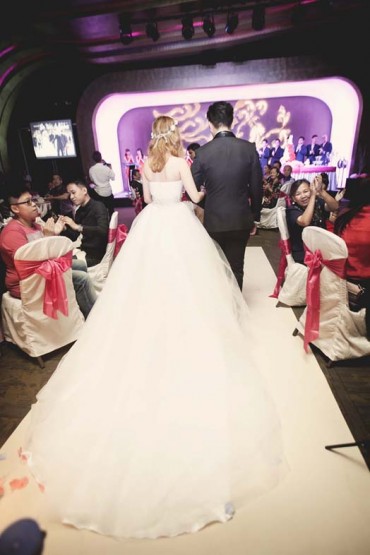 Then our turn! The train is my favorite part of my gown hahaha. I purposely chose a long train for a grand walk in hahaha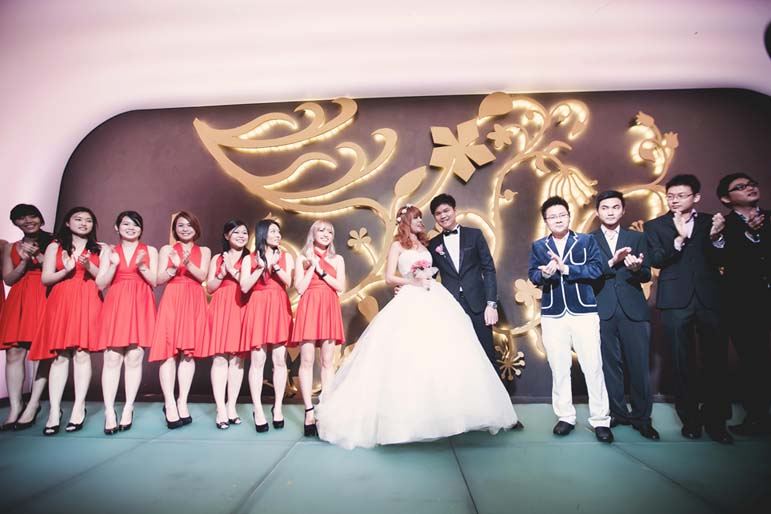 The group pic!! So sorry some of them got cut off hahaha.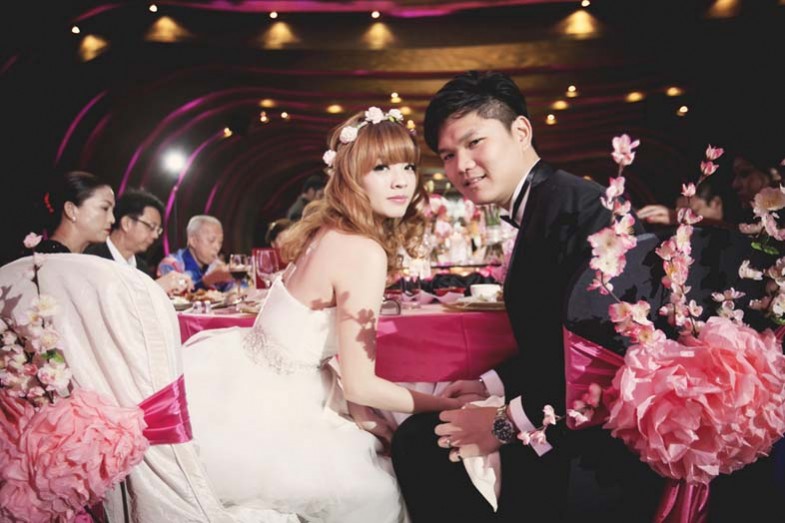 Took a picture before I started my fashion show lol. I bought the pink flower hairband back in BKK a few years ago! Surprisingly it matches my Sakura theme!
My second gown is a gold cheong sam!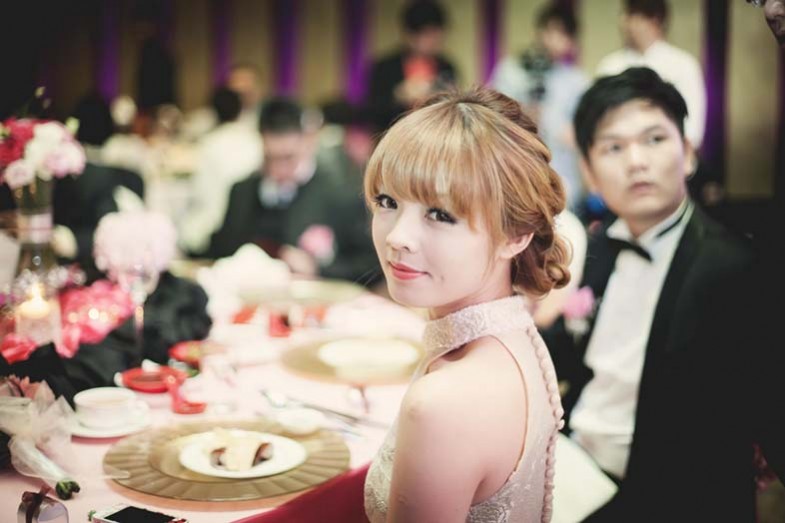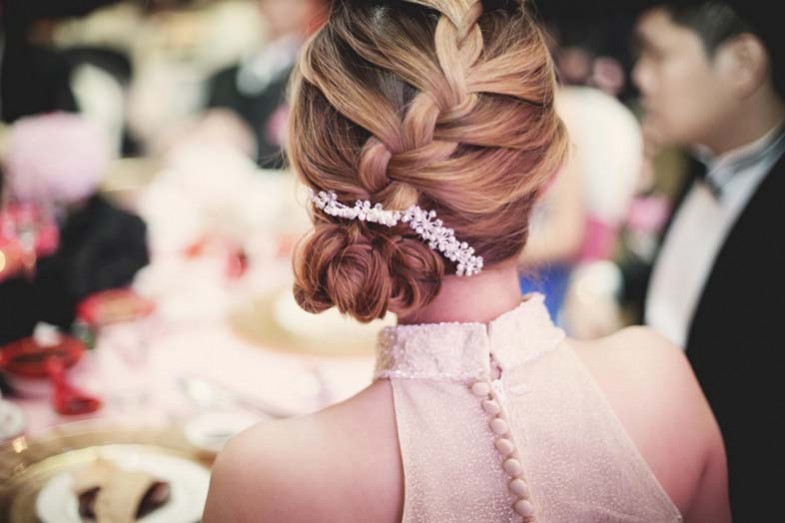 Hikky from Number76 did an amazing job on my makeup and hair do! She is the only makeup artist that I trust! Call her to make appointments for any makeup and hair do service for dinners, weddings or anything!! +603 6203 5111/4111
Managed to take a picture with my parents before I went off to change into my third gown hahaha. Advice to brides to be, DO NOT plan to change more than 2 gowns during your dinner because it's super tiring and you wont have time to mingle with your frens or guests.
Third gown is my favorite because I LOVE pink and it's a princess cut with a super long train also!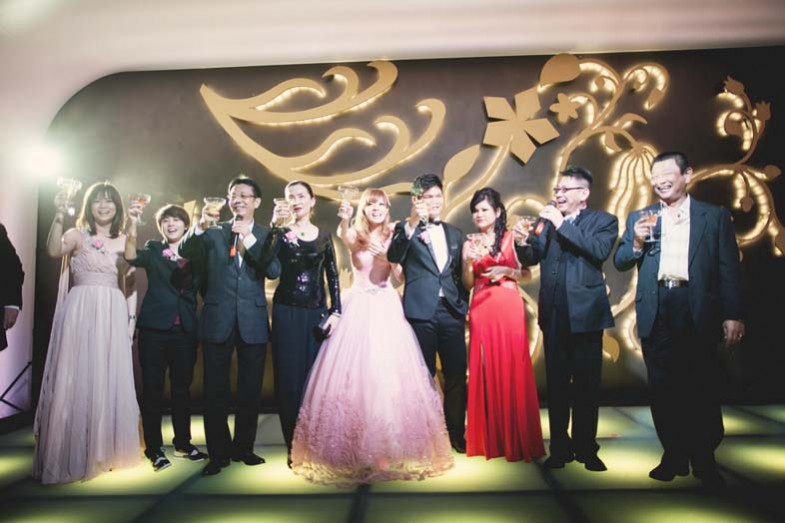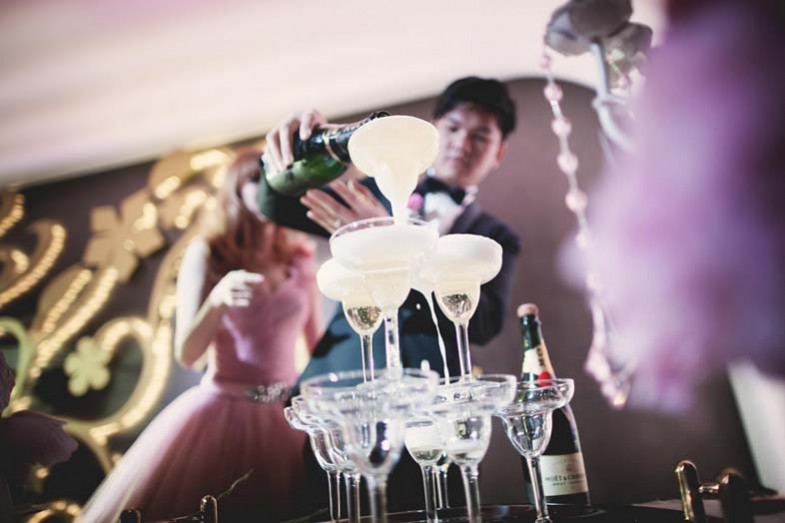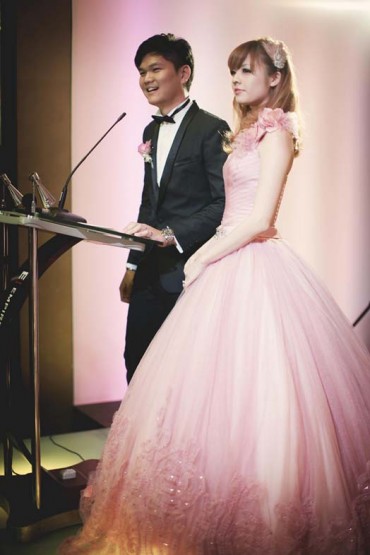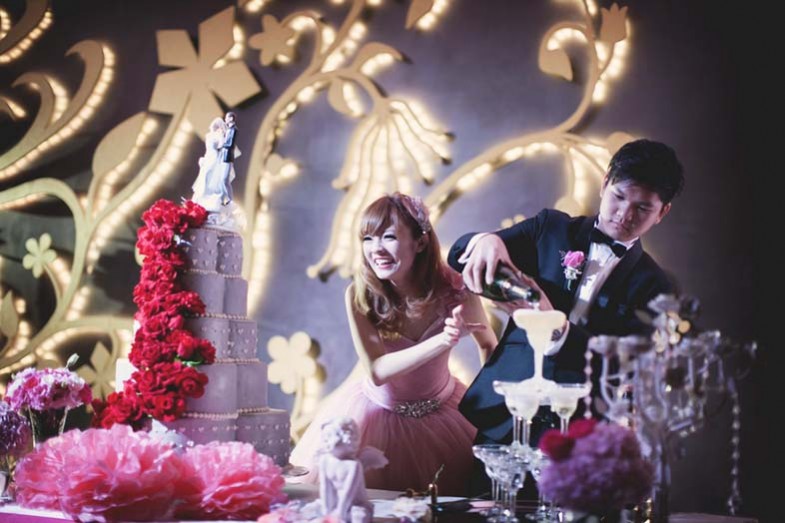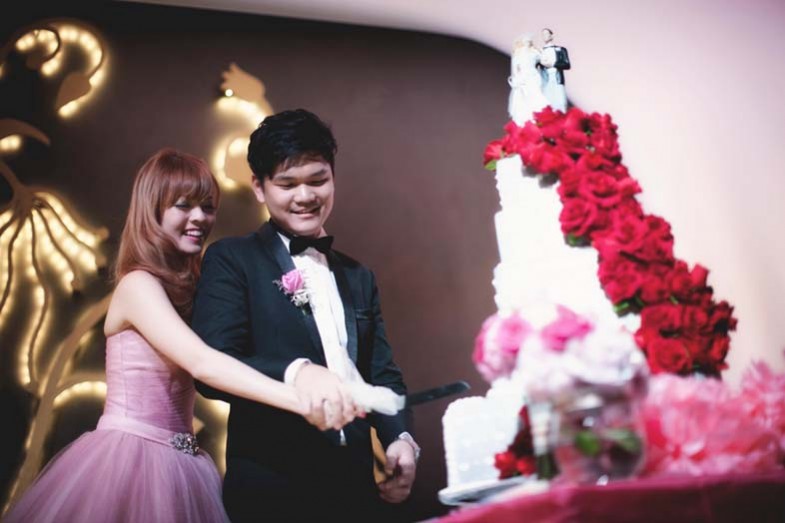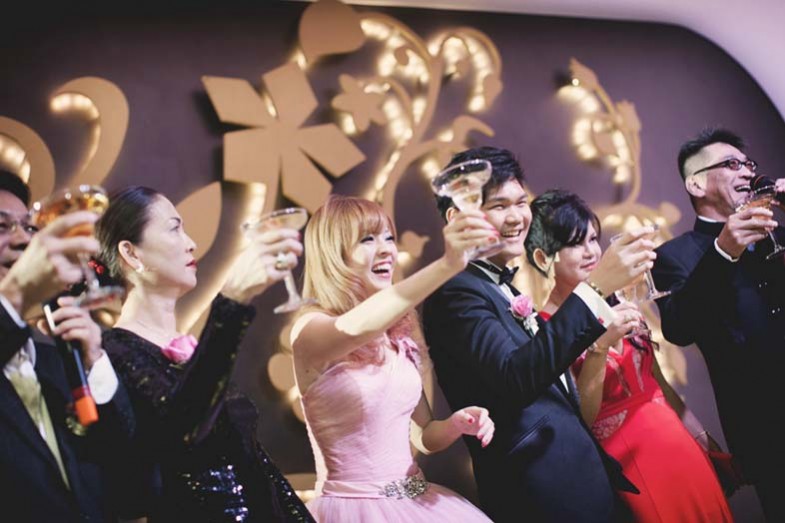 The cake cutting and toast session with our families.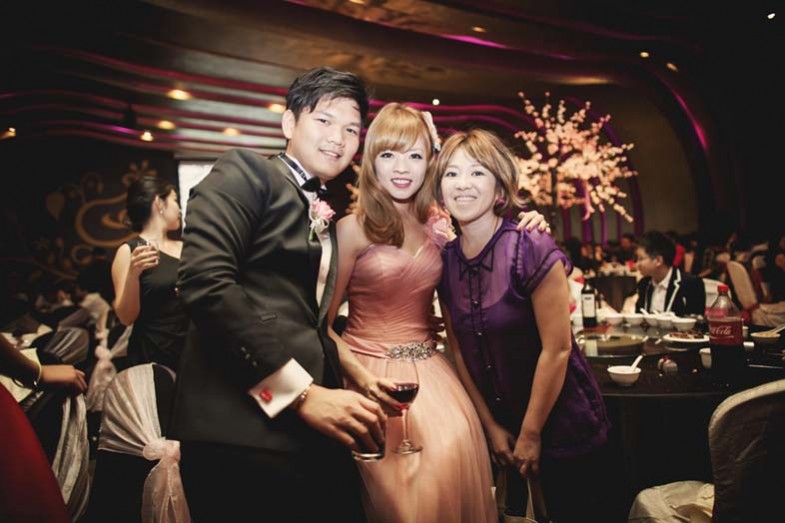 Hikky san and us! Waw I was so fair that time hahaha
Bega got so drunk on that night HAHAHA.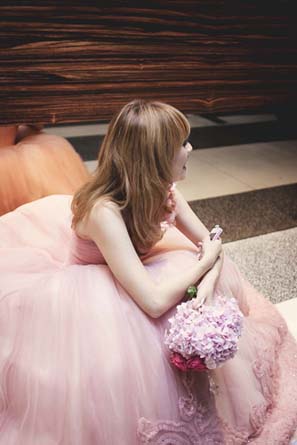 BY the end of the night, I couldnt feel my legs anymore…
Thanks to those who came and shared this wonderful night with us! Thanks to those who helped out and made that night run so smoothky without hipcups, you know who you are =)
Thanks to my beautiful bridesmaids, who made me the luckiest bride <3
It has been almost 1 and half years but I still cant stop watching our wedding highlight hehe.
Our married life is still the same besides people keep asking us "When are we planning to have kids." Thank you for your concern about our next generation but I think for now we prefer to play with friends' kids instead.
***************
Ahhh while I was editing some pictures for my wedding dinner post, which is 2 years late, I know, but I think I really miss my long hair now T__T Anyway, speaking of hair I have something exciting to share with everyone! If you don't know yet, Herbal Essences has recently launched two new scents into the market from their Japan series, Roses and Lavender! They are also available now in any Watsons store near you =). Besides that, Herbal Essences is giving out 4 pairs of tickets for NEO GAL PARTY in Malaysia. There will be a lot of fun activities, food and prizes to be won in the party. I, Audrey, Cheesie, Chuckei, Miasuraya, Nana and Myamethyst-shea will be at the party too, so come join us too! All you need to do is to leave me a comment and tell me "Are you a 'Sweet Rose' or 'Soft Lavender'? Tell me why and the best comment will win! You can also show me your best Japan Inspired OOTD/Make-up Styles/Hairstyles and upload your picture on Instagram with tags #HerbalEssences @Nuffnang and of cox my name @bobostephanie. Remember to set your account to public ya! I will be choosing the winner ya so make sure u tag me ok if not I wont be able to see your post! This contest will be running from 3rd March – 31st March! For more information about the new scents, please visit http://blog.nuffnang.com.my/herbalessences/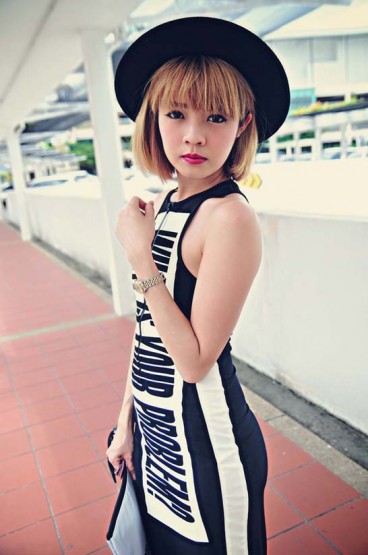 The first ever Neo Gal party will be held
Date: 13th April 2014 (Sunday)
Time: 4.30pm – 7.30pm
Venue: The Pool, Jalan Ampang
Dresscode: Neo Gal

♥