This is not an advertorial ya!
Halo all, I finally have enough pictures and information to do a review of my favorite  double eyelid stickers with everyone!
I think you trust me 100%, or at least >80%, because I swear I have tried most of the double eyelid stickers in the market or from SASA hahaha. If you were to ask me "What is the one makeup that you cannot live without?" I would say double eyelids stickers…. or maybe concealer or eyebrow mascara.
Let me go straight to the point la! Here are pictures of me without any double eyelid stickers! I used to have double eyelids but after using the wrong double eyelid stickers for a while, my eyelids turned saggy! So, without double eyelid stickers my eyelids are basically impossible to see T____T I should sue the company for producing lousy stickers! hahahha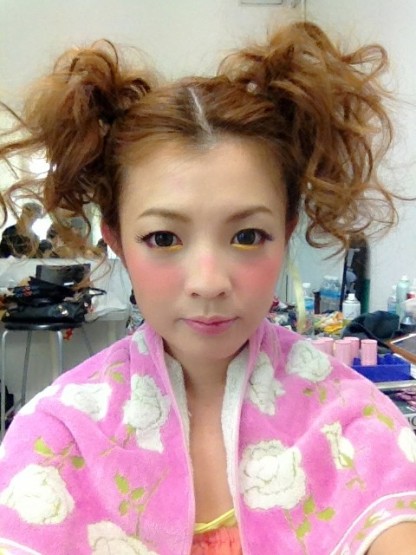 As you can see my natural double eyelids make my eyes looks small and sleepy haha. And the eyelids are covering the eyelashes so you can barely see it T___T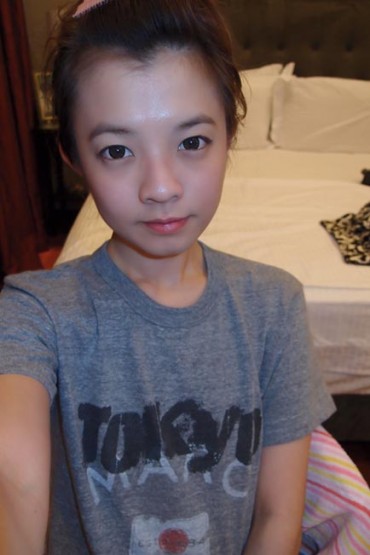 Another picture with lighter makeup!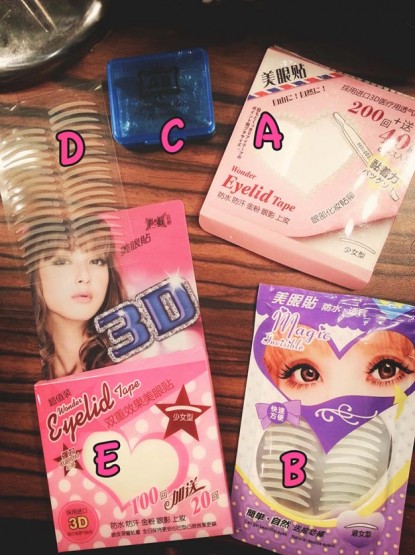 I got really irritated by my sleepy looking eyes so I decided to just go ahead and give double eyelid stickers a try instead of surgery! I have tried a few different stickers and finally settled with one! These are only a small portion of the stickers that I have tried, I forgot to take pictures of the rest or they dont deserve to be reviewed … lol
Sticker A– I got it in SASA, I personally dont like this sticker because it's not sticky enough! I can only wear it for a few hours and when I sweat it will become worse. The price is more expensive because it comes in a pack of 200 pairs! I wont recommend this for sure!
Sticker B– I got this in Singapore and I think this is the BEST double eyelid sticker I have ever used! It's really sticky and transparent! The shape of the sticker helps to create a very natural double eyelid fold! (The only bad thing is that it's already discontinued).
Sticker C– Most of you should have already seen this in SASA. I bought this when I was in Tokyo and it was the NO1 seller! I was like sure damn good one but ended up it's not for me ==" I cant seem to create any double eyelids by using this so I gave up on this. I would say if your eyelids dont have a lot of fat or meat then this will be perfect because it's really thin.
Sticker D– I recently bought this in SASA, so far I think it's not bad! Quite sticky and cheap and they have a lot in stock now! HAHAHA It's RM9.90/ bag
Sticker E– I got this in Sinagpore together with Sticker B! So far, they are my favorite, because it's really sticky and transparent! hahaha. They are still selling this in SG I'm sure you can easily find it in Orchard Road!
OK, now for a more detailed review on my favorites!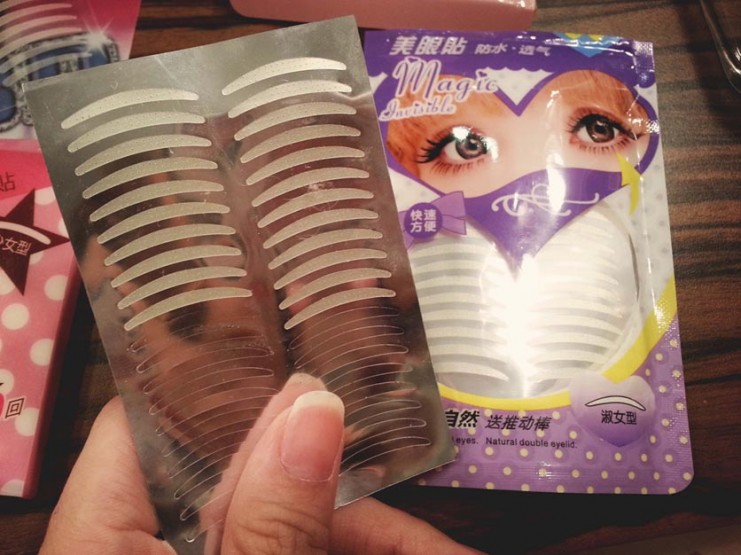 Sticker B- so sorry this has already discontinued but I'm sure you can find something similar on Tabao for cheaper price! I got this in Singapore for around RM11/bag after conversion.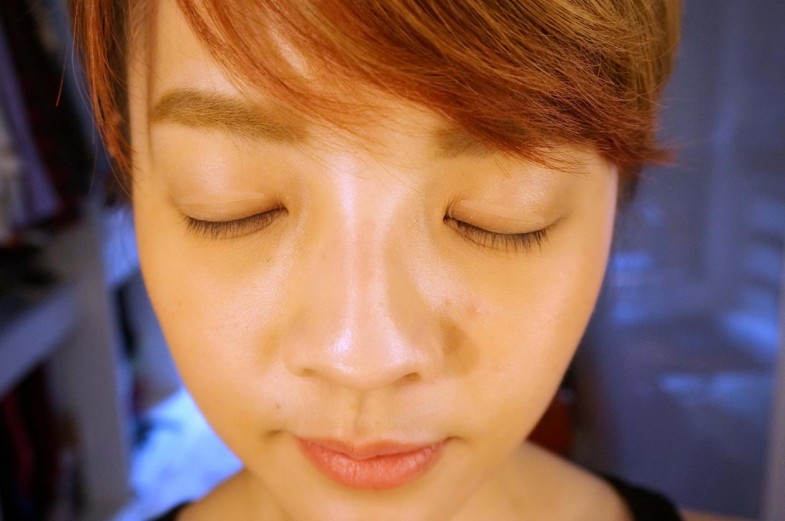 I always use Sticker B for my everyday or light makeup (only apply concealer, loose powder, and blush) because it gives me very natural and nice double eyelids! The sticker is quite transparent too!
Tips: Remember to wipe your eyelid area with toner before putting on double eyelids sticker because it will last longer and apply better!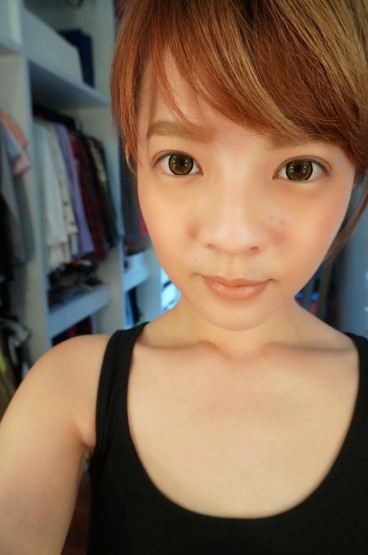 This is how I usually look like on weekdays! Very light makeup and natural double eyelids haha. This is the result of sticker B!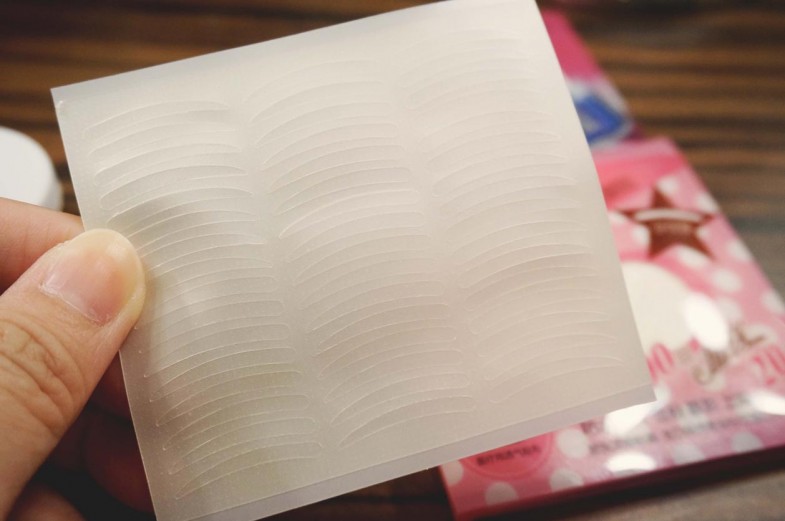 Sticker D- It's still available in SG I dont remember the price but I think it was around $12/$13 Sing dollars. The only thing I dont like about this sticker is that it's quite hard to peel off! I have to use a stick to slowly pick it out.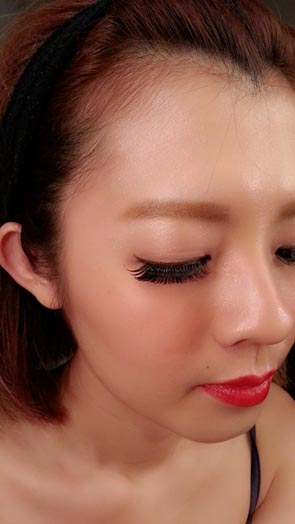 As you can see, I only use this when I apply full makeup! This is because the shape of this sticker helps to create a more dramatic fold!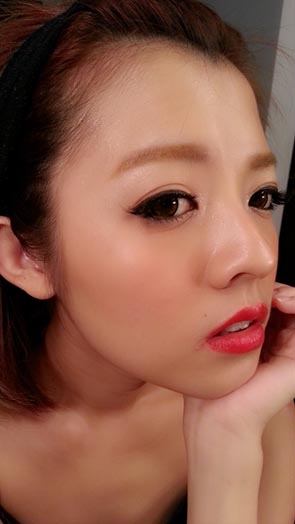 Neh, very dramatic right! It's super thick and it's parallel, I super love! I just need to draw a very thin eyeliner then my eyes will looks super dramatic edi.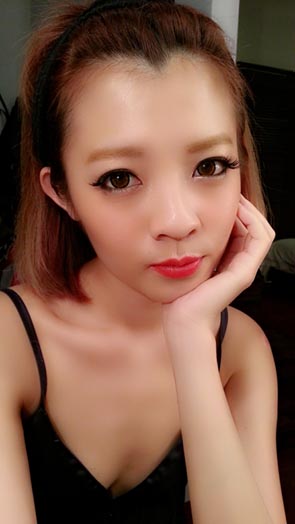 Can tell right?
Sometimes if I draw a very very thin eyeliner then my double eyelids will be very obvious! Like in this picture, you can clearly see the parallel line.
Besides that, you have to make sure you stick it correctly! If not it wont last for a whole day, and you will have to re-stick it again or else it will become visible then everyone will be staring at your eyes when talking to you.
My sister always says "Bo I really want to peel off your double eyelid sticker lo!!"
However, after all this effort, I think my double eyelids are still not perfect because I'm into very thick and high folds now! So I stopped using these and started looking for something better!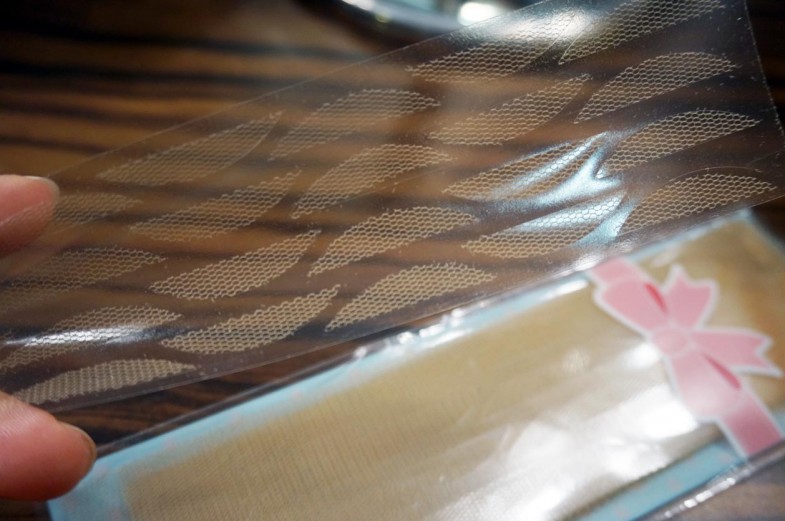 The search began and I finally found one that I like!! *drum roll* The lace double eyelid sticker!!! I believe this is the latest double eyelid stickers and most shops are selling it at a very high price now T__T SASA is selling it at RM25/pack (24 pairs?) Then some blogshop is selling it at RM19 or RM24/bag! (24 pairs?)
I wanted to buy lace and cut them myself but I have no idea how! Hahaha, so I keep searching for someone who was selling it for a cheaper rate!
And I finally found it!!! I shall share with everyone 'cause I love this sticker a lot hahah
I got them at Fancyphinfashion on Facebook. They are selling it at RM12.90/bag (48 pairs) instead! The price is pretty reasonable and cheap!!!
One thing about this double eyelid stickers is that you will have to buy a glue in order to use it! They are also selling the glue at RM10.90! I'm using the eyelash glue that I bought in Japan which is pretty good and sticky!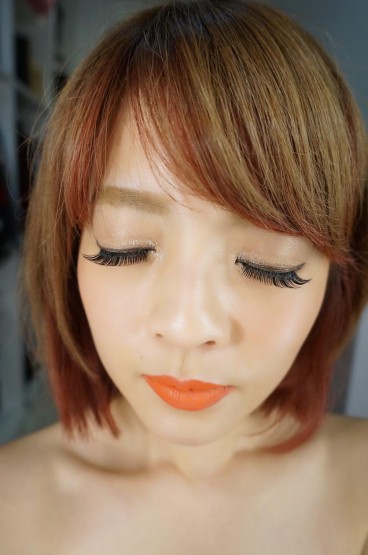 This is how it looks like! It's considered quite transparent because the eyelid sticker is in nude color and very very sticky (well it depends on the glue that u're using)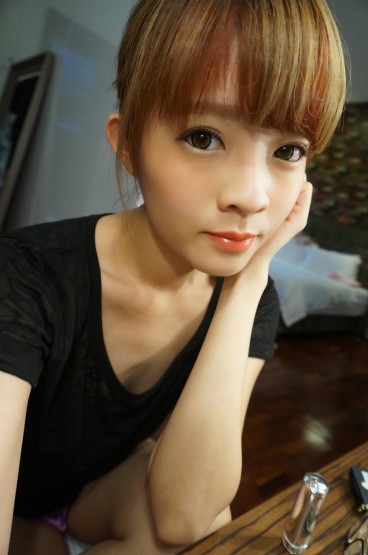 The parallel eyelids that I always wanted /in trend now lol… My eyes look bigger and rounder!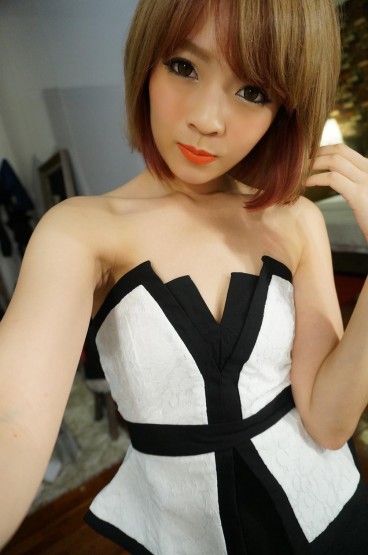 Super love it!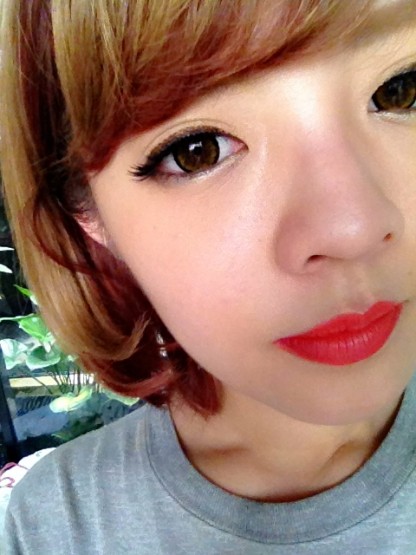 This is how it looks like when you close ur eyes half way hahhaha.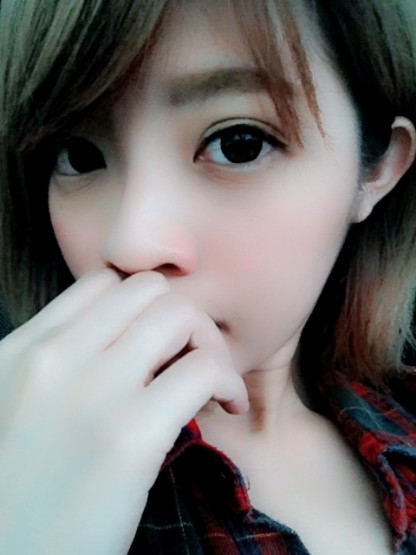 This is how it looks like with just thin eyeliner without eyelashes.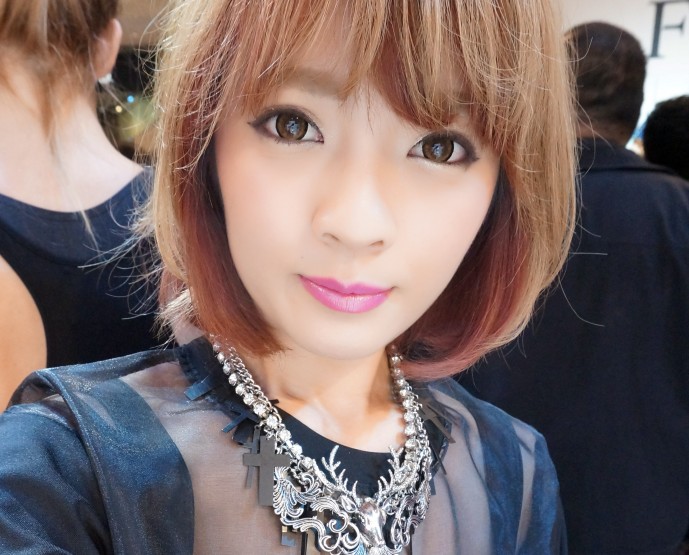 It's easier to apply too because I dont have to wipe my eyelids with toner before sticking it on! It wont mess up my eye make up too!!!
Please do not buy all the lace double eyelids from Fancyphin, leave some for me ok? I need to stock up edi hahahha.
I hope this helps to give you a better idea when you walk into the double eyelids section in SASA or any beauty shop!
May everyone have BIG and ROUND eyes!!!
♥