So, a few months ago Aud, Huiwen and I went to Bangkok for a 4 day 3 nights trip just to get away from our busy lives. Audrey's busy with breastfeeding fighter, Huiwent busy with her Rocky and Azorias then me busy with my daily 9-5pm job T__T. Bangkok is perfect for us because, their food is yummy, it's near and it's affordable!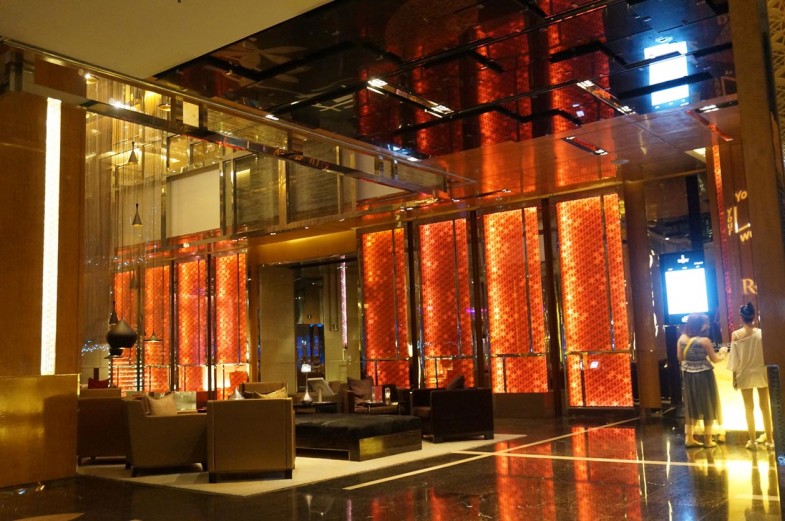 We stayed in Renaissance Bangkok Ratchaprasong Hotel and I have to say this is the best hotel I have ever stayed in in Bangkok! I tend to just choose a cheap hotel during my stays in Bangkok because I spend most of my time out so I dont see the point of staying in an expensive and nice hotel. Since this is a taitai trip and 3 of us will be sharing a room, we decided to go for something little bit more expensive. Well, Renaissance is not really expensive la it was around RM300+/ room, still ok but their service was awesome. They served us cold drinks and towels at the check in counter.
but, we finished the drinks in one shot and messed up their table in a second hahahaha, not so taitai.
The room was so clean and nice! The most important thing is that it's very bright!!! The bed is quite big that it fits 2 ppl in a bed! Ahh I love this hotel so much hahahaha. I swear to myself after my recent trip to Macau, I will never stay in a cheap and old hotel anymore. I had a very bad experience at the hotel we stayed in Macau, the room was so dim and it smells.
We rested for a while then changed and got ready to hit the city! Our "must do" before heading out, selfie! Thank god it there were big mirrors in the room so everyone have their own mirrors to do their makeup. No fighting or hair pulling happened in the mornings =P Super love all of our lip colors, 3 different colors and our outfits were quite matchy too hehehe.
Our late lunch in Somtam Nua located in Siam Square. It's my favorite restaurant in Bangkok, my favorite dishes are the fried chicken and papaya salad! Their pork softbone soup also very nice!
Then we headed to Siam Paragon for dessert! Everyone's favorite, Shibuya Honey Toast.
It was Aud's first time trying their toast then she was like, tastes like Rotiboy!! lol
Then headed back to our hotel to change into something more airy cause it was too hot and Audrey needed to pump milk lol. We were joking that we should use her milk as face mask at night so it wont go to waste hahaha.
We then headed out again around dinner time, we went to the Riverfront because Hui Wen needed to pick up her mother's gown and also try out her own wedding gown =)
While waiting for Hui Wen to try out her gown, we selfie lo
After Hui Wen completed her most important mission, we continued our shopping spree!!! Brought them to Kissmedoll to check out their scarves because I got one for myself in my previous trip to Bangkok and fell in love with the material and design! Both of them loved it too and got themselves one each hehehe. The frenly salesperson even taught us how to style the scarf in a few styles but I can only remember one out of three =="
This mama spent most of her shopping time looking at fighter's stuff instead of herself. This is what motherhood does to you hahaha. You forget about urself and only think for your baby instead.
Our stays in Bangkok was during their curfew declared by the army. Basically, you have to stay indoors after 12am, even 7-11 will be closed. It was our first night there so we were quite worried that we might get killed at the roadside if you stay out late lol. We asked the taxi driver to drop us at the nearest McD and faster stuffed ourselves with fries and burgers then off we went back to our hotel.
My favorite part of the trip is getting back to the hotel, and we can have pillow talk! I dont remember when was the last time I had pillow talk with girl friends. I swear we were just talking softly and none of us were laughing ok! Someone staying next to us complained that we were too loud FOL. This is why they say 3 girls will turn into a market lol.