Sponsored Post
Halo everyone! I know a few of you have been asking me to do a tutorial on my daily make up. It takes me a while to decide how I should do it because the previous one was a failure hahaha… A few of you complained that it was too fast; you can't really see what I was doing…
So I was thinking maybe I will do one when I have new cosmetics or new techniques to share with you guys. Then, one day I received a call from Nuffnang saying that I'm invited to Kanebo Lunasol 2013 Spring Collection press release. I get to check out their Spring collection before it's out in the market, HOW EXCITING!!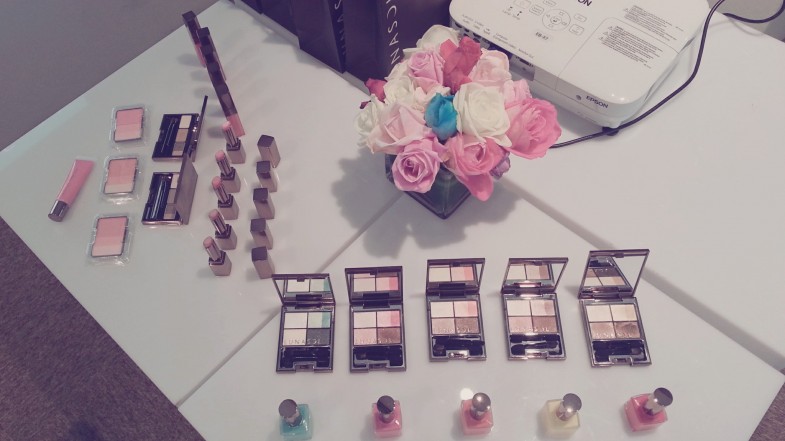 Let me share a little on this collection before I start my makeup tutorial! Lunasol 2013 Spring Collection for this spring is a complete, colorful, purifying make up which was inspired by the beautiful butterfly. I always think applying colorful make up will help to boost up my day, so I always make sure that I apply make up whenever I'm down haha. This is one of my ways to brighten up my day! OK la, maybe I should start with my makeup tutorial instead of being long winded here… I'm showing you my face without make up so please don't be scared haha.
Lunasol hired a professional make up artist and did a full make up demo for us. Before this, I always thought I have been doing it the right way but not until I saw what the make up artist did and taught us. Hahaha  I will try my best to share everything with you step by step k, so be extra patient.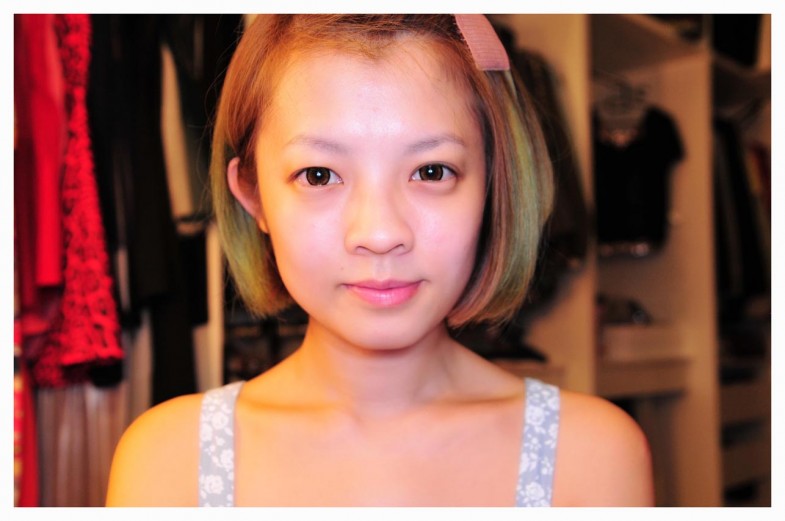 This is my face with ZERO makeup on, no double eyelid stickers and foundation. I only applied skincare such as moisturizer, eye cream, and toner. You can clearly see the uneven skin tone…
STEP 1 – FACE FOUNDATION.
I always make sure that I apply a makeup base before applying any foundation or concealer. The purpose is to prevent our skin from direct contact with the foundation.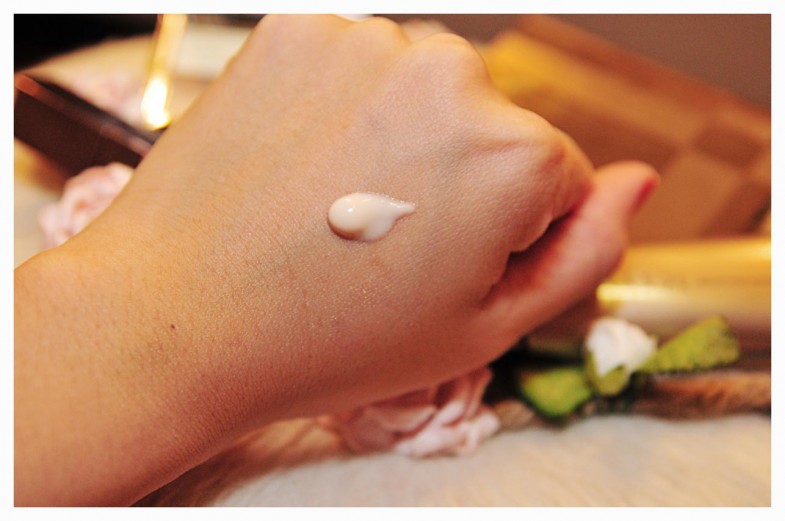 I'm currently using Lunasol's smoothing makeup base, it helps to fill visible pores and uneven surfaces with a creamy texture and it's not oily. You can tell from the picture that the cream is pretty light and it's transparent so you don't have to worry whether it suits your skin tone or not. Anyway, the most important thing is that it contains SPF22- PA ++, SPF is very very important no matter u if stay indoors or outdoors. You will never know how bad sun light can damage your skin I tell you!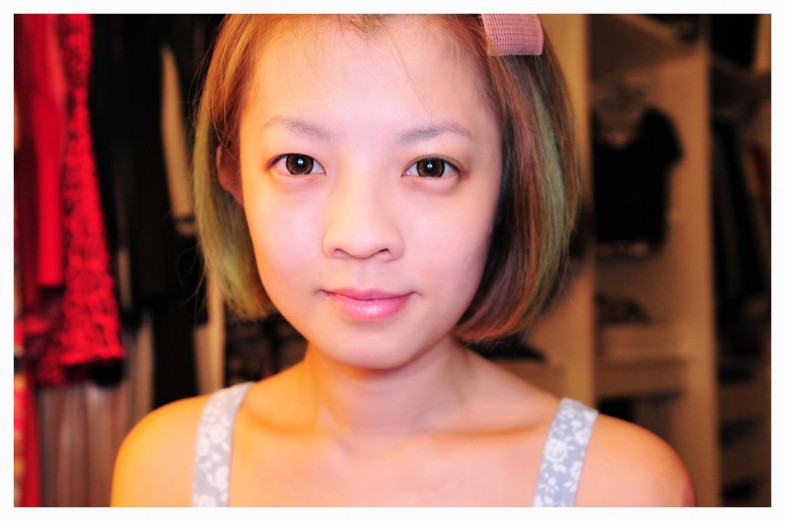 This is me, after applying the makeup base all over my face. It helps to even out my skin tone and pores a little so you can tell that my skin has brighten up a little too right?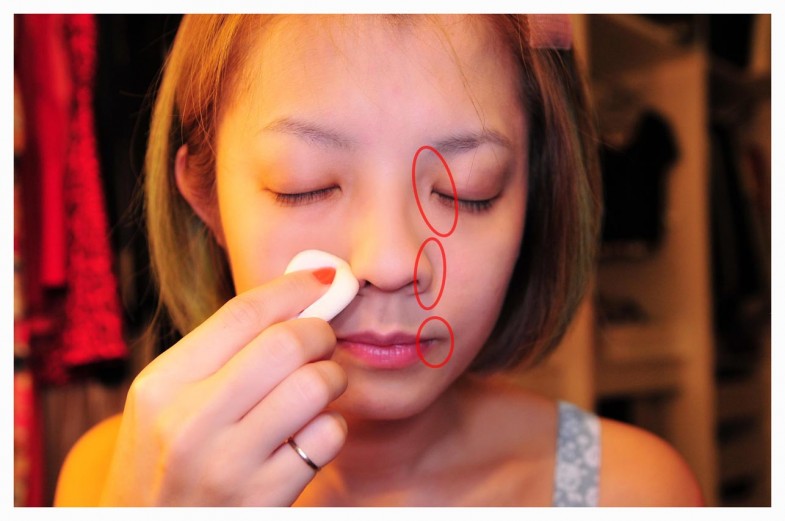 After that, I begin with foundation. I'm using Lunasol skin modeling powder foundation. This is the only powder foundation that can achieve the result that previously only liquid and cream foundation could achieve. It's very moisturing so you won't see fine lines and cracking lines on your face after applying it. The coverage of this powder is awesome because it helps to cover the areas where you can only cover with concealer. What I do is I gently apply the foundation with the oval sponge provided all over my face and also my neck! O yeah, make sure that you don't forget the area that I circled in the picture! If not you won't be able to achieve flawless and smooth looking skin hahaha.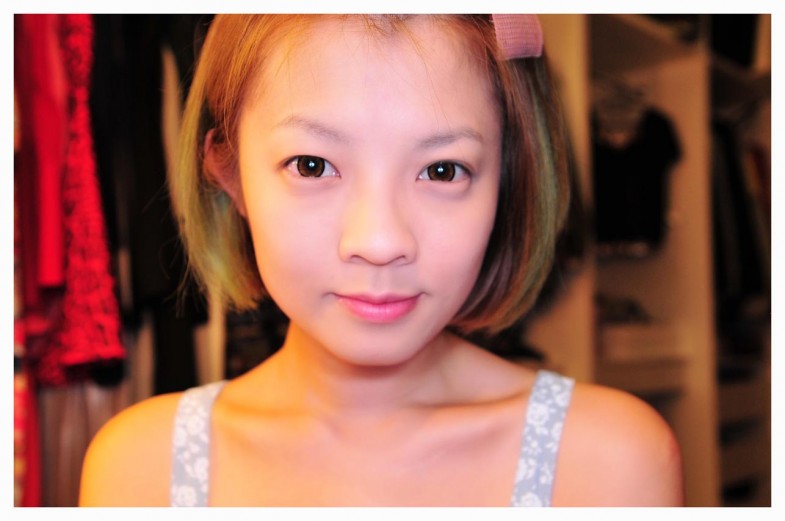 My face after applying makeup base and foundation, looks like a whole new person hor?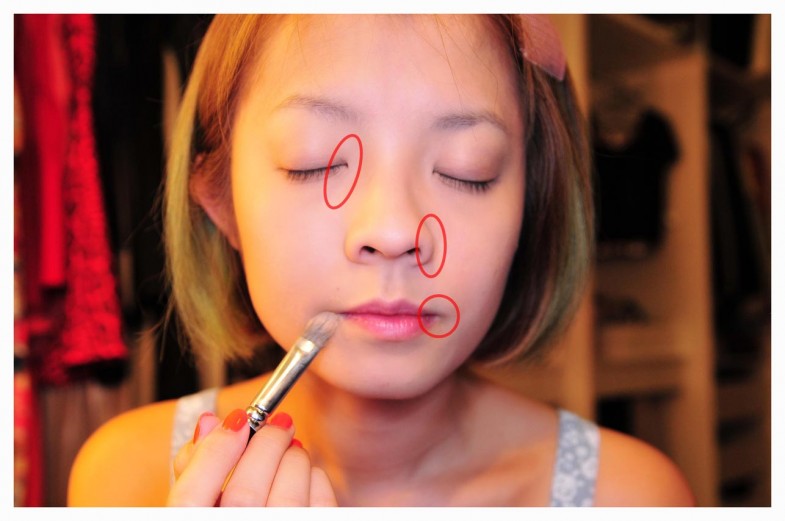 I'm super obsessesed with concealers hahaha, I won't leave home without apply it. 3 important spots that you MUST apply concealer to are the corner of your eyes, nose and lips. Take note when you're applying concealer on your dark circles, most of us apply them around our eyes including our eyelids and bottom of our eyes. It's actually the wrong way to do it! The correct way is to apply exactly like how I circled my eye in the red circle. Yup, you apply at the corner of your eyes and also a little under it ONLY. After applying concealer on it, then use your fingers to blend it.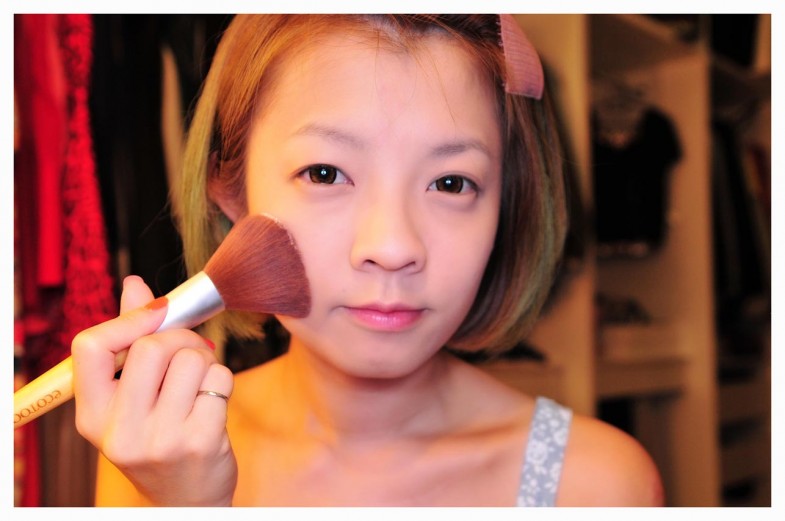 I promise you this is my last step for "step one" edi hahhaha. I always apply loose powder after I'm done applying foundation and all. Apply loose powder at the area of your eyes by turning the brush and for larger areas you apply it in a circular motion. DO NOT press it too hard because it can cause unevenness. Once you're done use ur hand to check whether your skin feels smooth or not, if it's smooth then u're good!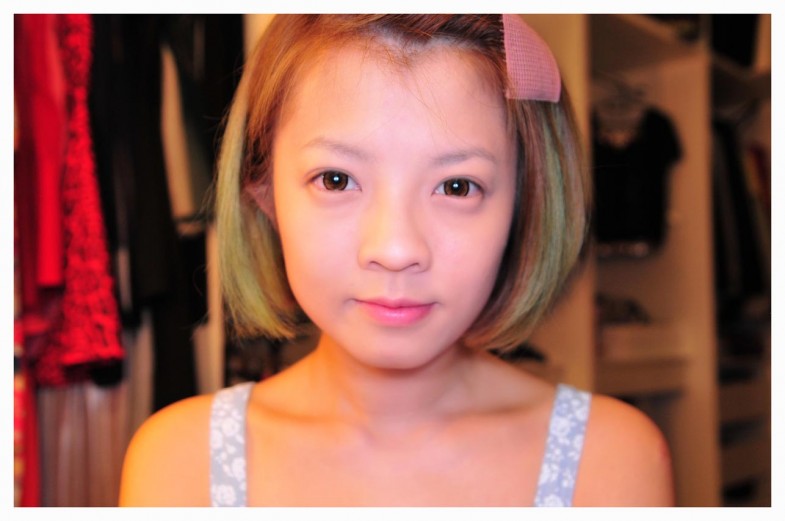 Shiny face with completed face make up done together with double eyelid stickers hahaha I don't think I can ever live without it…
STEP 2- EYE MAKEUP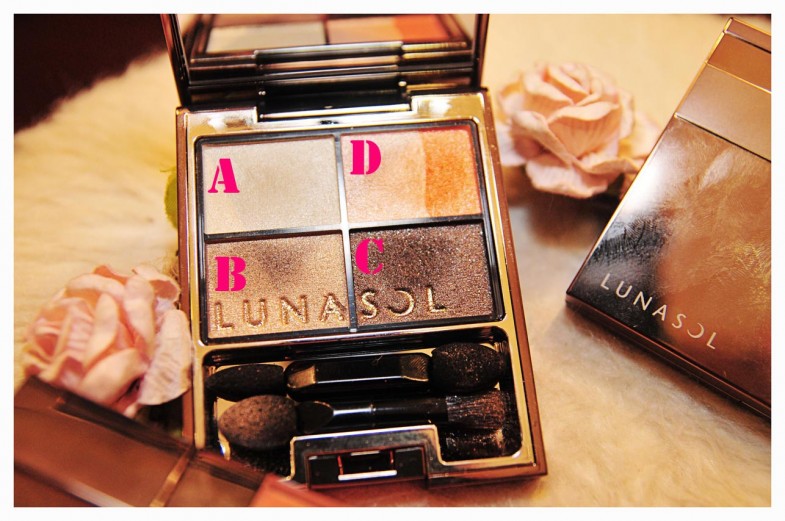 I have been using Lunasol's vivid color purification eye shadow for a while now, I personally love their highlight color (A) and shade color (C). Those who have seen my face should know that I'm the last person you should ask when it comes to applying eye shadow hahaha. I have no idea how to blend and match the colors so I always avoid using it. The reason why I've gone back into applying eye shadow is because Lunasol makes it easy and convenient for us! They already matched all the colors accordingly and all I need to do is to apply it on my eyes, as easy as that. You guys should know that I'm obsessed into K-POP now and you will think of orange color when it comes to K-POP so I chose ORANGE!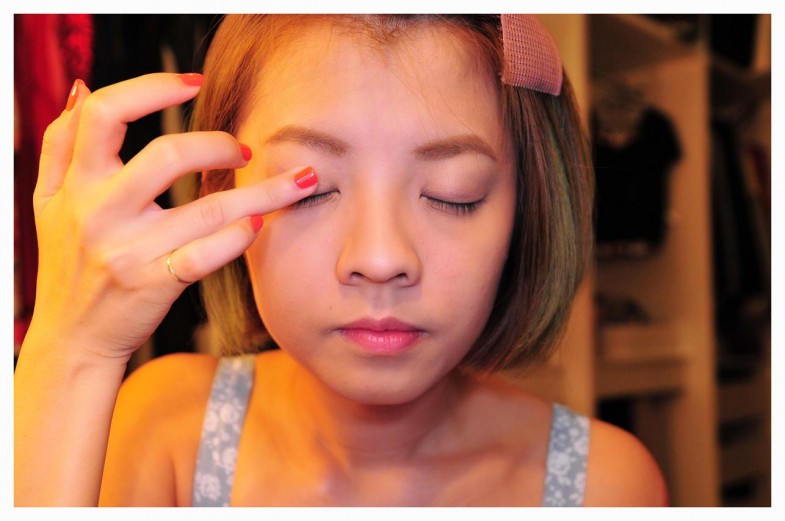 First, blend (A) on the entire eyelid using a fingertip then apply (B) over the eyelid. Layer (D) over the eyelid after blending with a brush to the desired level. Apply (C) along the upper lash line as you draw a line.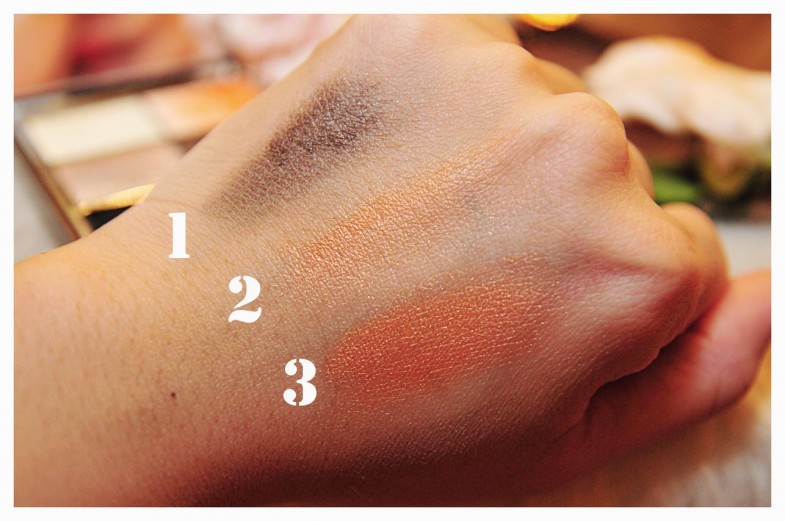 You can blend the orange eye shadow depending on your preference; if you like it in a darker shade (3) u can blend your orange eye shadow with more of the darker shade of orange on the palate. If you prefer it lighter (2) then you can blend it with a lighter shade of orange. Super easy right? Besides that, I'm using (1) to draw my lower eyelids because it gives me a very natural look and it's dark brown which matches my brown eyeliner.  I personally prefer lighter eye shadow during the day so I won't look too scary or too overdressed?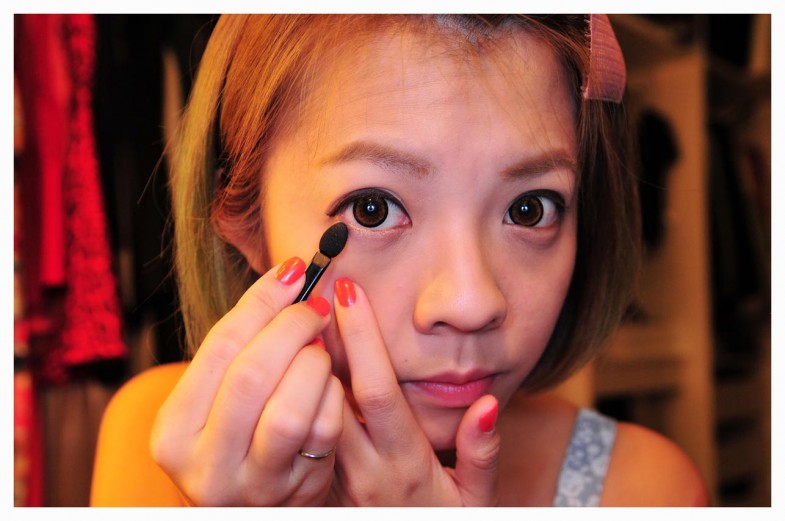 To define your eyes you need to apply eyeliner, I always apply liquid eyeliner because it won't smudge easily. I always stick with brown liner during the day and black liner at night =) After I'm done with eyeliner, I use eye shadow (C) and apply it at the lower eyelid areas.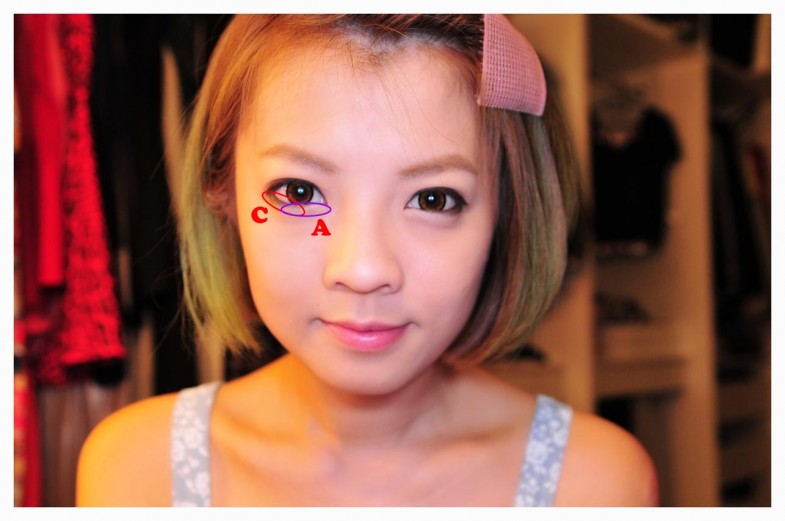 Use eye shadow (C) at the area with a red circle and eye shadow (A) at the area with the purple circle. This step is to help to create a bigger and rounder eye and I always think by applying bright colors like white can give people the illusion of bigger eyes! Finally, get whatever lashes or mascara you prefer and apply them on your eyelashes! I only use fake lashes because I'm lazy hahaha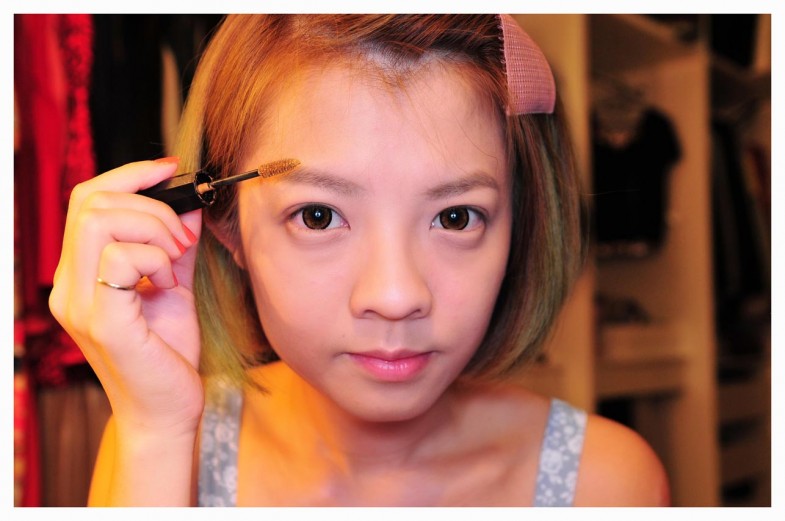 Then you can finally draw your eyebrow, I'm using both pencil and mascara because my hair color is too light so normal eyebrow pencils can't achieve the similar color as my hair.  So, I usually use eyebrow pencil to fill any areas and shape the ends. Remember to define your eyebrow length with the pencil, going from the arch to the outer edge of your eyebrows, and against the direction of the hair from the arch to the inner edge. Match your eyebrow color to your hair with eyebrow mascara =)
 STEP 3- LIPS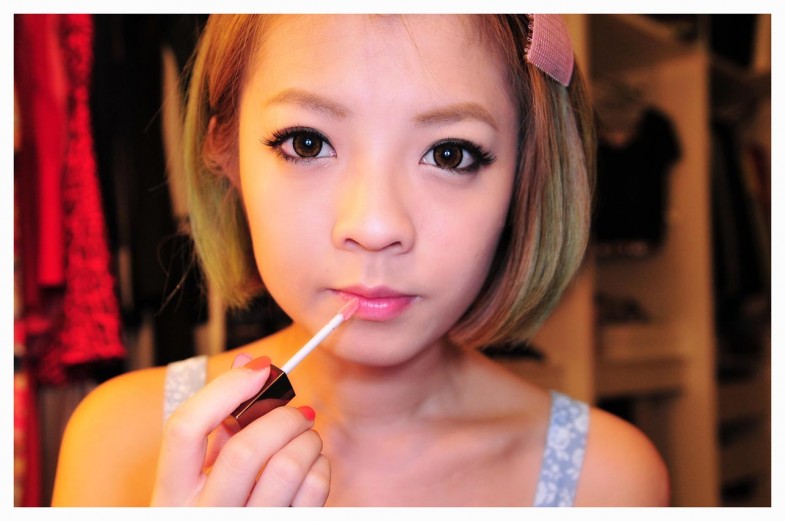 During the day I usually just apply lip balm or lip gloss. The lip gloss that I'm currently using is Kanebo Full Glamour Liquid Lips, in orange!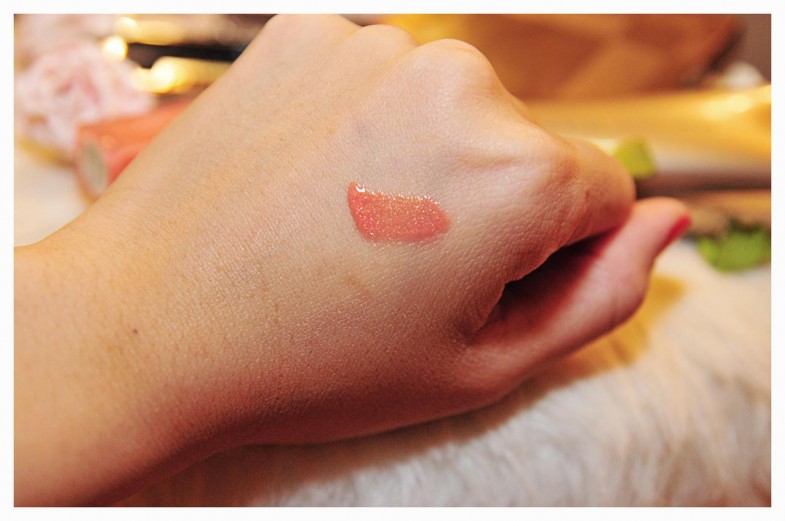 It's very moisturizing as it contains beauty essence ingredients to maintain moisture. Besides that, it is also shimmery. Most importantly it's not sticky, I hate those lip gloss that gives you the sticky feeling because whenever the wind blows my hair will get stuck on my lips, super irritating.
STEP 4- BLUSH
Ok, it looks like it's the easiest step of all but trust me, it's the hardest! I tried out a few ways to apply blush but only one method looks good on me, which is the normal one hahahha. I have been trying to apply orange blush like those K-Pop stars but nvm I should just stick with pink….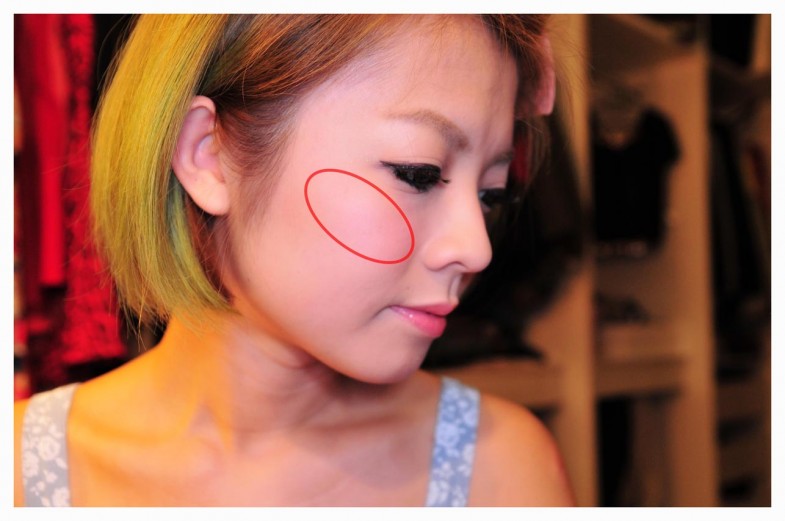 Ok, I don't like using the brush that comes with the blusher because I feel only a larger brush can achieve the perfect blush! So apply the blush along the lines of your cheeks in a wide, circular motion. Make sure that you shake of some of the blush off your brush before applying it on your cheeks to achieve a natural look!
Yup, That's pretty much what I have learnt from the press launch and of cox I added in a little bit of my own experience too! Below is the final look of my daily look! (Caution: A lot of vain pictures, hahaha)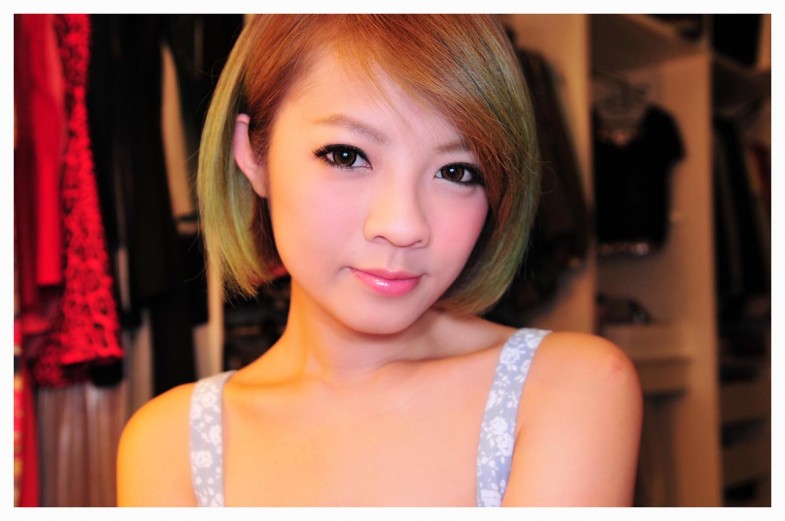 What do you think??? Oh yeah, sometimes when I'm lazy I just apply concealer, foundation, draw my eyebrows, and blush, that's it very simple and natural look. If you think that drawing lower eyelids looks a bit heavy for a daytime makeup, just skip it and draw upper eyelids only.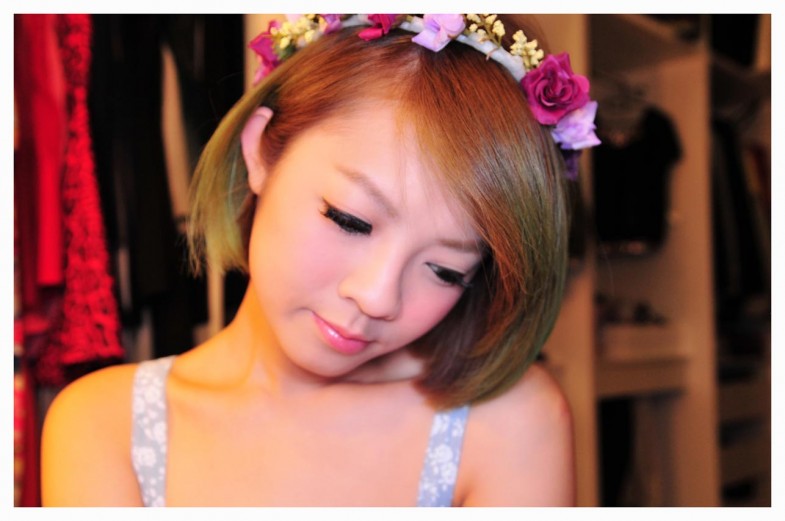 Aiyo, more pictures of me and the hair piece that was a gift for all the bridesmaids at my fren's wedding. Super sweet right?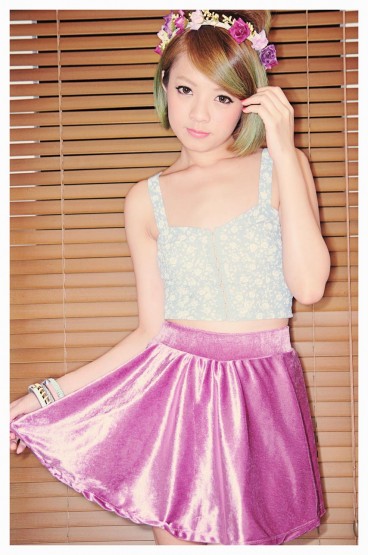 I cant stop myself from taking LOTDs too…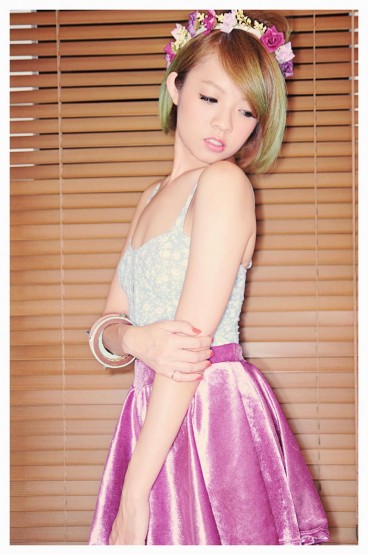 Anotherone, hahahaha. Spring feel much?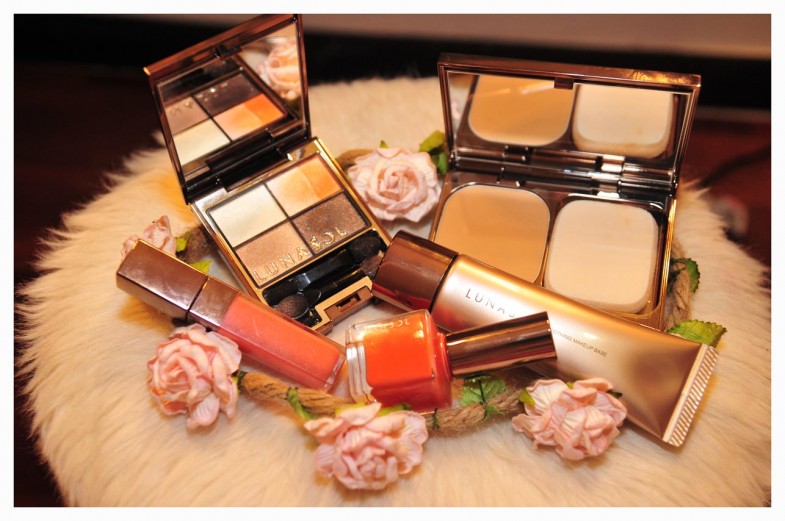 Last but not least, the cosmetics that I used to achieve my daily look.
I hope you guys learned something from this and have lots of fun trying it out!
Get yourself the samples of Kanebo Lunasol Spring Collection by just  printing out these 2 vouchers!!
This voucher is applicable to 1 redemption per one customer only! 
Valid till 30th April 2013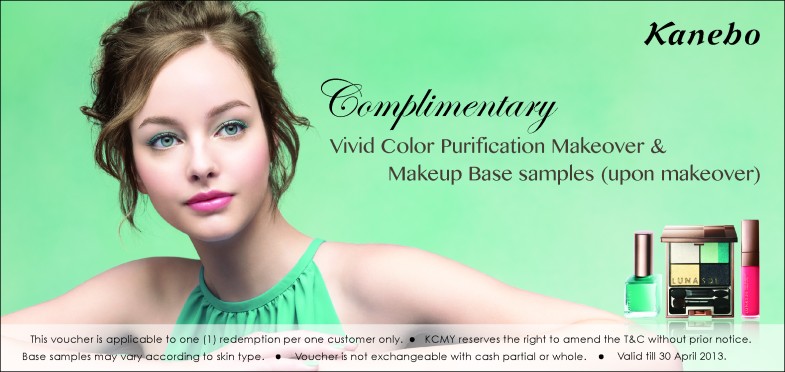 You can also print these vouchers from here & here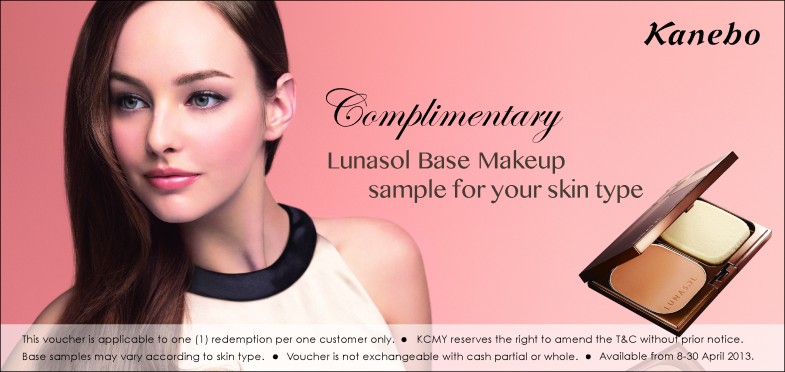 For more info on this collection please check out, Kanebo Malaysia (www.facebook.com/kanebomalaysia) and Kanebo official website (www.kanebo-my.net)
♥