Sponsored Post
I've always considered myself as a very lucky person because whatever that I wish or wanted would eventually come true but of course it takes some time and effort. In this incident it's slightly different because it came true instantly with the help of Colgate and Nuffnang. Remember I was invited to attend the Colgate Optic White launch and Nur Fazura – new face of Colgate Optic White was there a few weeks ago? I was lucky enough to get to meet Nur Fazura, Colgate Optic White ambassador, in person. Well, it wasn't really like face-to-face because there were too many fans and media around her. I was pretty upset that I didn't get to take a picture with her in her pretty red gown. So I listed " A picture with Fazura" into my wish list hahaha. Then, Nuffnang and Colgate were sweet enough to arrange another meet up session for the bloggers and Nur Fazura for lunch. Nope, I'm not joking, I got to sit beside her, enjoy our lunch and also have a little girly talk session hahaha.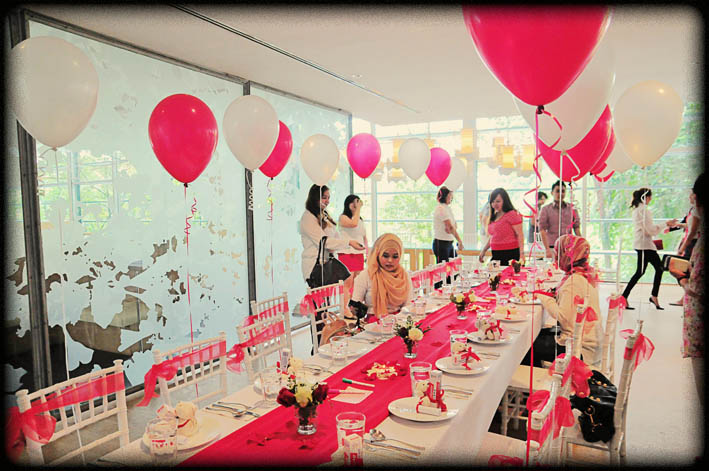 I got a little lost on the way to the restaurant (stupid Waze brought me to a dead end road and the restaurant was in another street, yea technology = = ) I still managed to reach on time haha super proud of myself!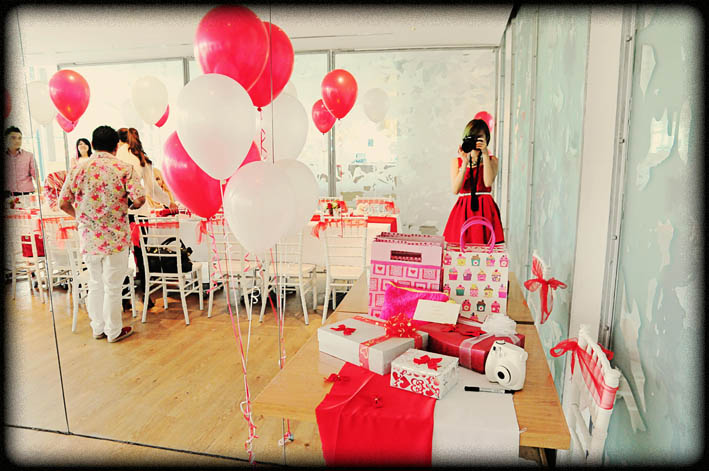 The theme was obviously RED and WHITE hahahaha my favorite colors =) The moment I stepped into the room I spotted the prize section hahah! Nuffnang and Colgate prepared a sweet little welcome gift for everyone, a teddy keychain with travel pack toothpaste. The moment I saw this toothpaste I was like "Yahoo, no need to buy when I travel lo!"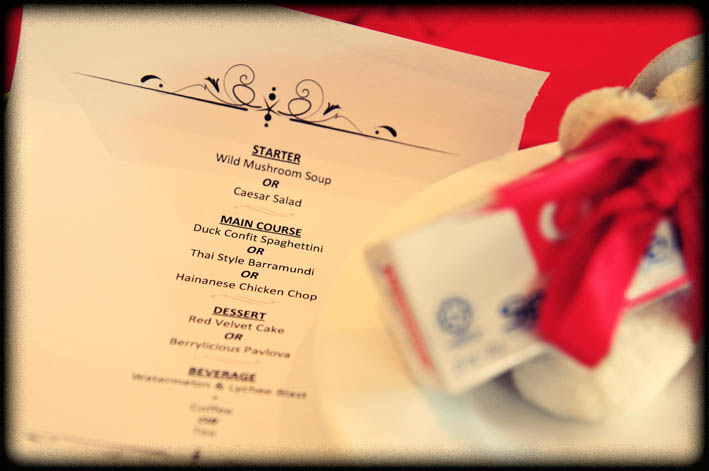 A special menu created just for us! I chose…
Starter
Wild Mushroom Soup 
Main Course
Hainanese Chicken Chop 
Dessert
Berrylicious Pavlova
I was arranged to be seated right beside Fazura, star struck much?!! I have never seen anyone that can pull off red lips so naturally except her… At first I thought it would be awkward for me to sit beside her because I wouldn't know what to say to her! Despite all my worries, she talked to me first and she was super friendly and bubbly. The moment she sat down, she started greeting everyone. She even agreed to camwhore with me ok!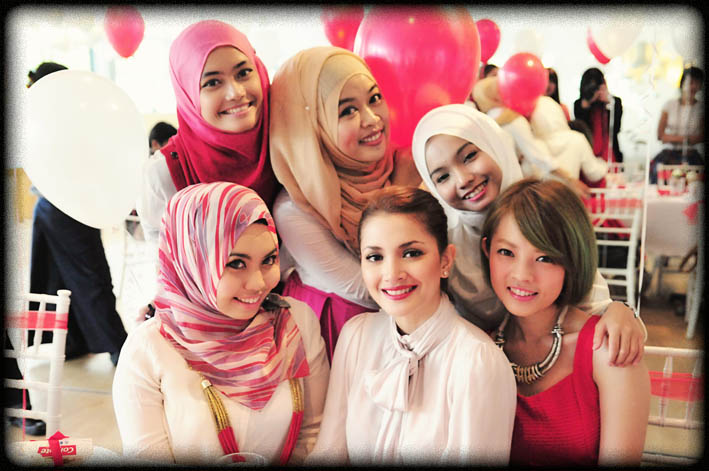 The bloggers and Fazura!!! I think she spent a lot of time taking pictures with us 'cause of all the cameras and handphones hahaha. Besides taking pictures, she also shared some of her secrets in keeping her body in shape! Hahaha ok la, I'm not really tight lipped so let me share her secret with you. She says she always makes sure that she will have 3 meals a day and of course NO SNACKS in between. She will eat a proper breakfast and lunch (spaghetti, rice or whatever she feels like eating) then she will eat very little for dinner. She will make sure to have dinner before 6pm and she won't eat anything after that. I'm super surprised that she even eats carbs because I always try to avoid carbs but she says it's pretty bad for our body because we need a little bit of carbs in our body too. OK, my diet plan needs to change! She also shared with us what brand of skin and hair care she is currently using, super sweet right!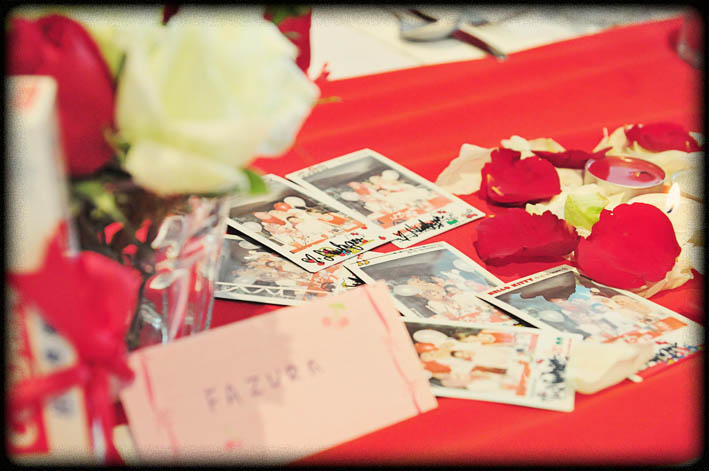 Then Jamie took out a Fuji Instax camera and started taking picture for us, and Fazura signed on every picture so we got to keep them as memories =)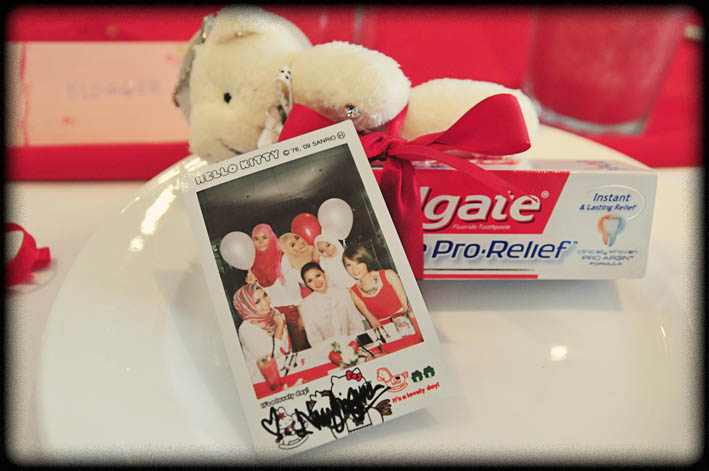 This is mine, with Fazura's signature on a Hello Kitty film!!!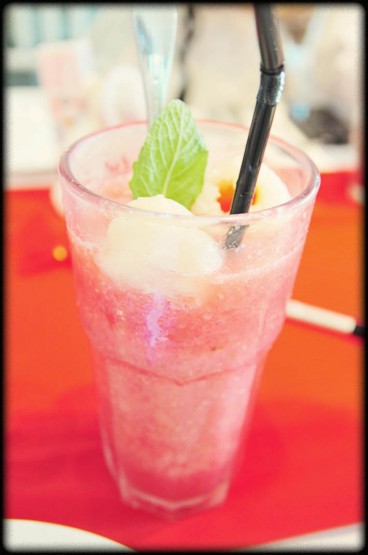 Very refreshing drink, watermelon and lychee smoothie!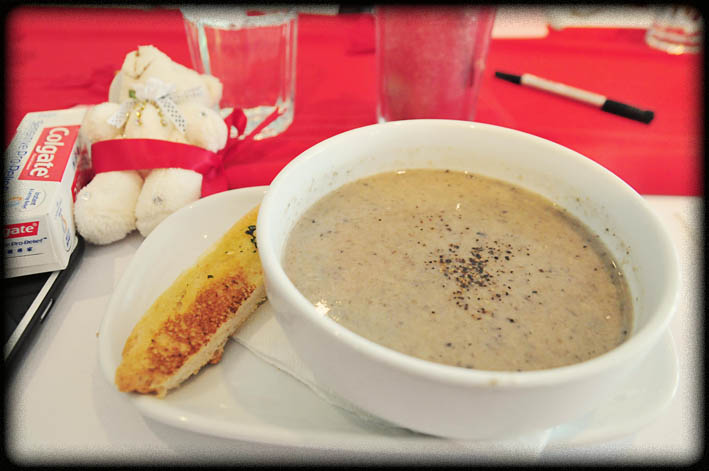 Yummy mushroom soup.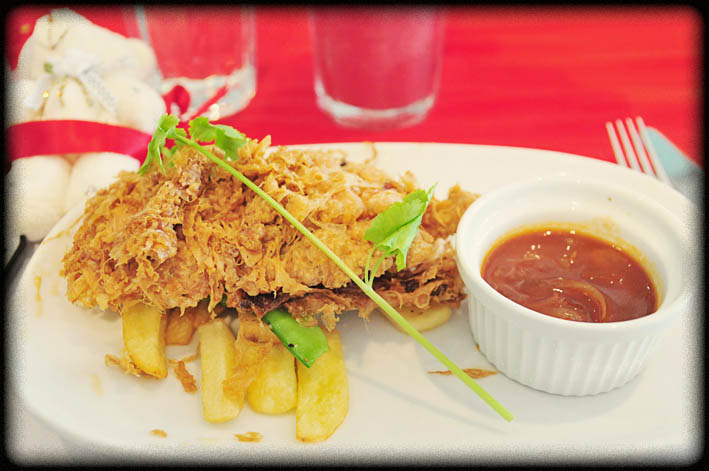 Hainanese chicken chop with homemade tomato sauce that I loved! We didn't stop asking Fazura questions while we were eating and she was patient enough to answer them all… hahahaha! She also shared that she would be heading to Paris and London with her mum the following week for a short break, super envious!!
I then asked Fazura to take picture with me, together with our food hehehee!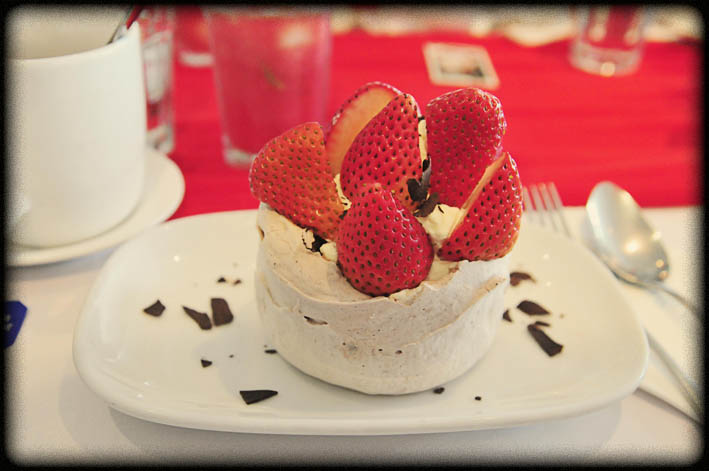 Super yummy dessert!!! I love it, so going back just to eat this next time! Funny thing is that, every one of us was busy taking pictures with Fazura and posting them on Instagram whenever we had time. Fazura was super cute and she said, "Ok, it's time to check Instagram and post pictures! Give me all your user names, I would like to follow everyone!" Being followed by a celebrity, check!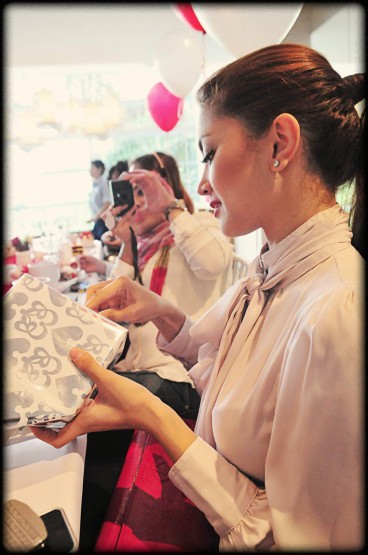 It was time for a mini game that was prepared by Nuffies. It's a pretty cool game, it goes like this. Unwrap the present, read out the instruction or answer a question! It's pretty easy and we didn't have to get off from our chairs hahahha. While Fazura was unwrapping the gift, I secretly took a picture of her side profile because she looks super gorgeous, especially her nose and chin that are super sharp and sculpted, and also her bright teeth. She was wearing her favorite red lipstick and her teeth were super white, and, I couldn't see any yellow spots on her teeth! I was secretly asking her how she managed to keep her teeth so clean and white. She replied, "Have you tried Colgate Optic White? You will have to try it to see the magic."I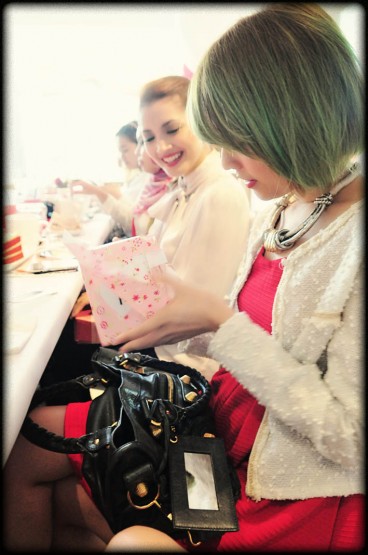 I was the last one and my task was to take a picture of my LOTD and post it on Instagram! Pretty easy and it was what I was planning to do anyway hahhaa.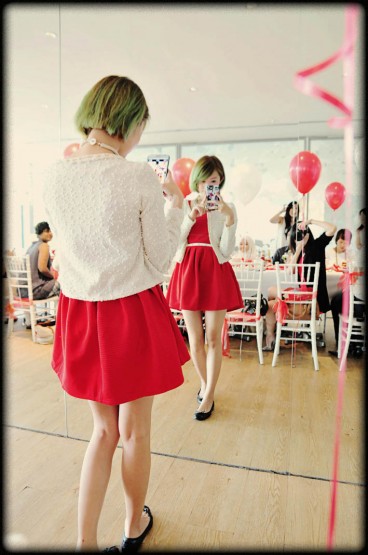 That's me posing in front of the mirror for my LOTD haha.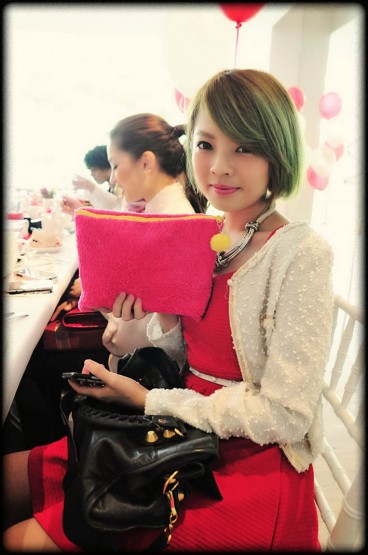 I won a prize hehehehe.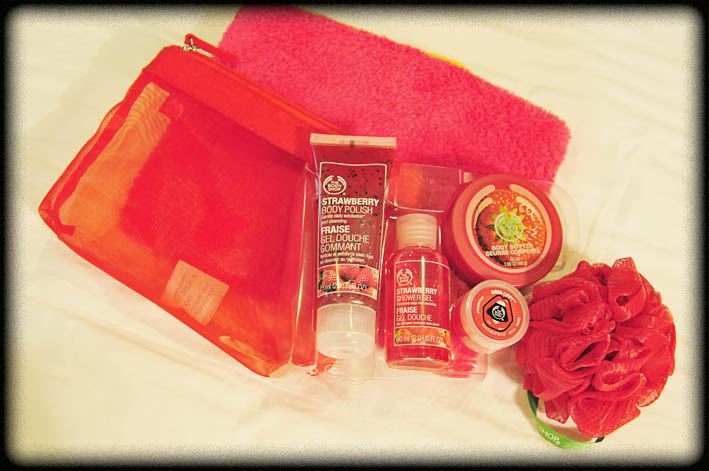 My prize was a super cute pink clutch with a travel pack of toiletries from Bodyshop.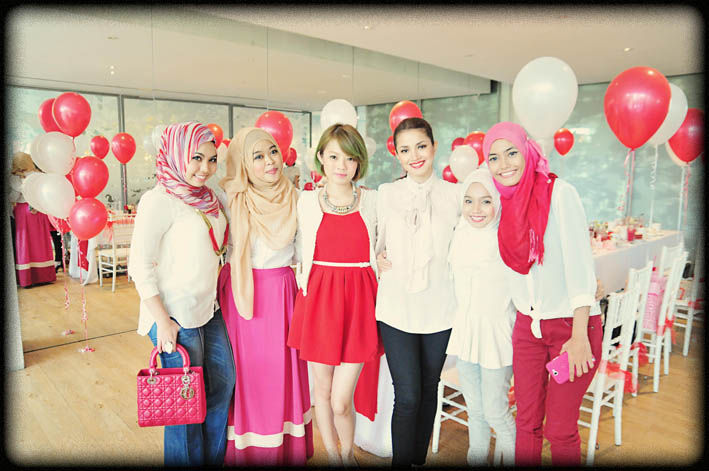 Time for our mini photo shoot session with Fazura.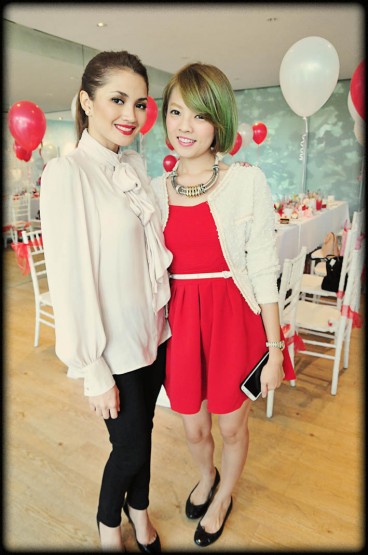 More pictures with Fazura hahaha, not sure if she is sick of me because I kept asking her to take pictures with me hahaha.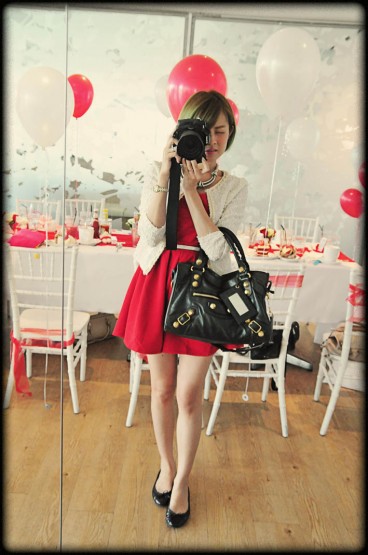 My red and white outfit for Colgate Optic White lunch!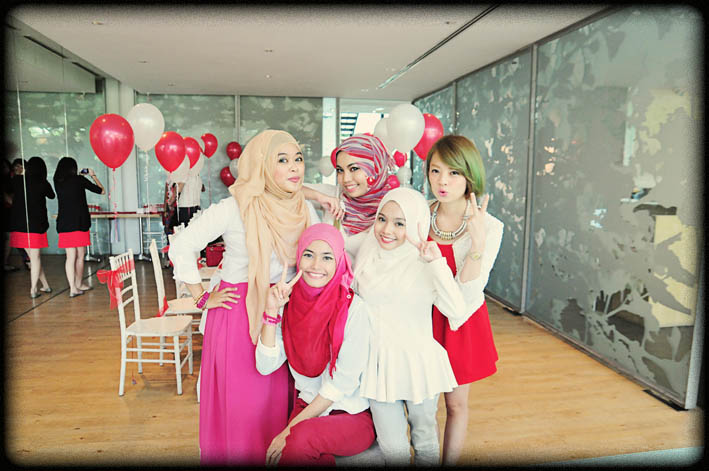 Fazura had to leave because she has another lunch, celebrity problem, overbooked for lunch hahaha. So then we took our sweet time to camwhore because the lighting was awesome!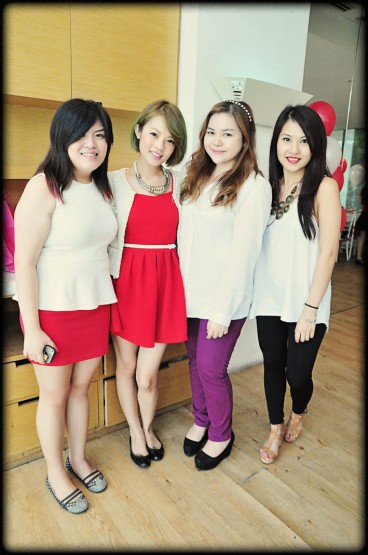 After attending both Colgate Optic White events, I have been totally convinced to continue using the products. I have been using Colgate Optic White toothbrush, mouthwash and toothpaste for more than 10 days now and I can clearly see the difference. Even my sister and Jo were like, "Eh, this Colgate Optic White really works a!! Your teeth really look whiter now!!" True story, I'm not joking ok!!
Last but not least, a picture with those that made this come true! Thank you Nuffnang and Colgate!!! =)
♥