Remember I did a review on Yadah skin care a while ago? That's not the end of my relationship with Yadah because I was given Yadah Auto Lip Crayon and Yadah Auto Gel Liner to do a review on! Yahoo, more new things to play with and try on so lets not waste any time and begin with Yadah Auto Lip Crayon!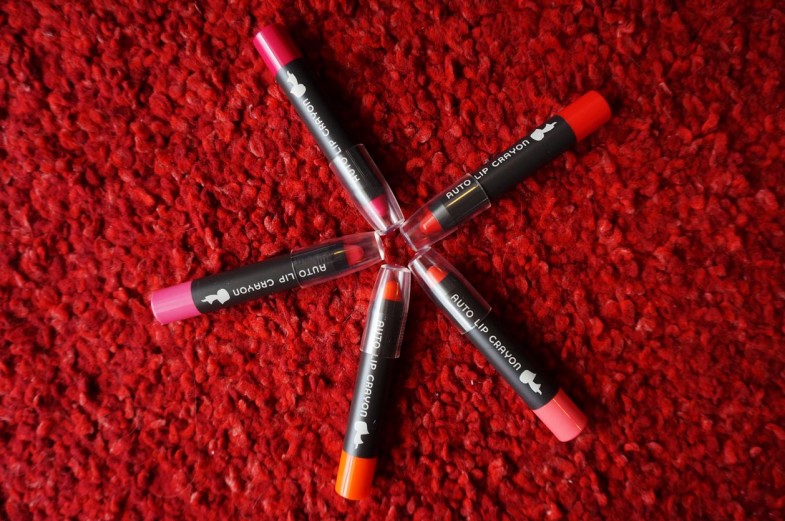 First up, Auto Lip Crayon! It comes in 5 popular colors and shades, from baby pink to solid red. The packing design is simple and cute, and the most important thing is that it's designed for easy application as it's shaped as a pencil. I find it really easy to apply compared to other lipsticks because you can easily draw the outline of your lip with the pointy end of the lip crayon.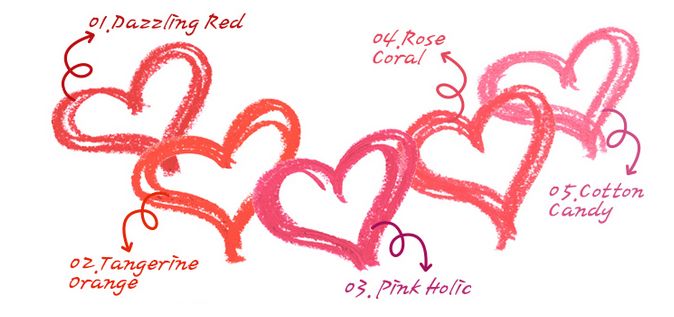 My favorite colors are definitely the tangerine orange and cotton candy! I did a few different looks to match each color of Yadah Auto Lip Color so you can see clearly how it looks like on my lips.
Let's begin with 05 Cotton Candy, it's suitable for a daily look or cuter look because of the sweet baby pink color!
04 Rose Coral is slightly brighter than cotton candy but with a touch of orange!
Then my favourite color in this collection, 02 Tangerine Orange! Never get bored of bright orange lipsticks because it helps to elevate your look to another level!
03 Pink Holic is like a neon pink which can give look a pop of colour! It also helps to makes your skin look fairer, hahaha
Last but not least, 01 Dazzling Red is awesome if you're wearing dark colored outfits or going for a more sexy or matured look! Hehe
Besides that, Yadah Auto Lip Crayon is very moisturising and paraben-free! I love their velvety soft and matte finish color too! It won't give you the sticky feel so nothing will stick on your lips especially girls with long hair!
You can easily buy it on Hermo.my, they are selling it at RM60 per pack only! You can choose any two colors that you like and buy it as a twin pack, and you will save around RM18!
Yadah Auto Gel Liner comes in 5 different colors too! It comes in 01 Real Black, 02 Romantic Brown, 03 Chic Khaki, 04 Lovely Pink and 05 Rich Gold.
One awesome thing about Yadah Auto Gel Liner is that it's waterproof! When I say it, I mean it! I did a little test on my hand and then hit it with a bit of hand soap. Nothing came off! After this test, I decided to give Yadah Auto Gel Liner an extended test. I applied it, then spent the whole day out (at least 8 hours) and my eyeliner still looked perfectly good, no smudges or anything! I was really impressed by the result!
As for the gold and pink, I used it on the inner corner of my eyes. It helps to brighten and enlarge my eyes! It also gives you a very innocent and teary eyed look hahahhaa.
My completed look of the day using Yadah Auto Lip Crayon (02 Tangerine Orange) and Yadah Auto Gel Liner (02 Romantic Brown)!
You can also get the Yadah Auto Gel Liner at Hermo.my, it also comes in a twin pack at RM65 which is perfect because you get to buy a normal colored eyeliner with another gold or pink liner to complete your innocent look!
Have fun shopping girls! For more product information please check out www.hermo.my/flagship/Yadah
♥