Sponsored Post
I was invited to join the launch of Yes! World Cup Champaign last week in Lot 10. I love attending events in KL because I get to have lunch and play with Fighter after the events! Hehehe
To keep it brief, #YesToRio is a nationwide online football game contest that's stated to end on 31 May 2014. Two grand prize winners will go on an all-expense paid trip to watch the final match of 2014's biggest football event live in Rio de Janeiro, Brazil. I was so lucky 'cause I got to play the game earlier than anyone else hehehe, and I seriously hope I get to go to Brazil!!!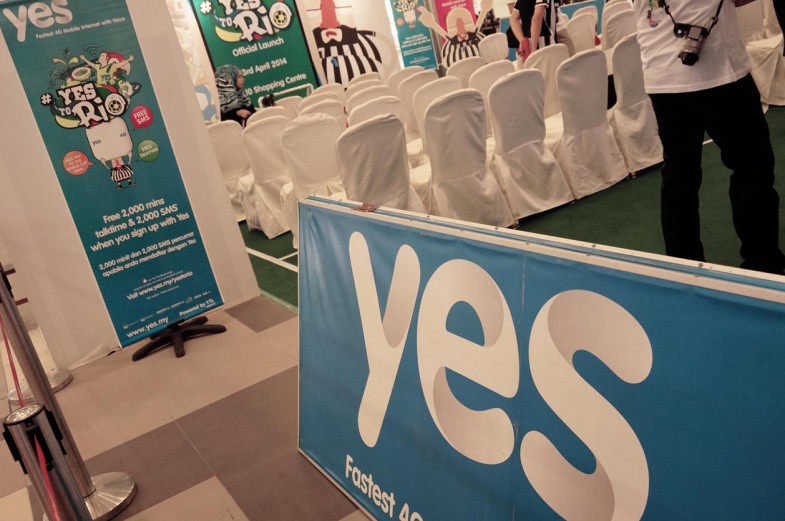 The event was held at LOT 10, KL and it's only for invited media and bloggers *proud
            The setup of the event made me feel like I was standing on the football field hehe. The music that they were playing matches the theme so well! Football fans should know immediately have something pop into their minds right?! Mine was Ricky Martin's Cup of Life hahaha, super old school but memorable!
 Yes! Prepared a few laptops and desktops at the event so we get to play the game on the spot!
 We were allowed to register ourselves in the game before they officially launched the game! I was quite lucky cox they allowed me to practice before the actual game started LOL. Maybe my look gave them a feeling that I'm not very good at these games LOL.
 My first score was 63,950! It's consider quite good right???? The game is pretty simple but engaging! All you have to do is to catch the footballs that Bob, the referee throws out! Just click on all the footballs, that's it!
Yuyu was there too!!! Can you believe this girl is pregnant, Congrats ba
It's always good to bump into your old friends at event!! We used to work in Mindshare but now she is working in Yes!
Took a picture with Bob while waiting for the event to start!
 Surprisingly, My outfit fits perfectly with the event!! Someone commented on my Dayre saying even my nails color is the same color as Bob's whistle. Hahhaa
 The event begins with Mr Wing K.Lee, YTL Communications Chief Executive Officer giving us a welcome speech and a little info about the game! He is a very nice and interesting guy, if you were there at the event you will realize he sounds more like a MC than the actual MC hahaha
His little "David Beckham" moment LOL.
Bob, the referee, Jacob Yeoh and Mr Wing K.Lee
 Then there was a Q & A session but I think CEO did a good job during his speech so there wasn't a lot of questions for them T__T Everything is so simple and you get to win BIG, not bad right! 
Finally, everyone got to play the game for the first time and the person with the highest score is champs for the day! Tian Chad was super lucky, we chose the touch screen so the game was much easier !!! I will strongly recommend those who are planning to play, play with your iPhone or Andriod phone or tablets because it's easier and you might have a higher chance of winning the grand prize! Tian Chad got 2nd place and he won himself a Addidas bag, I very jealous lo!
 My ranking during the actual game…. Super embarrassing lol
Oh, and by the way, Yes! has also recently launched another game called The Big Match! All you need to do is to match the same two same images together by opening the locker doors! Isn't it easy? This game is perfect for those like me who are not so good on quick-reacting games but very good in memory games hehehe.
 Lunch is served!!!! Nothing interesting happened at the buffet table but I'm sharing this because their broccoli tasted super awesome good!!! I had 2 full plates of broccoli tat day hahahha
 Group shot with Tian Chad's signature selfie!!! Super cute YUYU was the same height as Bob.
 So now, a little info about the game before u start playing!
There will be weekly prizes to be won and there will only be 2 winners who will walk away with the grand prize (a trip to Rio). If you're a Yes! user, you get a 10% bonus on top of your total score!
Go to https://www.facebook.com/Yes4G to start playing!!!
FIGHTING!!!!!!
 ♥