It's my birthday!!!
Sometimes I do think that birthdays are so overrated.
I prefer small celebrations.
A nice dinner with my loved one and friends
I miss celebrating my birthday with my family, especially my twin.
I hate the fact that I'm turning old.
Last year, I celebrated my birthday in a strip club. It was crazy and fun, I made out with a striper and I hated it. I'm pretty sure I'm 100% straight. After the wild celebration last year, I've decided this year I should do it in a normal way. A nice dinner with all my beloved friends. In fact, I love it…
Jo planned everything, from choosing a restaurant, inviting all my friends and ordering my birthday cake. A big thank you to him, he made me felt so special.
Please allow me to replace all the boring words with pictures.
We had my birthday dinner at San Chez, a tapas bistro. It was my first time trying tapas and I love the concept of small dishes.
"Bobo company of 8, your table is ready."
Yenni and I. Thanks for celebrating my birthday with me although you have tons of works waiting for you.
My loved one and my "aiya" daughter.
Big kiss for someone who organized the whole thing for me *mucks*
In love with this picture of me.
Red Sangria
Wine, citrus juices, and a touch of brandy.
Bread and olive oil (I love this the most)
Patatas Bravas
Fried potatoes with alioli and spicy tomato sauce
Cerdo Asado
Braised pork, idiazabol bomba rice, Spanish fried egg, roasted red pepper marmalade
Calamaritos Fritos
Flash fried squids, Serrano ham, pork belly, caramelized onions, orange zest, garlic, squid ink alioli
Paella Valenciana
Alioli saffron rice, chicken tenderloins, shrimp, chorizo sausage, mussels, crawfish, tomato, pimientos, peas
I love the interior of the restaurant, very colorful.
After dinner, we went straight back to my Jon's place to blow off the candles and eat my long awaited cake.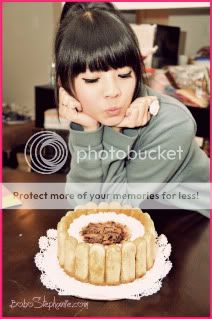 In love with Water Street's Tiramisu cake, yum yum..
I sat infront of my cake for 10 minutes before the clock hit 12am. I just couldn't wait to eat it, I have been wanting to eat this cake for more than 3 months.
1 minute before my birthday, my friends started to sing Happy Birthday. They sang it 3 times in a row just to make sure it was my birthday already, how sweet!
Jo and I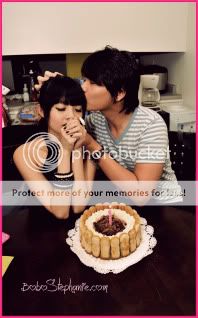 While I was making my birthday wish, Jo kissed my head and whispered "Happy Birthday, baby".
I spent 5 minutes making my birthday wish. HEY, I couldn't decide on which wish I should make.
JO: Wei, why izzit so long?
Bo: I cant make up my mind!
Jo: Why didn't you rehearse last night?
Bo: Oooo I forgot, shit!
continued deciding on what to wish for.
Finally, blew the candle and hope that my wishes will come true.
Cut the cake…
and took a group picture.
Thank you all for coming and making my birthday memorable.
My birthday surprise from my beloved friends.
I always wanted a pink Balenciaga purse.
Thank you Yenni, Jon and Chi Weng for helping my bag reunite with her baby girl.
Thank you Bega, Bff Zoe, Cheryl, Amin, Carmen, Ken, Jeong, Lynn, Yenn and Yihwen for this lovely card.
Thank you Jo for the wonderful presents, the trip, the jumbo and my shopping spree in New york.
Once again,
Thank you to those who overwhelmed my facebook wall with all your wishes.
Thank you those who sent your birthday wishes to me thru SMS.
Thank you those who came to my Birthday dinner
Thanks to cheryl for the birthday post, love it
and
Thank you for all the lovely presents.
♥