Dress- H&M Hat- H&M Boots- H&M Glasses- SNRD Clutch-
Snupped
Got this edgy maxi dress from H&M Japan, you wont believe how much I got it for… It was on sale for RM10 ==" Super cheap and worth it! The material of this maxi is sort of like swimwear neoprene so it fits my body perfectly!! Im in love with the collar design! It makes me looks skinny and my collar bones look so sexy lol.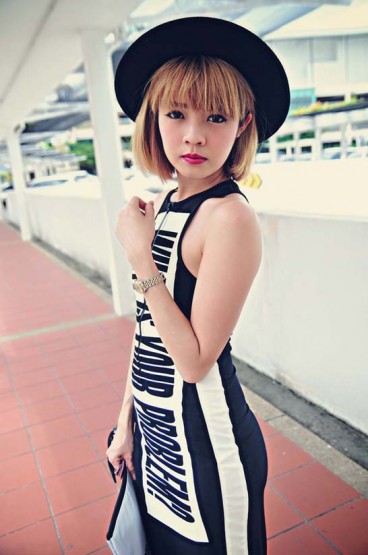 My hat that I wore in my most recent Japan trip…
I guess you must be curious why is face on my clutch haha, it's actually a laptop case from Snupped.
SNUPPED is a company that lets you design your own custom case and sleeve for your laptop, Macbook, eReader, iPad and tablet. All you need to do is just simply upload your own photo or choose a design from their collection!
These are some of their designs.. from cute to artsy. I personally think it's quite cool to get to personalize our own cases from the outside of the case to the inside. This means that you can also choose a design for the interior of the case!
There are a few choices for you to choose from, according to your preference.
Obviously, I chose the pink and white polka dot design hehehe.
Another awesome thing about Snupped cases is that you get to choose a different design for the front and back of your case! As you can see, I'm a bit into myself so I chose my face to be on the front and my @bobostephanie at the back hahaha. You can also do so if you're vain like me hahaha. All you have to do is to make sure your picture is of a high resolution (17″ x 12″ 150dpi) and keep details 1.5″ away from the borders.
I think i'm kinda into black and white looks now because it's very mysterious hahaha. The hat NEVER fails to hype up my look!
My glasses match this look perfectly!!! hahaha
Sorry I cant help but to share more pictures of this look so pls bear with me for a while more.. hahha
One thing you dont know about me is that I'm a super clumsy type of person! I always try my best to dirty my stuff, and things like my laptop case is the worse! I always throw my cases on the floor, then in the end, my case turns from white to black T___T That day I accidentally spilled a whole cup of soda on my laptop case and the material was nylon so my case turned brown color =_________= Thank god, SNUPPED is here to save our my life hahaha. They came out with a heavy duty design for ppl like me and it's called Space Suit (waterproof).
Who says laptop cases are only for laptops? I use it as a clutch when I go to the beach or swimming pool hahaha. Since it's waterproof you dont have to worry about dirtying your clutch or getting it soaking wet =)
A picture of my swimsuit look before signing off =) Swimsuit from ASOS and glasses from BKK!
For more designs and other product information, please visit SNUPPED!
♥
Have you guys followed me on DAYRE yet?? Most of you should have already heard about Dayre but to those of you who have not, Dayre is an App that helps you blog on your mobile device!! It's also my current addiction besides Instagram! I keep my Dayre updated everyday on what I do, where I go and what I eat hehehe. So follow me on Dayre (@bobostephanie)!!