I'm sure most of you are aware that Jo and I are currently in the middle of renovating our new place, and something important that we have decided very early on our project that was the water filtration and drinking water for our new home.
At our current place, my MIL is using a famous name-brand Reverse Osmosis (RO) water drinking system that has hot and cold drinking water. I didn't really learn what was RO water until after a few years of drinking it, but I always felt that the water was weirdly very tasteless and "clean". RO is actually a process of water filtration that removes chemicals and substances from water, and along with all the naturally occurring minerals that you find in fresh water.  In nature, fresh water contains minerals like calcium, magnesium, and potassium, which our body needs.
This is why, if you have every bought a bottle of mineral water vs drinking water at the convenience store, you will find the taste remarkably different!
Not only that, for these types of drinking water system, it is built into their contract where you are required to pay annually for servicing and changing of filters.
When it was our turn to choose a system for our home, I told Jo that we should consider a different system, which could provide clean, but yet healthy drinking water.
About a year ago, I was reading Cheesie's blog and she did a post on CLEANSUI. I was very interested and eventually I contacted CLEANSUI for our new home. CLEANSUI is one of the leading names in water filtration in Japan, and have recently expanded to many other countries.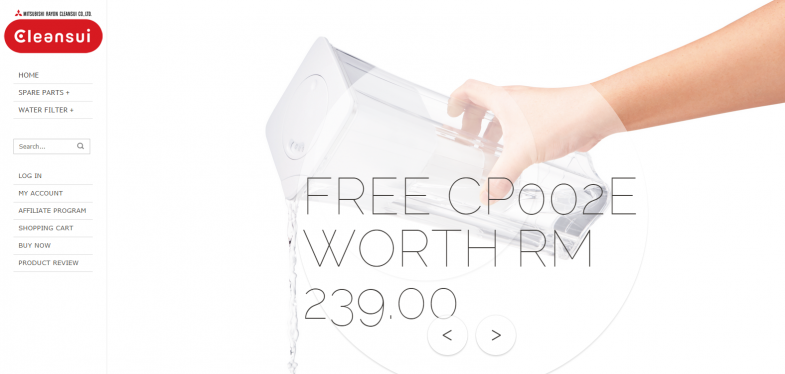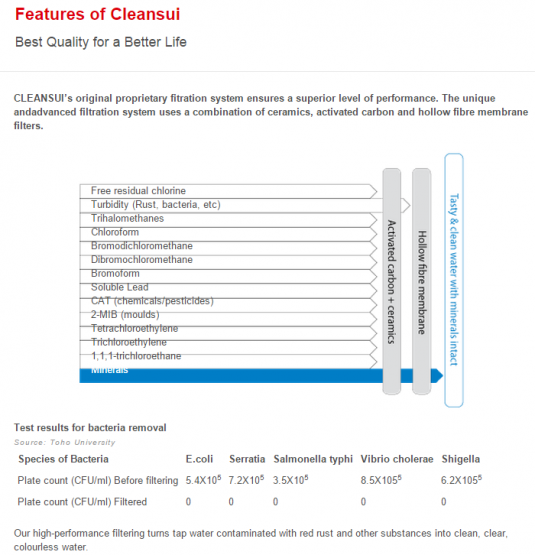 A CLEANSUI representative then invited us and Kampungboycitygal for a short demo and to view their range of products as we were both in the midst of planning our renovation and also very keen on their products.
First, 2 identical cups were filled up with water from our unfiltered kitchen sink. Then Kampungboy volunteered (we forced him) and put his hand in one cup for about 30 seconds.
Then, a chlorine tested was added to both, and as you can clearly see, the untouched cup of water shows positive for chlorine. Where did the chlorine is the other cup go? It is absorbed into Kampungboy's skin!
Turns out that chlorine is added into our tap water to kill bacteria, but only a small amount compared to a swimming pool, but nonetheless, who knows what long term effects all these chemicals will hold?
Then CLEANSUI rep demonstrated pouring a bottle of rusty water into a CLEANSUI filter, and VOILA, out comes clean water at the bottom! Let me show you a video instead of pictures:
All Cleansui products use a hollow fibre membrane filter made of ultra-fine polyethylene. The sidewalls can remove minute particles, as tiny as 0.1 micrometer in tap water, and, bacteria, algae, fungi, micro-organisms, cysts, cryptosporidium, metal particles such as rust, lead and etc, while retaining the healthy minerals that I mentioned earlier.
 All CLEANSUI products can be installed on your own, and each product comes with a set of 3 different adaptors, so you will definitely have the right one to fit into your faucet.
Maintenance is easy and can be done on your own, negating the need to pay a technician to do it every now and then. Got to love the DIY spirit of the Japanese! All purchases are made online, so no haggling for discounts with distributors too, not to mention that, in my opinion, all their products are very reasonably priced, replacement cartridges included.
The CLEANSUI products that we have decided to use in our new home are:
Z9E Counter Top Filter (RM998)
This model has a 8000 liter capacity and replacing the cartridge is simply twisting the cover open, removing the old one, and popping the new one in. Easy as that.
CP015E Pitcher (RM239)
This pitcher has a filter capacity of 200 liters, so if you assume you consume 2 liters a day, it will last you 3 months. It is designed to fit in a fridge door and it is also portable, so bring it with you wherever you go! If you go to Thailand, please remember that their tap water is not safe to drink, so bring this along! Save money on buying water and also help the environment by not buying plastic bottles.
CB013E Faucet (RM269)
This model has a 900 liter filter capacity, but don't worry as you can bypass the filter for normal washing of hands or clothes. Use the clean water to wash your face and brush your teeth!
SK106W Shower Head (RM299)
This shower head comes with a pack of 2 cartridges that will provide 8000 liters of chlorine filtration each! Have you wondered why your hair will be dry and frizzy after you shower, even though you used conditioner? It's due to the chlorine in the water, just like after taking a swim in a chlorinated pool!
For a limited time only, get a free CP002E Pitcher when you purchase a Z9E Counter Top Filter! That is a RM239.00 savings right there! Another awesome Bobo-tip for all of you, so CLICK HERE to make your purchase now!
For more inform please check out www.cleansuimalaysia.com
♥