Ahhhh, I can't believe from writing my personal diary, I've moved on to fashion, and now I'm blogging about my experiences on renovating and moving into my new home! How time flies! We've moved on from being totally carefree, to comparing prices at the supermarkets and everything else we need, not to mention renovations as well.
As I mentioned in my previous #BoboRenovates post, I will share with you every step of my house renovations so today I'm going talk about my experience on hiring painters, movers, and cleaners for our new place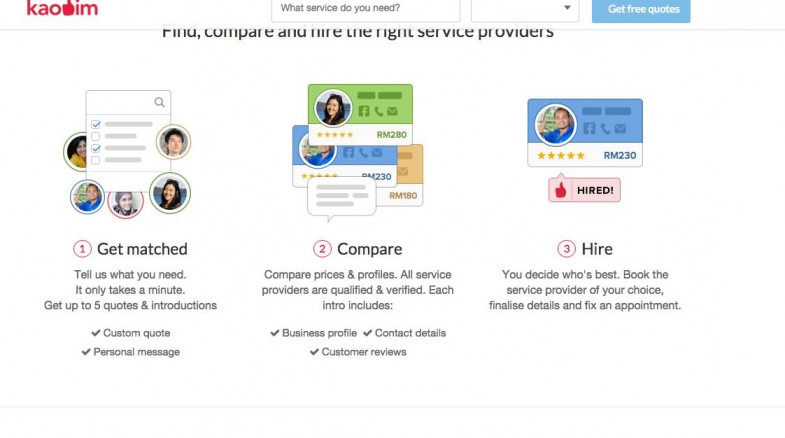 Have any of you heard of Kaodim.com? If you haven't, Kaodim.com is an awesome platform that helps you to find, compare and hire trusted home service professionals with just a few clicks. You don't have to ask around for contacts from friends and family or ask for recommendations because through this website you can get up to 5 quotes for FREE!
Besides getting quotations for all your home improvement needs, they also provide services like hair & makeup artists, yoga instructors, personal trainers, photographers and even wedding planners.
Actually I also kind of regret not getting quotations from Kaodim.com for my contractor because the one I hired was only average (I will keep this topic for another day). If I would have got quotations from Kaodim.com, I would have gotten a proper and detailed quotation and not have to fork out extra money at the end of the job. Anyway since I already hired my own contractor to do most of the main renovation work of the house, I was still looking for a painter (we preferred to hire a professional painter), movers, and also cleaners! That's when I decided to give Kaodim.com a try as none of our friends or family have experience with these services.
All I did was to go Kaodim.com, choose whichever service that I needed, keyed in the details such as when and where I need the service, and then submit!
Then you will receive up to 5 quotations in just a short period of time! As you can see above, these are the quotations we received for painting services, and then, we can compare the estimated pricing and also check the reviews of each painter. If you're still not sure, you can make an appointment with them to get a detailed quotation after they have a look at your worksite.
We made appointments to meet up with 4 painters from different companies and only one of them actually brought us a color chart to choose from. We were so glad that we had 4 painters to compare and sort of get to know them first. The moment we met Ah Leong from SRL Renovation, we decided to hire him straight away because from the way he explained the job to us, we knew that our house would be in good hands!
To help us make up our minds, Ah Leong painted 2 different shades of grey on our wall for us to choose from, and he also painted some spots with 2 and even 3 layers. We didn't realize that painting different layers of paint would affect the final colour and look so we were glad we got to see the colour first!
Ah Leong was super patient and punctual (I have never seen a contractor that is so punctual). We told him that we need to move in by a specific date and he completed his job right on time, even though he had to work through the night once and also bring his family to do some final touches  T_______T I was super touched by his efficiency and his responsibility. Thank you so much, Ah Leong you're the best!
The "before" and "after" pictures!!
Our kitchen was white and we thought it's too boring! We wanted something different so we consulted with Ah Leong on the color we wanted and he also painted a few shades of light grey for us to choose from.
We went with this shade of light grey, and this is from before we finished moving in.
I'm in love with my kitchen hahaha. The grey helps to really bring out the white in our cabinets!
"Before" picture of our bedroom! Jo wanted a dark feature wall so we decided to go with a very dark shade of grey!
Tadah, do you like it???? It matches our furniture perfectly!
Now that the paint work was done, we still needed a mover to help us to move in! We hired Cubic Gold Movers from Kaodim.com because their price was reasonable and they provided boxes on loan! The benefit of having boxes on loan is that I don't have to keep all empty boxes at home and it also saved a lot of money =)
They handed us the boxes (15 boxes) a week before the actual moving date so that we have sufficient time to pack!
When it was time to move, they came and wrapped all the bulky and big items so that our furniture wont get damaged during the move.
You wont have to worry if you don't have any tools at home because they will bring all sorts of tools to your place, including lots of tape!
Look at how well they wrapped our mirror hahahhaa
Most of the time we were just chilling in the living room while they did all the tiring work, thank you =)
Everything reached safe and sound and then it was my turn to unpack… this part was super torturing T_____T Thank god that they gave me around a week and a half to unpack everything and return the boxes if not I don't know how.
Now, for the cleaners, we actually hired them a day before we moved in…
We hired Adam Ikhlas Maid & Cleaning. They were very accommodating and allowed us to reschedule our appointment a couple of times due to unanticipated delays in renovation completion by our contractor. On the day itself, they turned up on time to clean the house. However, I personally felt a little let down by their work  =(  While they did general cleaning, I thought they could have done a better job, to look for, paint marks and plaster stains. We had to clean my house once more on our own because it wasn't up to my standards la. T___T  I guess at the end I'm still glad that I gave it a try, so next time I will know specifically what to ask when I get a cleaning quotation.
Overall my experience on Kaodim.com was very good and really exceeded my expectations! I love how easy it made our whole renovation phase and I was telling Jo from now on instead of asking people for recommendations, we can teach them what to do! Just go to Kaodim.com!
If you, like us, are in the midst of renovating or moving houses, remember to check out Kaodim.com for the services you need. Kaodim.com is available in the Klang Valley, Penang, Johor Bahru and Singapore! Use my name "BOBOSTEPHANIE" for RM30 off your final bill when you hire a job from Kaodim.com!
♥