Yahooo, honeymoon post!!! I have been super busy doing housework (no more maid =[ ) and celebrating CNY so I totally forgot to blog about our trip to Boracay.
Not sure if you have read my first post about Borcay yet, if you haven't pls read it here before you continue reading this post! It's sort of like a prelude to this post.
Since I have already mentioned about the time to travel from M'sia to Boracay, I shall not repeat it here. Just a little advise for those who are travelling to Boracay soon, make sure that you save around 1000 pesos through out the journey. You will have to pay 250 peso (environmental fee and terminal fee) from the Caticlan jetty to Boracay island, then another 150 pesos when u return from Boracay to the jetty.
Not to forget, you will have to also pay airport taxes in the airports too! So if u're travelling to Boracay like me from KUL-Clark- Kalibo, you will have to pay airport tax in Clark (450 pesos for international flights) and Kalibo (150 pesos for domestic)! So please make sure you have enough money to pay taxes, pay extra fees and spend there.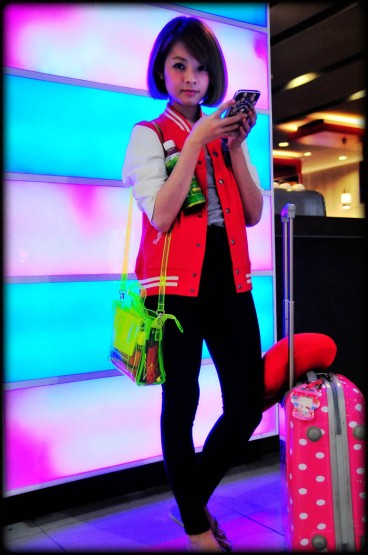 My comfortable outfit for our flight from KL to Clark. I got this baseball jacket from H&M kids, it was around RM99 hahah super worth it!!!
 I'm going to skip Clark and go straight to day one in Boracay. If you want to know anything about Clark, please email me.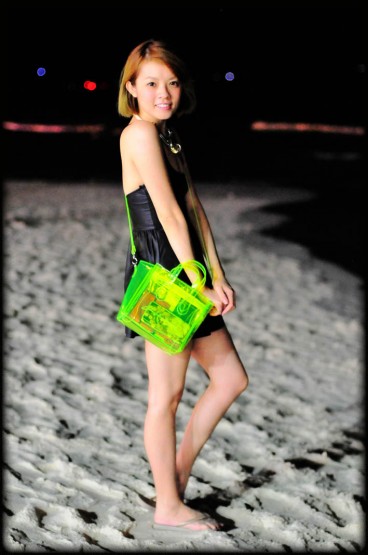 Because of the long journey from Clark to Boracay, we reached there at around 7pm! So those who are heading there please be aware of this! It takes around 1 day to travel there so it's better that your travel period should be a min of 5 days including travelling. What we did was to walk around our hotel and went for a drink at a bar that had a live band.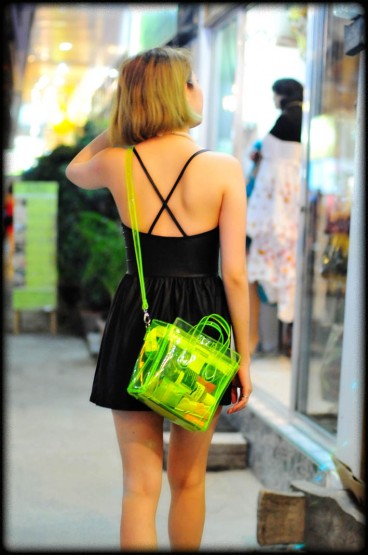 Leather dress from Urban Outfitter, I got it in the US a few years ago. Bag from Siam Paragon, Bangkok.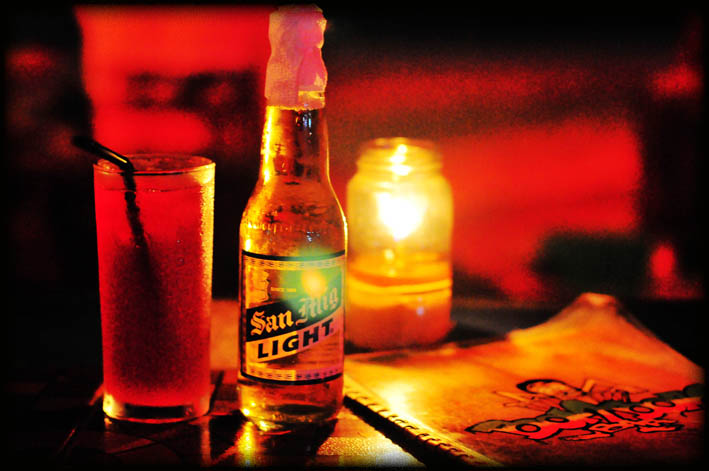 This bar that we went to was pretty good, it was located in Station 2 a few doors down from our hotel.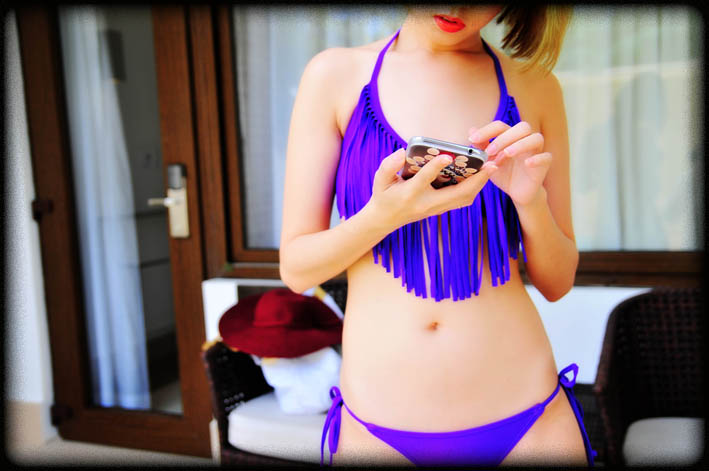 We were pretty lucky that they gave us a room with direct access to the pool so we get to jump into the pool whenever we wanted to without having to climb the stairs or take the lift! I get to go online right infront of our room while Jo swam in the pool!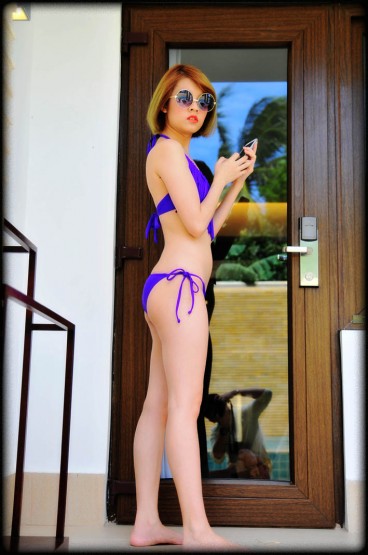 Love our little patio/balcony area cause we hung out a lot here!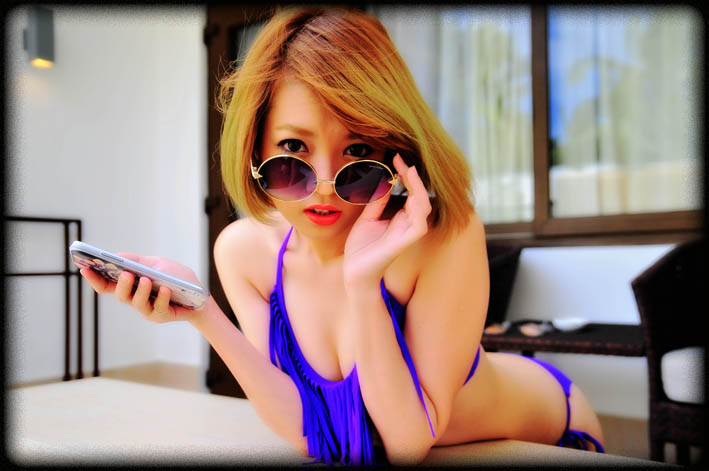 I got this super cute fringe bikini from Boutiquetutu and glasses from Bangkok! Yoshi from Style 76 did an awesome job on my hair color because the color turned out looking super pretty in picture!!! It's like a mixture of a few different colors! By the way, Style 76 is opening a new branch in Jalan Telawi, Bangsar, in March! Thank god I dont have to get stuck in the MV carpark ever again!!!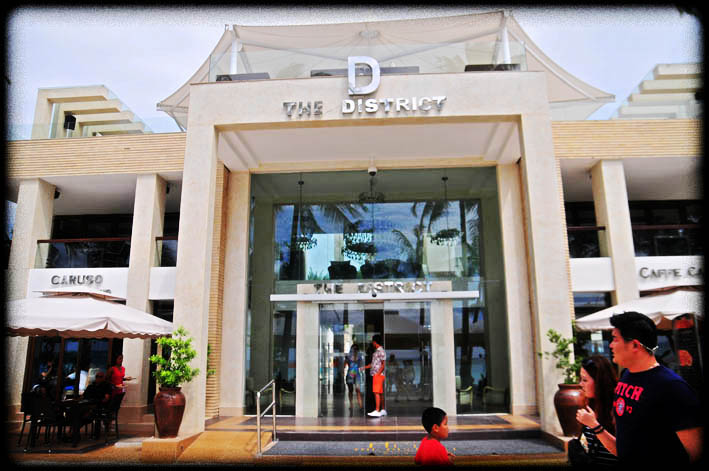 We stayed in The District located at Station 2. One thing I love about our hotel is the moment you step out of the main door, u will be stepping on the beach edi! White sand every where so it's better that you bring slippers with you instead of flats or heels! I brought mine but I didnt get to wear any of them throughout the trip.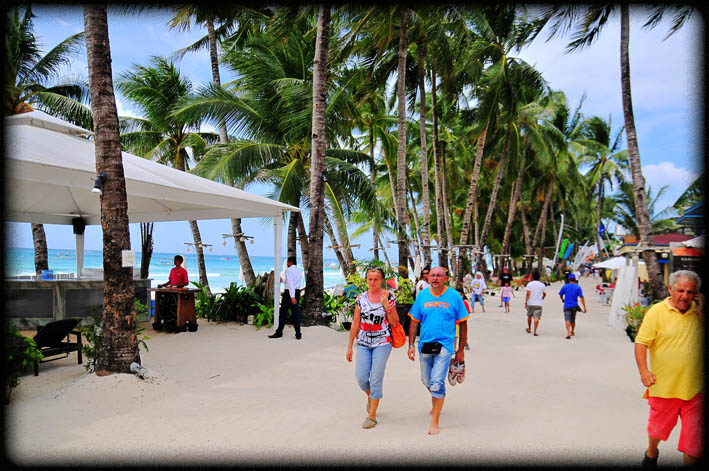 The view was gorgeous, it was like a heaven on earth! Blue skies and seas with coconut trees!! Boracay is by far the prettiest beach I have ever visited besides Cancun, Mexico. Our hotel is very near to D'Mall which has a lot of shops and restaurants.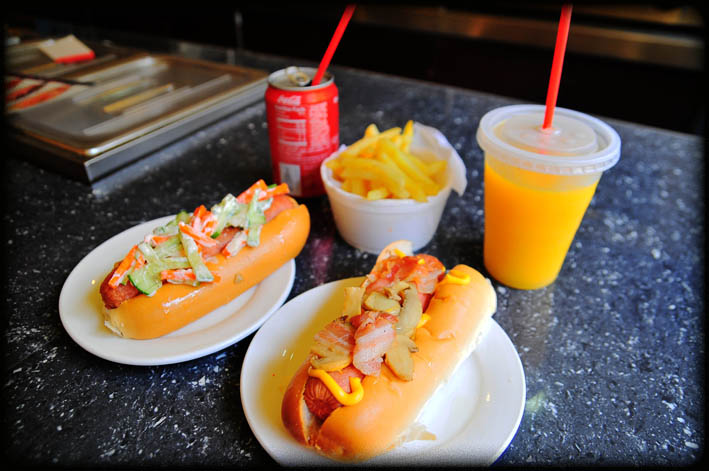 We decided to have something simple for lunch so we had hot dogs!
Orange lips to complete my K-Pop look hahahhaha. I'm super into K-pop now =="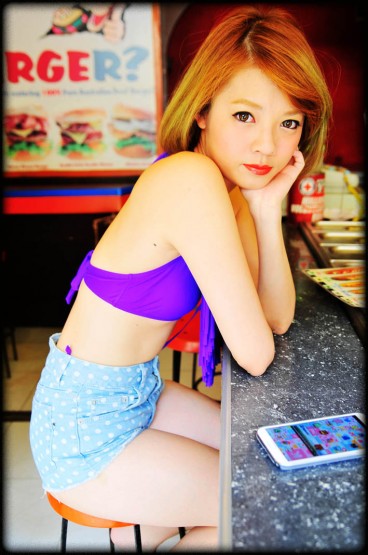 Kept asking JO to take pictures of me hahahahaha.
Caution: A lot of bikini pictures in the post because that was only what I wore during the day  =="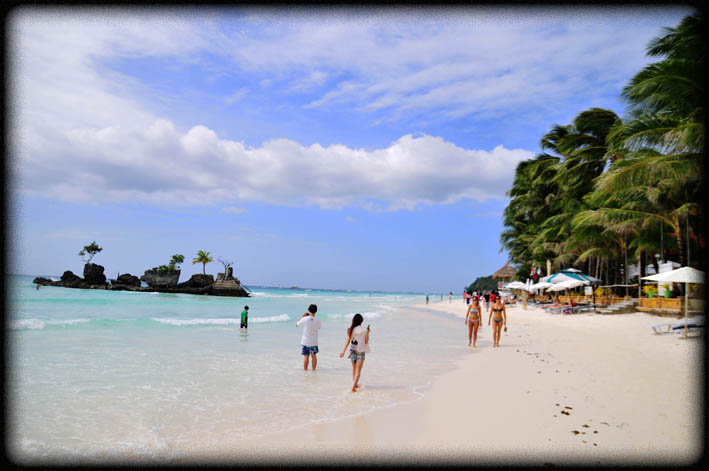 Then we walked up the beach towards Station 1 where it was less crowded!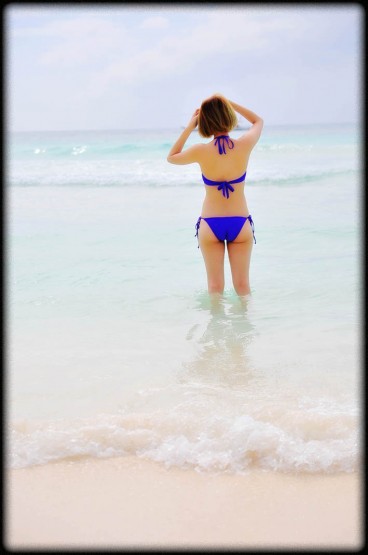 I got to go into the water and enjoy the sun, hahaha.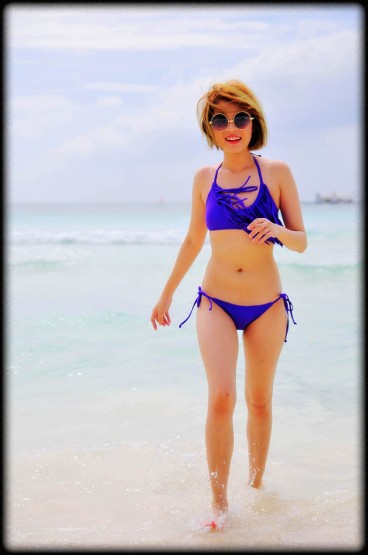 The beach is really really clean!!! The only thing I saw in the water was sea weed, not rubbish or empty cans!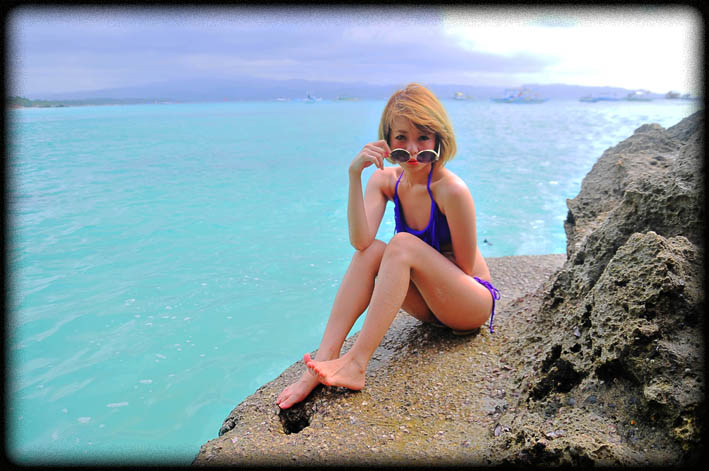 Then we took a 5 minutre walk north towards to the end of White beach and over to Diniwid beach to take pictures on the rocks and sunbathe a little!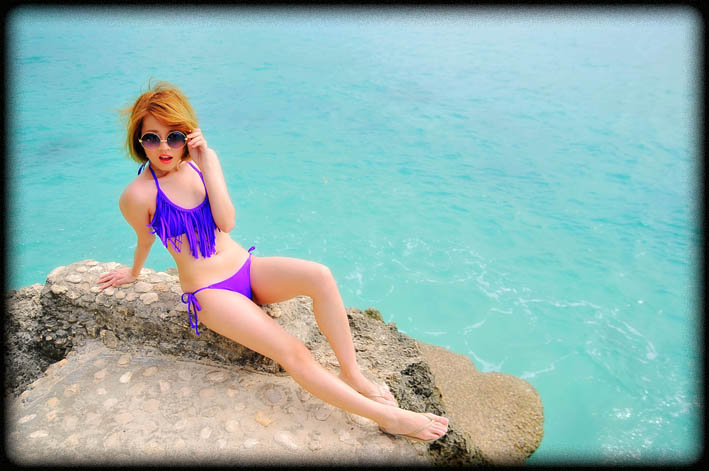 I'm going to slap you if you say the beach is okok only! It's incredibly beautiful there ok!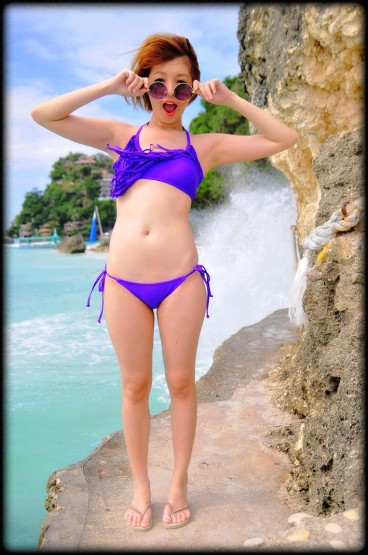 In order to get to the beatiful and quiet Diniwid beach, we had to pass by this rocky trail… The current was so strong and the waves kept slamming up against the trail. It was super scary I tot I might fall into the sea and die…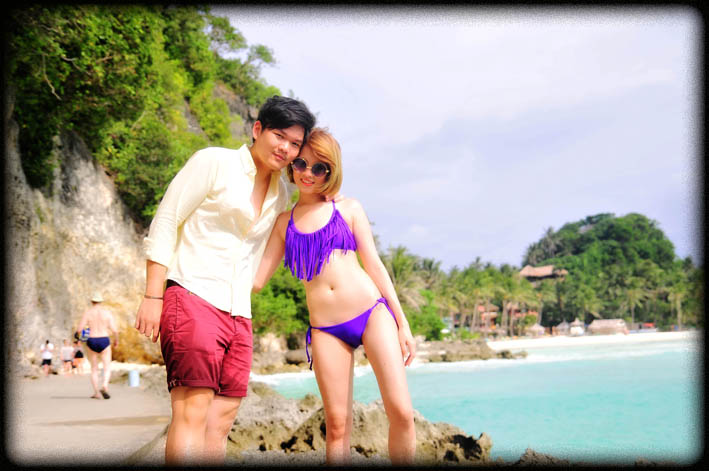 The couple with no tripod…. We had to place the camera on top of a rock so the angle is damn weird =="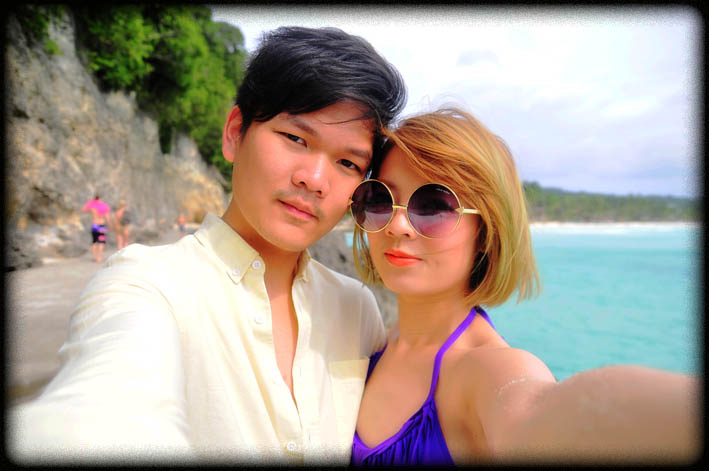 A better shot but still…..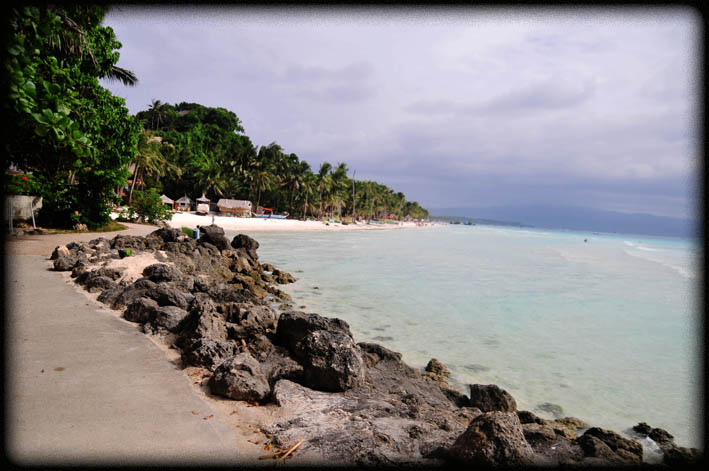 Walked along the beautiful beach with Jo then we bumped into two naked/half naked beach boys…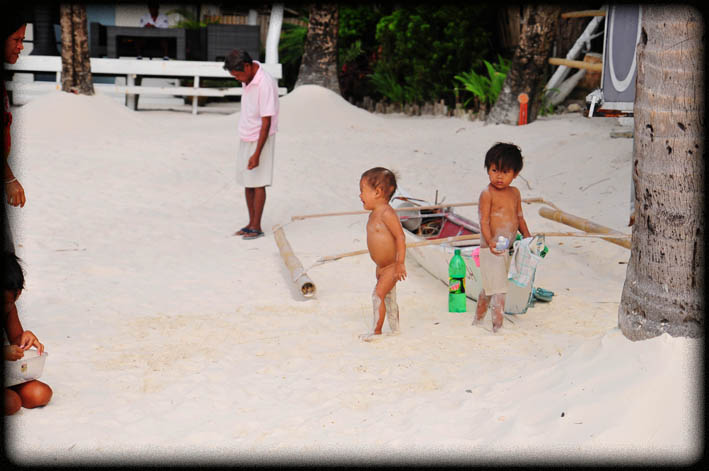 Hahahaha disappointed le!!!!! Super cute beach boys, JO stopped me from taking pictures but I was like NO I MUST TAKE THIS!!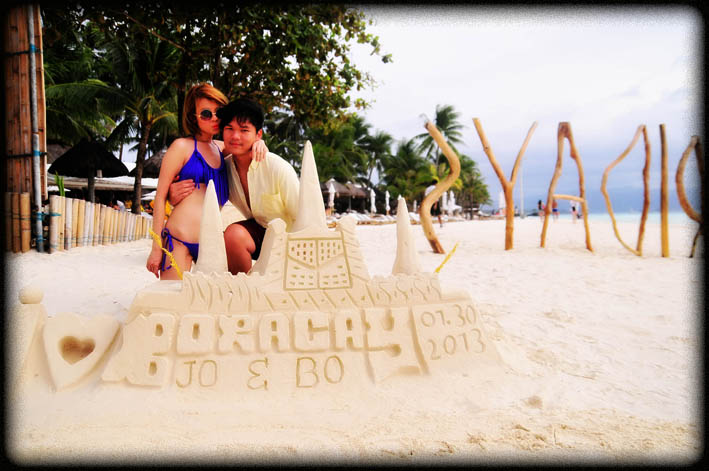 Then bumped into this guy who was very good in sand crafting so we took a picture with the castle he made.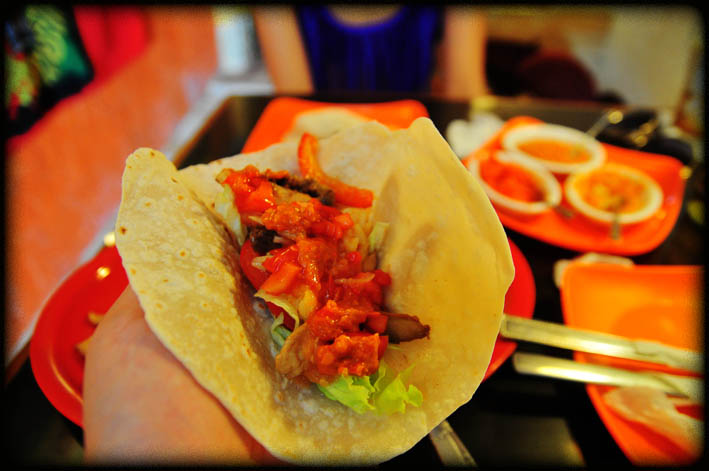 We had awesome tacos for an afternoon snack! JO and I are big fans of Mexican food! Hehe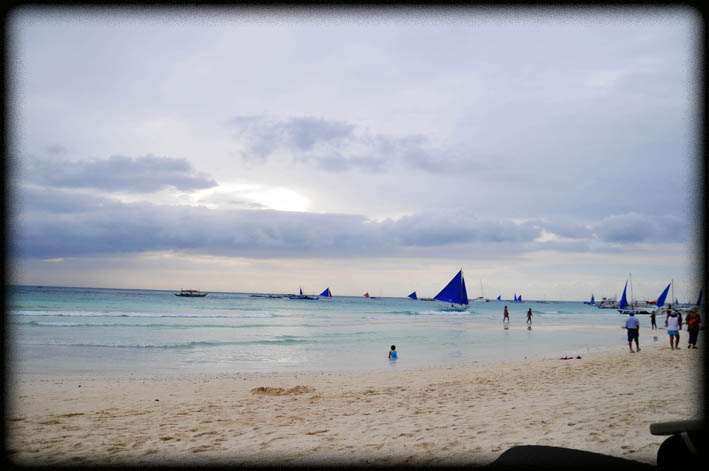 Went back to our hotel to just chill and see the sunset…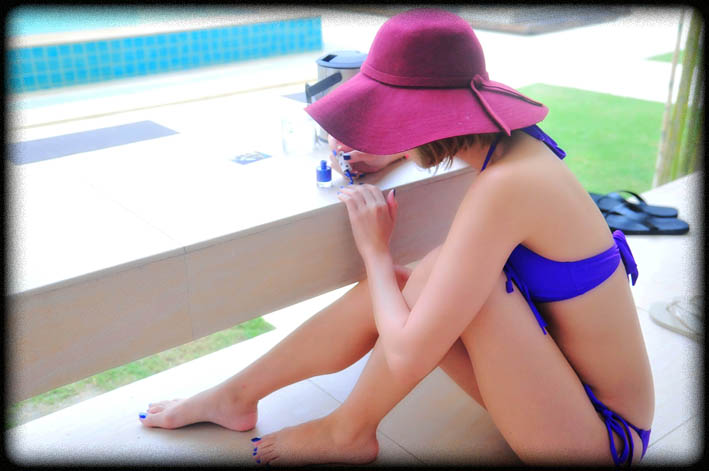 I took my sweet time to do my mani and padi outside our room hahha. I even called room service to bring a bucket of ice to dip my fingers into to dry them instantly, haha. I turned to JO and said, "Waw this is the life of a princess, man."
To be continued…
♥