Sponsored Post
Today, I'm going to talk about some things that are towards my private life but I feel like sharing with everyone because I believe everyone will eventually experience. Some day, like me, you will have to buy your own property and start renovating, and in cases like mine, I have to rent a house temporarily while waiting for my new place to be completed.
I have been living in a rented house for almost 5 months now, and so far so good. The only problem that I faced after moving into our rented house was that I want to make sure that this temporary space will feel like HOME. The living room and kitchen weren't really my concern because I don't really use them often. To me, the most important parts of the house are my bedroom and bathroom.
My question was, "How do I make it feel like home when it's just temporary?" I need something that can easily be moved around (I can still use them in my new house) and at a reasonable price. I instantly thought of IKEA because I find many things that will fulfill my current needs and also my future house. I can easily move it from my current house to my future one and it can easily suit the décor of my new house!
IKEA has always been my favorite furniture store ever since I started buying my own furniture. It's simple, creative, and affordable with a wide range of bed and bathroom furnishing solutions. It's like a one stop furnishing store that you can just walk in and walk out with your dream bedroom or bathroom. The most awesome part is that you don't need anyone to assemble anything for you because everything in IKEA comes with an instruction booklets, as easy as 1, 2 ,3.
Anyway, let me show you my current bedroom and bathroom, and how IKEA helps to give my temporary space a comfortable and cozy feel.
Welcome to my room =)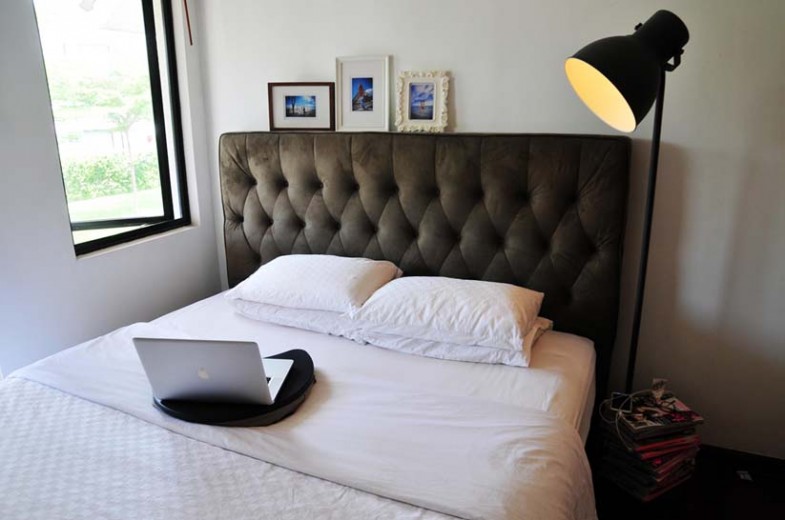 My room isn't big so I need just the simplest decor so it won't look too crowded. If you have seen my previous room, you should know that Jo and I are fans of industrial design so IKEA Hektar floor lamp instantly fit into our ideas. We want our room to have the combination of metal and woods.