Not sure if you realized, but recently I've been seeing lots of "coffee selfie" in my Instagram feed. I'm not a coffee person, I have no idea how a good coffee should taste like, for me they are all taste the same, bitter. Although I'm not a coffee person, I love the idea of hanging out at a cafe with friends, just chit chat and hang out. What do I drink? I would order tea, no matter it's black tea, fruit tea or green tea. I'm up for it.
Jo is a coffee addict but he drinks watever coffee that he can get haha and I also realized that's a common thing that happens to all coffee lovers, they have yellowish teeth T__T. If you're a coffee drinker, you should be able to relate to this more. Your breath smells of coffee and your teeth will turn yellow. That's the disadvantage of drinking coffee and I'm glad that it wont happen to me! Also if you do drink coffee regularly, you need to start noticing!
For guys, they dont really bother much la because guys are naturally born to be more carefree lol. As a girl, that's one of the things that I'm concerned about especially when you love to apply bright colored lipstick.
When it comes to choosing toothpaste I always stick to whitening toothpaste. I hate it when my teeth looks yellow because it will ruin my red/orange lips! When I received an invitation from Tokyo Smile Express I was more than happy because I have finally have a chance to whiten my teeth, and it can be done in 30 minutes!
Tokyo Smile Express provides Tokyo style express teeth whitening solutions. It helps to brighten and white your teeth in just 30 min!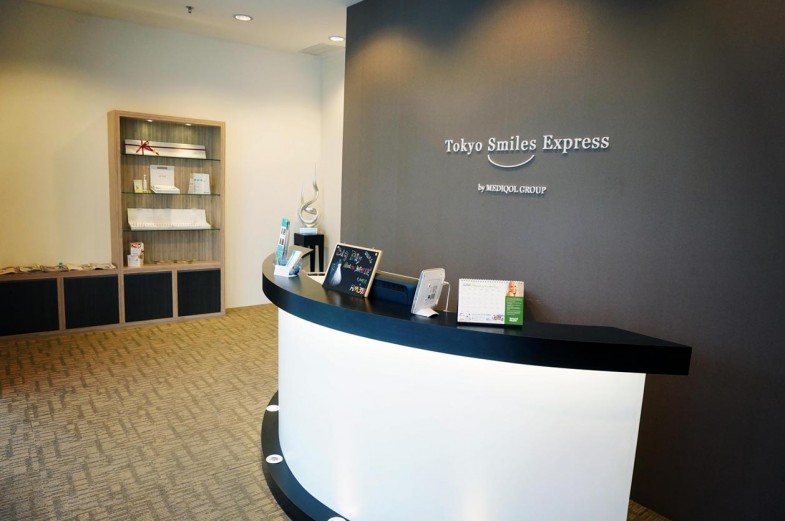 Tokyo Smile Express located in Publika, Solaris Month Kiara!

At first I tot it will look like a dentist clinic but I was wrong. Tokyo Smile Express looks more like a salon than a clinic! It's really clean and cozy!

I'm in love with their sofa because it's really comfortable, so comfy that I fell asleep during the process hahaha.

Step one is to fill in the form with you personal details and also your medical background.

Jennifer was the therapist that day, and she started by explaining the procedure to me and showing me things that she will be using. There is a total of 3 steps for the express whitening.

These are the tools that they will be using for the whitening process.

Then Jennifer matched my teeth color with the some fake teeth .

She told me, my teeth color is consider ok compared to others. Usually our teeth will turn 2-3 shade whiter after the whitening procedure but it really depends on how sensitive are your teeth to the whitening gel. She estimated mine will turn from C1 to B2!
First step- Cleaning

I was given a tiny little cloth to clean up my teeth, it's just like brushing your teeth with your finger hahaha. I was using a disposable cloth ok, so dont worry haha

Then I had to wear a holder to hold my lips apart like a monster LOL
2nd Step- Protect

Jennifer applied a thin layer of Vitamin E on my teeth, gums and lips to protect my teeth from the LED light!

After applying a layer of Vitamin E, I have to wait for around 25 min.
3rd Step- Whitening


The last step is to apply the whitening gel then expose it to the LED light! It takes another 30 minutes too! Dont worry that you will get bored because there is a TV in front of your seat, if not you can just play with your phone.

If you're bored you can also talk to your friends using the whiteboard that they provided haha.
P/s: Based on my personal experience, try not to fall asleep during the whitening step because when you fall asleep, your lips will be slightly closed then it will squeeze the gel out from your teeth to your gum. That's what you don't want to happen because the gel will continuing bleaching your gums LOL. Thank god, I realized it early so my gum wasnt as white as my teeth hahaha. Just keep yourself awake for 30 min la, can or not?

After 30 min, I rinsed my mouth with a flavored mouth wash. You can choose any flavor that you like!

The end result of my teeth whitening, from C1 to B1 more than 3 shades ok! Super white and bright!

Waw look at my white teeth =)

Tokyo Smile Express was sweet enough to give me a whitening pen too so that I can whiten my teeth at home after brushing my teeth =)
What is teeth whitening?
Without shaving and coating, teeth whitening involves bleaching teeth by using a chemical to decompose the pigments of teeth to bring out the whiteness of the teeth themselves.
You will achieve natural brightness and whiteness, not artificial whiteness like tiles.

For those who are getting married, this is an awesome deal for you!!!!

Thank you Tokyo Smiles Express for whitening my teeth =) I can now smile wide and bright and look more confident hehe.
For more information please check out:
www.facebook.com/tokyosmilesexpress
♥